Backup Outlook Email Accounts - How To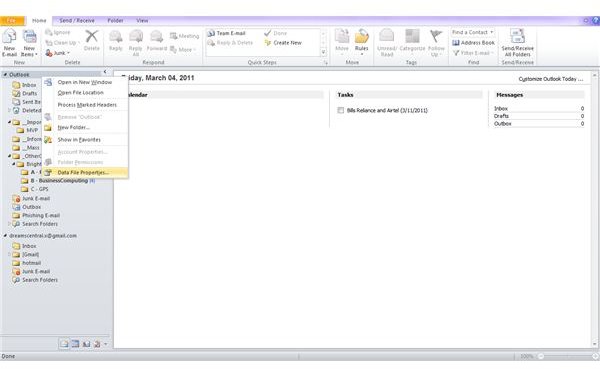 Backup Outlook E-mail Accounts - Why Backup and Methods to Backup
If you are using POP3 for e-mail, you need to backup Outlook e-mail accounts as most of the POP3 accounts delete the online content after fetching mails to your local computer. This feature varies across e-mail service providers. Some e-mail service providers such as Gmail and Yahoo allow you to configure if you wish to delete or archive e-mail after accessing the e-mails through POP3 accounts. Others, such as e-mails associated with your domains, may not allow you to save the fetched e-mails and hence you may lose them if you do not back them up.
In case of IMAP, Outlook just creates an image of your web based e-mail inbox and other folders so you do not have to worry about backups as long as you trust the server to keep your emails for you. Those e-mails are always safe on the server unless you configured Microsoft Outlook: 1) to delete them permanently when deleted in Outlook; or 2) move the deleted e-mails to some local folder.
By default, the deleted e-mails are moved to Trash (or similar folders) on the server and are kept for a specific period of time. If you move e-mails from Inbox to some other online folder using Outlook, they are also kept on the server in most IMAP configurations. However, if you move items from IMAP inbox to local folders, you need to backup Outlook e-mail accounts so that you do not lose them.
There are three methods you can use to back up your e-mail accounts.
Backup Outlook E-mail Accounts - Using Data File Properties
This section explains how to backup Outlook e-mail accounts using the Data File Properties option. This method is a copy paste method.
1 Right-click on the e-mail account that you wish to backup. The e-mail accounts are listed in the left pane of Microsoft Outlook (see image below). Select Data File Properties.
2. In the data file properties window that appears, click on Advanced. This opens up another dialog where you can find the folder where its data file is stored (against Filename).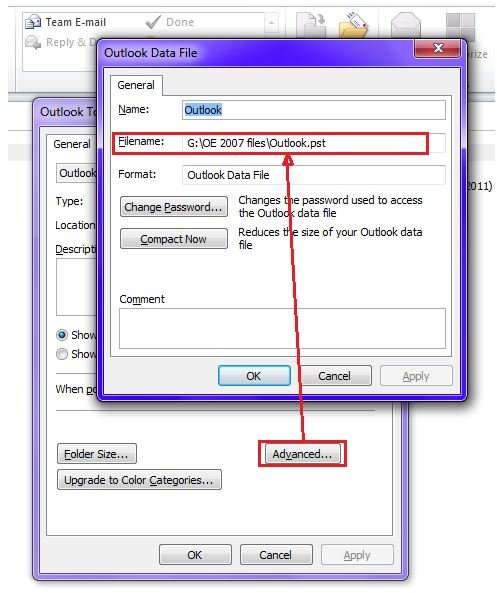 3 Copy the folder path (exclude the filename.pst) and paste it in the address bar of Windows Explorer. For example, if the box against Filename shows G:\Outlook 2007\Outlook.pst, copy and paste only G:\Outlook 2007.
4. Once the folder is opened, you can select all the PST files in the folder and copy them to backup Outlook e-mail accounts.
Backup Outlook E-mail Accounts - Using Account Properties Dialog
This is yet another copy paste method to backup Outlook e-mail accounts.
1 Open the Account Settings window. If you are using Office 2007, click on the Tools -> Account Settings. If you are using Microsoft Outlook 2010, click on the File menu. Select Info and click on the black triangle below Account Settings. Click again on Account Settings in the drop down menu.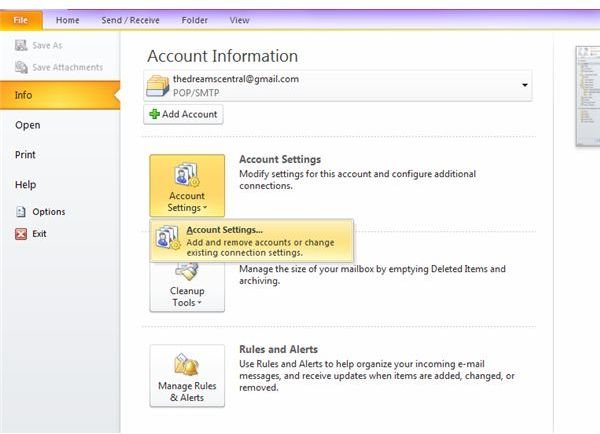 2 In the Account Settings window, click on the Data Files tab so that you can view the files associated with each configured e-mail account. Select the e-mail account that you wish to back up. Click Open File Location.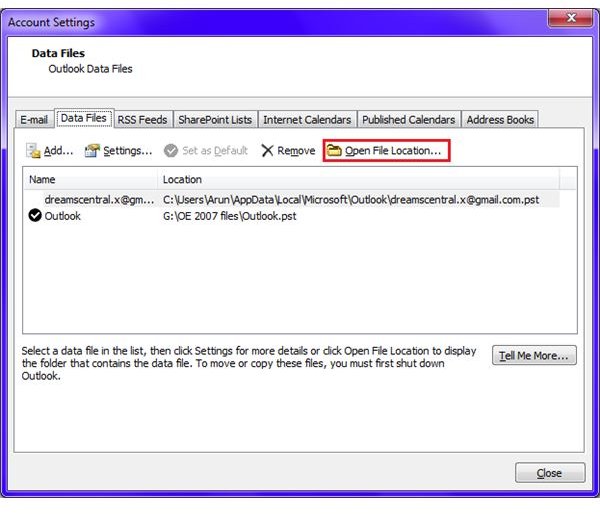 3 A new window will open, showing you the location of data file that you selected in the above step. You can choose to copy all .pst and .ost files from here or you can repeat the above step to make sure you do not miss out any e-mail account data file. Paste the files to some safe location to backup Outlook e-mail accounts.
Note
1 You can also use the export option to export the data file related to the e-mail account you wish. For information, please read our article "How to export Contact List" listed below. To export entire PST file, select the topmost option (Outlook) instead of a subfolder (Contact).
2 When you use the copy paste method to backup Outlook e-mail accounts, you also backup all the subfolders containing Contacts, Calendar and Tasks etc.
Related Reading
Setting up Alert for New Mail in Outlook 2010 IMAP Account
How to Choose E-mail Delivery Time in MS Outlook
References
This post is part of the series: Outlook 2010 - A Tutorial
This series on Outlook 2010 offers you a tutorial on how to optimize the email client. It tells you how to combine e-mail accounts, how to export contacts and distribution lists, creating accounts the easy way and more.