Microsoft Office Tools with FrontPage 2003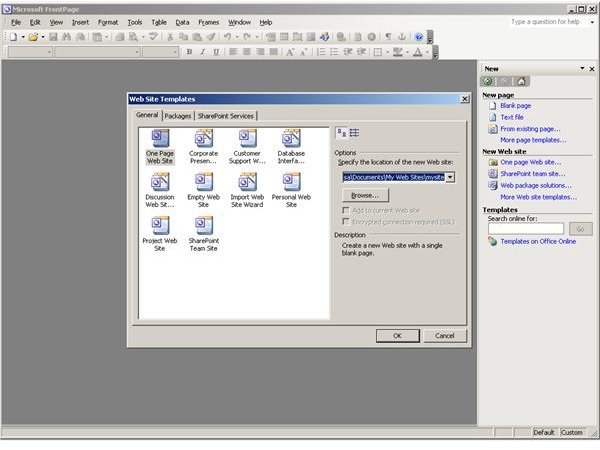 Microsoft Office Frontpage 2003
At the time Microsoft launched their Microsoft Office 2003 package, a very popular tool was also the Microsoft Frontpage 2003. This WYSIWYG (what you see is what you get ) HTML editor was a part of the Microsoft Office package between 1997 and 2003 but the product was discontinued. Microsoft Frontpage is a simple yet powerful HTML editor with intuitive menus. It does not have many advanced functions and tools but it has all the things you will need to create a simple website with text and images, forms, page counter and even integrate videos.
When the product was discontinued, it was replaced by Microsoft Expression Web and Sharepoint Designer. Microsoft Expression Web is a bit more complex and requires a bit more resources than its predecessor. Unlike Microsoft Expression Web, the Microsoft FrontPage was not available for download, so you need a CD/DVD with the software in order to install it. There are no special perquisites for the Microsoft Frontpage and you can install it with or without the Microsoft Office package.
Microsoft Frontpage 2003
Microsoft Frontapge 2003 starts up like all the other Microsoft Office applications and has similar menus and functions, so if you are familiar with Microsoft Word you will feel pretty comfortable using the Frontpage. From the "File" menu you can click on "New" and you will be presented with a series of options like to create a "Blank Page" or "New Web Site" where you can choose from a small variety of templates for simple pages or frame pages, or some predefined templates.
If you choose to create a new website, you will be prompted to choose a template and a wizard will start helping you to build your site.In pur example I have chosen a "Corporate Presence" website.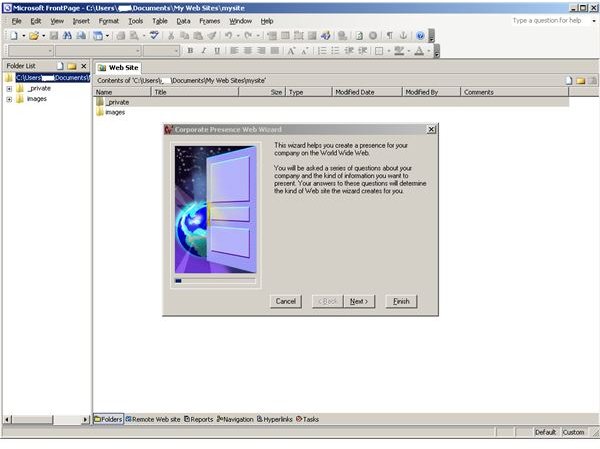 The wizard its quite complex and will ask you what pages should be included in the website, what are the topics that you want to have displayed, number of products and services your company is offering, what items should be displayed beside each of your products and services, a feedback form and many other things. After completing the wizard, Microsoft Frontapage will create all the web pages and navigation menus and let you customize any content. Your main page will be called "Index.htm". You can double click on it to view the content and start making changes.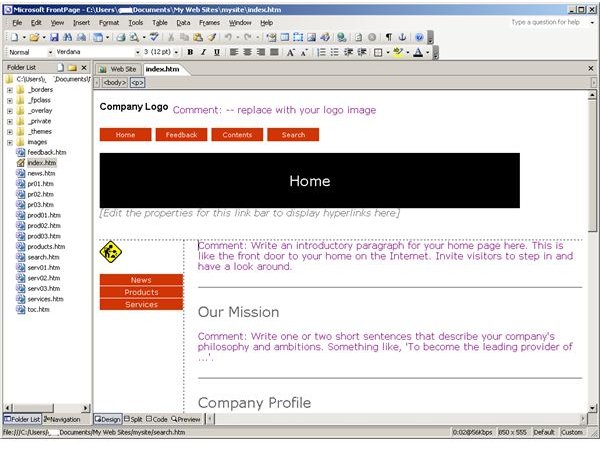 To navigate trough the pages you can simply select the pages on the left Folder List or you can use CTRL+CLICK to use the navigational menus within the page. After you do all the changes needed you can test all the pages in a browser by pressing F12.
When everything is as you want it to be you can go to the "File" menu and choose "Publish Site". You can publish via FTP, WebDav, File System (direct copy to the web server directory), or via FrontPage or Sharepoint Services if your web server supports that. If your web server supports FrontPage extensions, after publishing the content you can edit the published content directly online without the need of saving on the local computer and then publish the changes.
For anyone who likes the WYSIWYG editors, Microsoft FrontPage 2003 it is the perfect tool you can use to create and publish small websites with simple yet powerful content.
All screenshots by author and references from Microsoft Corporation.