Microsoft Outlook for Email Tutorial - 101 of Microsoft Outlook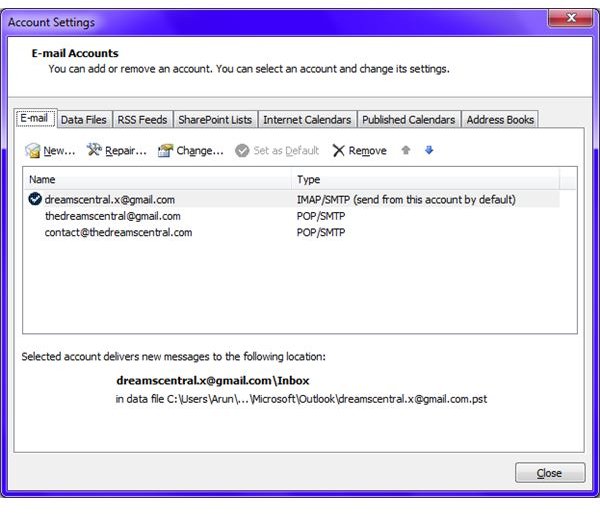 Microsoft Outlook for E-mail Tutorial - Create E-mail Accounts
This Microsoft Outlook for e-mail tutorial begins with explaining how to create e-mail accounts. The first time you start Microsoft Outlook after installing Microsoft Office, it asks you if you wish to create an e-mail account. You may go ahead and create your first e-mail account from here. Once finished, you can add more e-mail accounts using the Account Settings window. This Microsoft Outlook for e-mail tutorial explains creating e-mail accounts using the Account settings window.
Open the Account Settings window using the Tools Menu. In Office 2010, click on File, then Info. Click on the Account Settings option with a black triangle. Click again on the Account Settings in the drop down menu. This will open the Account Settings window.
1 Make sure you are on the E-mail tab and click on New…. This will open up a dialog that asks if you wish to create an e-mail account, a SMS system or a Facsimile account. Though this Microsoft tutorial for e-mail tutorial will cover only creating e-mail accounts, you might be interested about the other options. The SMS option helps you create a messaging system whereby you can send short messages to cellphones. Outlook employs use of third parties to send these SMS messages so you may be charged for using these SMS accounts. As there are different websites that allow you to send SMS for free, you may consider using them instead. If you select Others -> Fax option, Outlook configures a MAPI account that allows you to send/receive e-mails as FAX.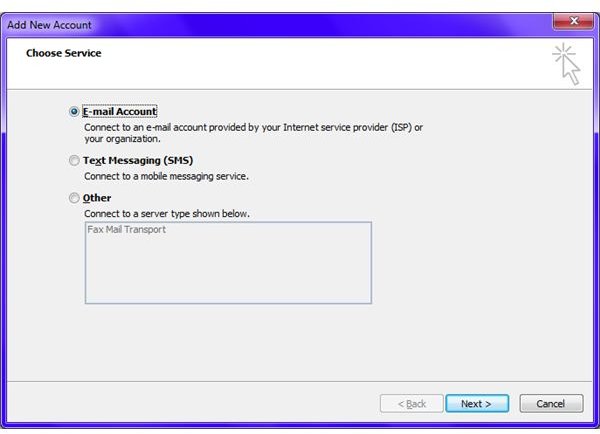 2. As you wish to create an e-mail account, click to select E-mail Account. Click Next.
3. The next screen asks you for your name, e-mail ID and password. Enter the values and click on Next. Outlook will automatically fetch the settings for incoming mail and outgoing mail, based on the domain of your e-mail ID and configure the e-mail account for you.
4 Click on Finish to close the E-mail Setup Wizard.
You can add more accounts to your Outlook using the above method. Once you are done with adding all the e-mail accounts you need, close the New Account window.
Note: If you are creating POP3 accounts and do not wish to create different folders for each, you can combine e-mail accounts. See our article - "Setting up More than One Account on Microsoft Outlook" listed in the series below.
Important: Microsoft Outlook configures your e-mail accounts as IMAP or POP3 based on the settings of your e-mail account on the server. Some service providers such as Gmail and Yahoo offer the facility where you can turn on/off POP3 or IMAP using the website. Outlook configures your account accordingly.
Removing and Changing E-mail - Microsoft Outlook For E-mail Tutorial
Often it happens that you may need to change the password for your e-mail. Once you change it on the website that offers you e-mail service, you have to change it in Outlook too. Sometimes, you just wish to discontinue with a particular e-mail service for some reasons such as excess spam. Though are some methods by which you can deal with Spam in Outlook, you may still wish to discontinue the account. This section of Microsoft Outlook for E-mail Tutorial deals with changing the settings and removing e-mail accounts from Outlook.
You can achieve both actions from the Account Settings window. To make changes to an e-mail account, click on the account name in the Account Settings window and click on Change. This will open up a dialog similar to the one shown in step 2 above. You can change the password or anything else such as the name of the account. To change the account name, click on More Settings. This will give you another dialog where you can give a name to your e-mail account.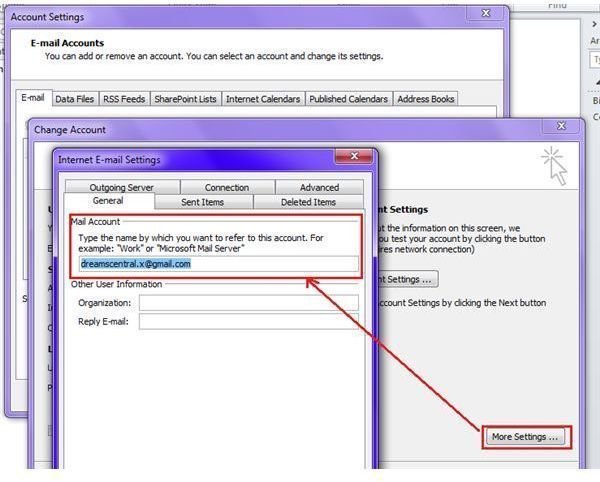 Note: While you are at More Settings dialog, you may wish to increase the time for "server timeouts", especially for easy sync of IMAP accounts. You can use the Advanced tab to do so. Drag the slider to some value above five minutes for optimal performance.
This page of Microsoft Outlook for e-mail tutorial dealt with most basic operations. For more, please turn to next page.
Microsoft Outlook for E-mail Tutorial - Spell Check and Signatures
This section of Microsoft Outlook for E-mail Tutorial offers you hints and tips for general tasks that may optimize your experience with the e-mail client.
Spell Checking
By default, the spell check is turned off in Microsoft Outlook. If you want Outlook to check spelling before it sends e-mail, you need to enable the spell check. You can enable it from Tools -> Options in Outlook 2003. In Outlook 2007, click the Office button. In Outlook 2010, click the File tab. You can see the Options available when you expand the Office button or File tab. Select Mail and then click to tick the check box against Always check spelling before sending.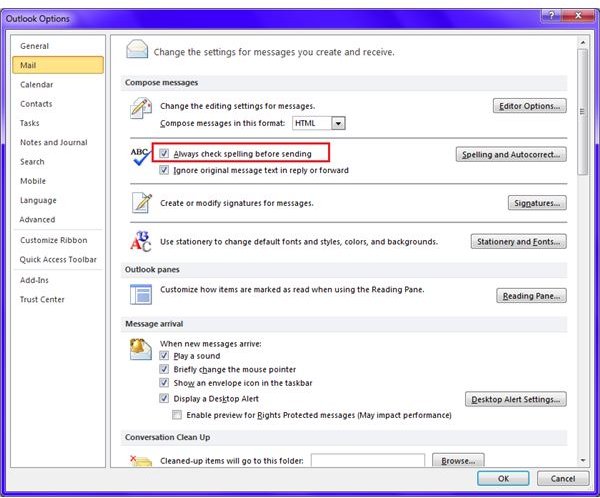 Adding Signatures to E-mail; Using a Theme for E-mails and More
If you do not want to type in your signature each time while sending the e-mail, you can add a default signature to Outlook. This helps you save time. You can also select a background theme for your e-mails. For information on how to create and use signatures and themes, please read our article, Add Color to Your E-mails In Outlook. In Outlook 2010, you can find the Signature and Themes under Options in File tab. Rest of the procedure is same as explained in the linked article.
Microsoft Outlook for E-mail Tutorial - Contacts and Distribution Lists
Adding Contacts to Microsoft Outlook
You might want to add contacts to Microsoft Outlook so that you need not type them each time you send an e-mail. To add a contact,
Click on New -> Contact. While the option is present on the Home tab of Office 2010, you will find the option under File menu of Outlook 2003.
Add the name, e-mail address and how you would like Outlook to display the name at the recipient's Outlook. While adding Display As, use a format that makes you easy to remember the contact so that you can just start typing in the contact name and Outlook completes it for you.
Add any other details you want: such as phone number, address etc.
Once done, click on Save and Close.
Note: You can also save a contact from the mails you receive. Just right click on the address mentioned next to Sender and select Add to Outlook Contacts. You will get a window similar to the one you get in step 1 above. Just enter the information the way you want and click on Save and Close.
Sometimes, you may want to create a backup of your contacts. You may also want to create an Excel file using the contacts so that you can find your friends on a social networking site. For details, please read our article, How to Export Microsoft Outlook Contacts.
Distribution Lists
Distribution lists help you send a single message to several people. In other words, a distribution list contains several e-mail IDs. When you use a distribution list in the To field of an e-mail, it gets sent to all the e-mail IDs included in the distribution list. For details on creating distribution list, please read our article, Create Distribution Lists in Outlook 2007. In Outlook 2010, press CTRL+SHIFT+L to get the distribution list window. Give a name to the distribution list and click on Add Members to add contacts (see image below).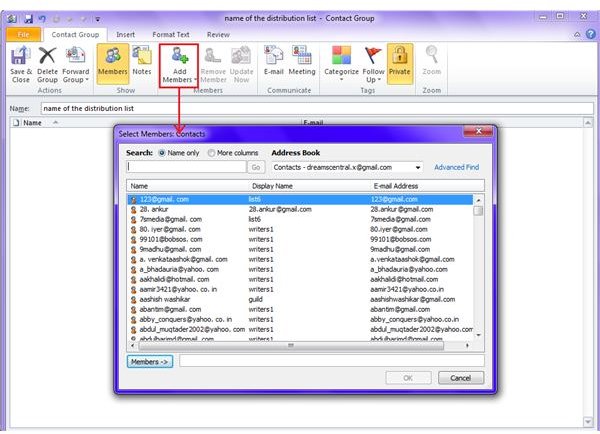 Note: Often, you might want to send e-mail distribution list to someone else. For details on sending a distribution list to someone, please read our article - How to Send E-mail Distribution List to Someone in Microsoft Outlook.
You may also want to know about
How to Choose E-mail Delivery Time in MS Outlook
What to Do When E-mail Gets Stuck In Outbox
References
Screenshots by author.
This post is part of the series: Outlook 2010 - A Tutorial
This series on Outlook 2010 offers you a tutorial on how to optimize the email client. It tells you how to combine e-mail accounts, how to export contacts and distribution lists, creating accounts the easy way and more.