Free Antivirus Program For MS Outlook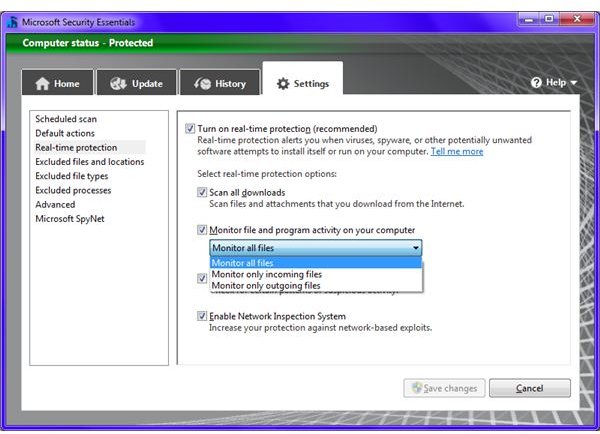 Free Antivirus Program for MS Outlook - An Overview
Before discussing free antivirus program for MS Outlook, let us understand the need of installing an antivirus program for MS Outlook. All e-mails cannot be trusted. Some of the e-mails may contain malware. Images in e-mail are often in the form of links. These links may also be dangerous to your computer. In addition, you also need to scan attachments before opening them. Though MS Outlook always opens attachments in read-only mode, some malware may get through if you open a malicious attachment.
You might already be using a free antivirus to protect your computer. Using a different antivirus program for MS Outlook is not recommended as using two antivirus programs creates conflicts. This article discusses some of the best free antivirus programs for MS Outlook that not only protect you from malicious e-mails but also help you keep your computer safe while transferring data from the Internet or local removable devices. In other words, we will discuss those programs that you can use for overall protection of your computer.
Microsoft Security Essentials
Microsoft Security Essentials makes a great free antivirus program for MS Outlook. It offers real-time protection by keeping an eye on both incoming and outgoing ports on your computer. It scans all attachments in real time and alerts you if any infection is found. Based on your decision, it deletes the attachment or tries to clean the infection.
However, you need to be careful. If you wish to use Microsoft Security Essentials, download it from the Microsoft website. There is a fake Security Essentials going round on the Internet that may infect your computer.
Comodo Antivirus
Comodo offers both paid and free security suites. The free one includes anti-malware and a free firewall. If you do not wish to install the free firewall and use only the free antivirus, you can de-select the firewall during installation. The free Comodo antivirus also offers real-time protection by keeping a vigil on the incoming and outgoing ports of your computer. It also scans the attachments before MS Outlook opens them.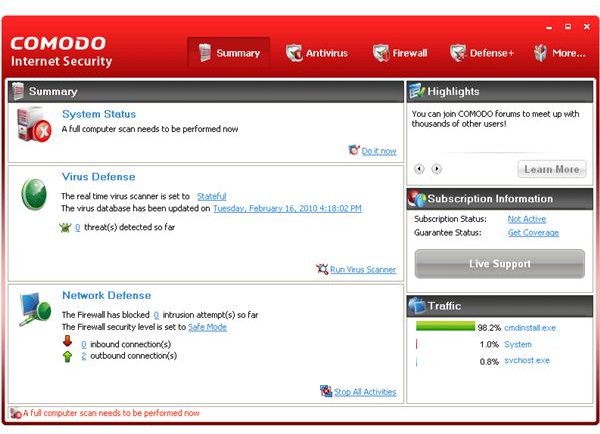 Avira Antivirus
Avira antivirus contains a separate module for MS Outlook. You can see the module in MS Outlook -> Options -> Add In Manager. You can also configure the add-in using the Avira settings option. You can enable or disable the real-time scanning of incoming e-mails. Similarly, you can also disable and enable real-time scanning for outgoing e-mails. It also allows you to disable or enable newsgroups e-mails in MS Outlook.
Note that though Comodo antivirus and Microsoft Security Essentials offer protection to your e-mail system, they do not show up in MS Outlook -> Options -> Add-ins Manager.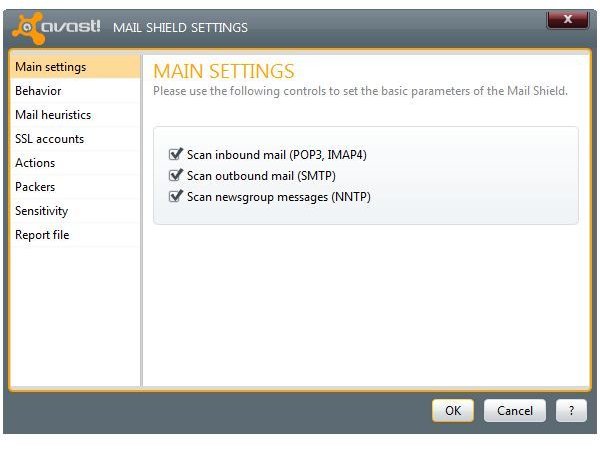 These are the top three free antivirus programs for MS Outlook according to my experience. If you think I missed something, please feel free to share using the comment boxes. All of the above three antivirus products have passed the e-mail vulnerability tests provided by GFI. If you wish to check whether your current antivirus offers you proper protection for e-mails and MS Outlook, check out the GFI Security Zone.
NOTE: Though AVG is also a good free antivirus program, its add-on for MS Outlook often creates problem while receiving HTML e-mails. As you may not be able to read mail in HTML format until you turn off the add-on, I did not list it here.
References
Image Credits: Screenshots by author, courtesy of Microsoft, Comodo and Avira
This post is part of the series: MS Outlook - Tips and Tricks
This series on MS Outlook assists you use the email software better by offering you different tips and tricks. It helps you create tasks, organize yourself, how to view images in HTML email, and more.