How to Deauthorize iTunes on ALL Computers at One Time Inside iTunes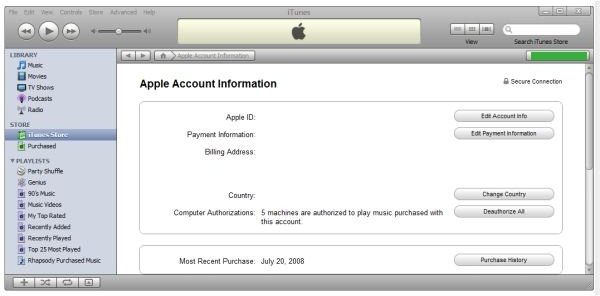 A part of the user agreement between Apple and iTunes customers is that up to five personal computers can be authorized to play the same music purchased from iTunes. The first time I bumped into this problem, after a PC died, I found that Apple wouldn't sell me another track because I'd used up all my authorizations. Of course, it didn't mention this until I tried to purchase.
I think at the time I actually had three computers with iTunes installed that did work. In the end, I spent some time being scolded on the phone with Apple support. Why, they asked, didn't I de-authorize one or two of them before they expired? Then I wouldn't have this problem, would I?
By the time it happened again, Apple had instituted a "Feedback Link" that the customer could use to meekly request that his or her authorizations be reset. A day or two later, a note would drop into the inbox saying, without fail, that the authorizations had been reset to none.
After years of having tech support deal with this, Apple finally did something about it. Here's how to reset ALL authorizations all at once and all by yourself in iTunes 8.
Reset Authorizations
1. Start iTunes and go to the Music Store.
2. Click the button at top right that has your email address to access your account settings.
3. Enter your password and click "View Account."
4. Scroll down and you'll see a line that says, "x machines are authorized to play music associated with this account." As you can see in the image below, I'm at five authorizations again, and, well, by the conjunction of the stars, I have three working PCs again. Since I'm full up with five, it's offering to de-authorize them all. (The button does not appear if you have less than five.)
Image
5. To set your authorizations to none, click "Deauthorize All" and then confirm it.
This neatly resets the computer you do this on, too, so you'll need to select Store, then Authorize Computer before you can add purchased tracks or video to the PC.
Just as Apple tech support no doubt breathed a sigh of relief when this was introduced, I can breathe one myself as well. That wasn't nearly as painful as it used to be. Kudos to Apple for finally including this.
What's a Quick Tip?
Quick Tips are Bright Hub articles that are too long for a blog post and too short for a regular article. Quick Tips concentrate on a single topic or the answer to a specific question that can be simply described in text and images.
Further Reading
Hands-on With Apples's Latest Version of iTunes for Windows - After brewing for almost two years, iTunes 8 has arrived. The Windows and other versions try to be all-things-connected, bringing together Apple and us in music, TV, movies, and now HDTV. How well does it do? Bright Hub goes hands-on to bring you the facts.
Google Chrome has Landed - Chrome is the brand new web browser from Google. It is beta, birthed a day early, and looks impressive.
Ten Ways to Save on Printing Costs - Are printer costs for inkjet or laser cartridges eating your home office budget alive? In this article we'll look at ten ways to give those printing costs the axe without sacrificing quality or utility.
Software as a Service - Microsoft Equipt is Office in a Subscription Model - In an effort to reach out to home users, Microsoft introduces a subscription service that provides the home user with Microsoft Office, OneCare security, antivirus, and PC management applications. Is the public ready for software as a service? Is Equipt a reasonable purchase?