Microsoft Baseline Security Analyzer - An IT Tool That Is Also Helpful for Home Systems

MBSA
Security of your computer is one of the most overlooked needs. Often users will update their computer and often don't realize that updates may indicate they are up-to-date but are not.
Microsoft's utility Microsoft Baseline Security Analyzer is a graphical user interface that uses the NetBIOS ports 138 and 139 to scan your network for vulnerabilities. MBSA can also scan your local computer to find critical, missed updates, service packs and password information.
MBSA automatically assesses these missing security updates and vulnerabilities on computers producing a report in HTML format for you to evaluate.
MBSA
MBSA Overview
The scanning requires that the user be an administrator of the local machine and the network computers.The user friendly interface is self explanatory. With few options, a home user can easily scan their computer with little or no training. The software is powerful enough to scan small businesses or enterprises.
MBSA Home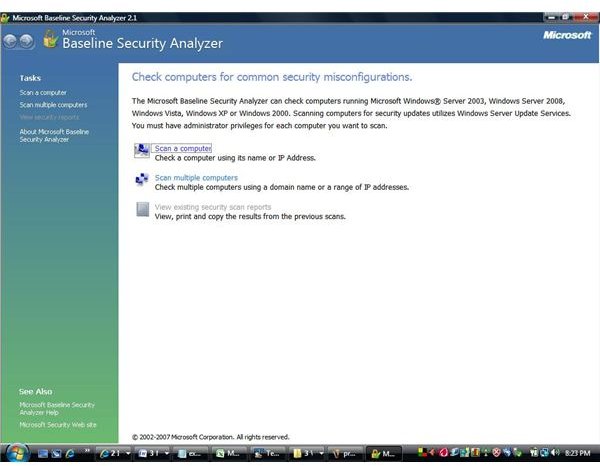 Local Scanning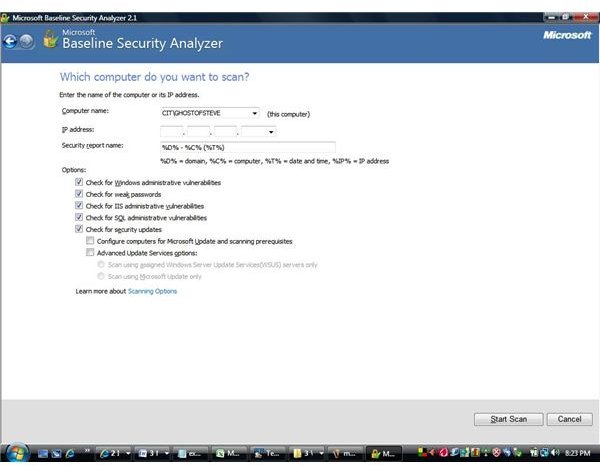 Local Scanning
As shown in the picture above, local scanning uses the NetBIOS name of the computer or the given IP address (local loopback of 127.0.0.1) can be used.
Vulnerabilites that can be checked include:
Windows Administrative
Weak Passwords
IIS
Security Updates
SQL
Network Scanning
The picture below shows network scanning which allows for a range of IP address to be evaluated. This method of scanning supports all three classes in networking (A, B, and C subnets).
Network Scanning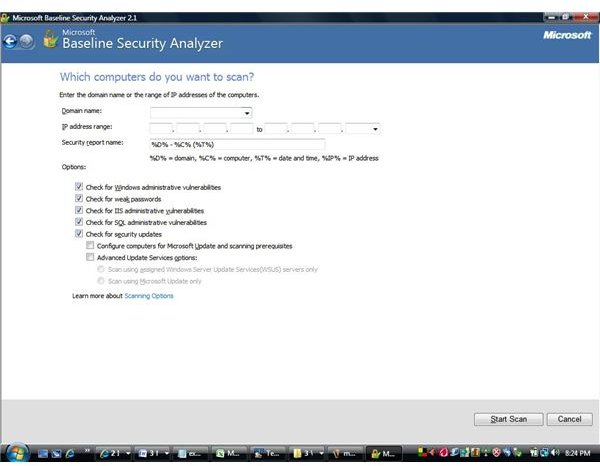 Overview
Microsoft Baseline Security Analyzer is the perfect tool to check out any Microsoft Windows' computer security vulnerabilities. With version 2.1 and full Vista compatibility, MBSA supports more operating systems and scans for more vulnerabilities than most open source programs. With its support of multiple flavors of windows, users should run this free assessment tool to help protect their data against hackers.
MBSA Information Version 2.1 on Technet
Further Reading
Green Computing - How Much Your Computers Really Cost - In order to save electricity on your home computer, allowing your computer to sleep and hibernate is the most energy efficient method for saving this resource. Screensavers use the same electricity as a computer being used. The screensaver uses both the GPU and CPU on your computer.
Windows Vista Evenet Viewer - With Microsoft's commitment to quality, events now impose a stricter set of standards that make troubleshooting easier. Log files are stored as text files so they can be referred to when troubleshooting.
Preventing the Installation of Software in Windows XP and Vista - Business today face a large and daunting task of enforcing desktop standardization. Although a majority of users are listed as administrators, IT departments should be concerned with this elevation of privileges.