Using the Boot Manager: XP and Win 7 Tips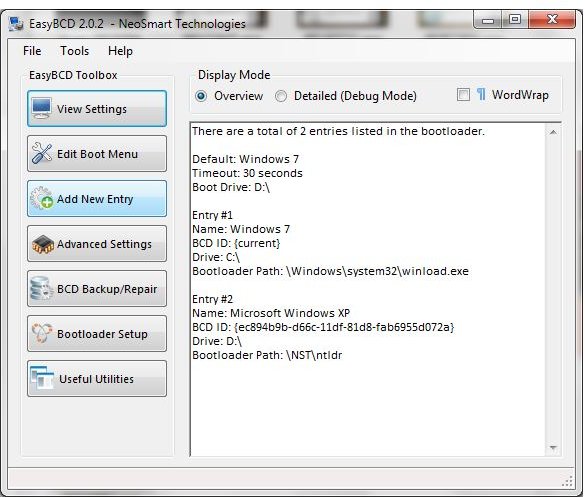 Using a Boot Manager for XP and Windows 7
While Windows 7 has proved to be a popular operating system for Microsoft, it has still to take the place of Windows XP in the eyes of many computer users. The result of this is that Windows XP and Windows 7 are regularly found on the same computer in a dual boot arrangement.
Dual-booting means the installation of different operating systems into separate partitions, and with a boot selector screen when you switch on your PC you can choose which OS to load.
Windows has a built in boot manager to enable booting to XP and Windows 7, however using it can prove problematic, and depends on various factors that might be beyond your control.
As an alternative you should try EasyBCD, a freeware application that when used after installation of your two operating systems makes the dual booting process pretty simple to setup.
The following steps assume that you have installed Windows 7 and Windows XP already, but are unable to access one of the operating systems via the boot manager.
Get Your Copy of Easy BCD
In order to download EasyBCD, head over to neosmart.net and use the download link at the foot of the page.
Once you have downloaded this small package, amounting to just 1.3 MB, double click it to begin the installation. This shouldn't take too long, and once complete you will be able to resolve any problems with the Windows boot manager.
When EasyBCD is installed, it should load automatically, displaying a summary of what information is currently recorded in the bootloader.
Dual Booting with Easy BCD Boot Manager for XP and Windows 7
In order to add a new entry to your Windows bootloader, go to Add New Entry; here you will see three tabs to assist with adding operating systems of different types. Use the Windows tab and in the drop down select the Windows OS version you are attempting to dual boot with.
For instance, if you are currently running Windows 7 and have Windows XP on another partition, select the Windows NT/2k/XP/2k3 option. For users trying to dual boot with Windows 7 from an XP partition, select Windows Vista/7.
Tick Automatically detect correct drive and then use Add Entry to save the new operating system in the bootloader.
Next go to Edit Boot Menu and decide which OS you want to boot as your default choice. You can also choose to Skip the boot menu (you might wish to do this in order to prevent access to the other OS) as well as set a timeout to boot the default OS after a predetermined number of seconds. Click Save Settings to store your changes.
Access Two Operating Systems
When you next boot your PC you will be presented with an OS choice menu, allowing you to select which of your operating systems to boot into!
However there are other ways to enjoy two operating systems on the same PC. If you're running Windows 7 on a PC or laptop equipped with a multi-core processor you have access to a free virtual Windows XP application from Microsoft, which you can use to run legacy applications. This special version of Virtual PC is for Windows 7 users only.
You might also consider virtualization solutions such as VMware Player or VirtualBox for running and installing Windows XP within Windows 7, or even run Windows 7 from within Windows XP!
References
Source: author experience
Images: screengrabs by author