What to Do if VLC has Stopped Working – Win 7 Troubleshooting

VideoLan VLC Explained
VLC is a popular open source media player (available from www.videolan.org) that can be used to playback all sorts of filetypes, handle streamed content and even enable you to watch streamed web content through your Xbox. VLC is so popular with some users that they use it as an alternative to more common choices such as Windows Media Player or iTunes.
As versatile as it is, you might find that it doesn't work quite as intended. If you find that VLC has stopped working in Windows 7, these troubleshooting tips should get you out of trouble.
Clear Cache
The situation you are facing is probably that VLC was working without a problem previously but now has issues playing back specific videos or it has stopped working completely and displays an error message.
The first thing to check is the application's cache, where various configuration settings are stored. These can become corrupted, leading to problems with the media player running correctly in Windows 7. In order to fix this, you can force the application to recreate these settings.
Go to Start and enter %appdata% into the Search box. Open the first option that is displayed and browse through the list until you find the folder labelled vlc. You have two choices here – you can either delete the folder or rename it. If you prefer to play it safe, rename to something like vlc-OLD.
Run VLC in Compatibility Mode
Another problem with VLC running incorrectly in Windows 7 can be resolved by employing the operating system compatibility mode, allowing apps designed for older versions of Windows to run without any problem.
In order to test whether or not you can run VLC in compatibility mode to resolve this problem, right-click the VLC icon and select Troubleshoot compatibility. This will launch the Program Compatibility wizard which will then check for problems and offer you two choices.
On the first attempt, select Try recommended settings, with which Windows will launch the VLC media player with a different configuration. Should this fail to work, your alternative is to run the Troubleshoot program option which will take you through a series of screens to identify the problem and offer another configuration with which to run VLC media player.
Should this fail to resolve the problem, you will have but one course of action…
If VLC Has Stopped Working in Windows 7, Reinstall!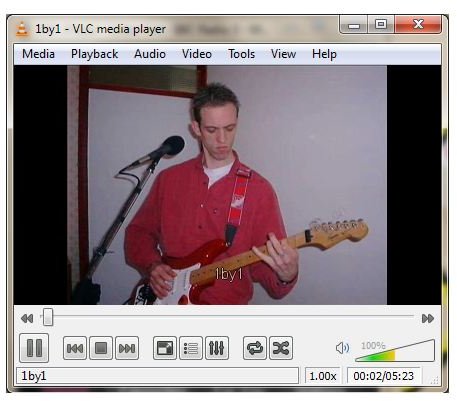 The final way to fix VLC media player to operate correctly under Windows 7 is to uninstall the application and then reinstall.
To do this, go to Start > Control Panel > Programs > Uninstall a program and wait for the list to be generated (watch the green progress bar across the top of the window). Once this has been completed, double-click VLC media player – this will begin the uninstallation procedure.
Once this has been done, use an application like CCleaner (available free from www.piriform.com) to tidy up any unused files, and restart your PC. Finally, reinstall VLC media player, which should now work again!
References
Image credit: Author