Fixing Windows 7 Internet Problems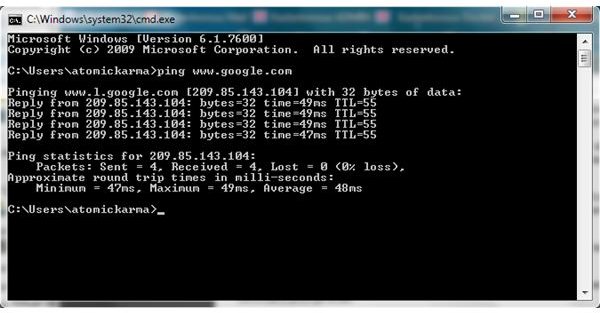 When PC's Become Useless
Using the internet is a popular aspect of modern computing but when problems occur many of us don't know what to do; the PC, laptop or netbook suddenly becomes a very expensive useless box, despite its ability to empower us. When we experience Windows 7 internet problems the full capabilities of the computer are suddenly forgotten – mainly because so few of us know how to resolve these types of problems.
If you're experiencing any Windows 7 internet problems, start by following these steps to help trace the underlying issue.
Basic Checks – IPCONFIG & Ping
Various basic checks can be performed when attempting to resolve Windows 7 internet problems, which will establish how wide-ranging the issue is. For instance, the problem might be due to an unplugged or faulty cable, or a problem with your browser.
Begin by checking a regularly visited and popular website in your browser after confirming that your browser is not offline (File menu). If your browser fails to open the webpage, open your email client and click Send/Receive to check for email. Any errors that you receive here should confirm that PC is experiencing connectivity issues.
Further confirmation can be acquired in the command prompt. Go to Start and type cmd in the Search box. Click cmd.exe when it appears in the search results to launch the command prompt, and enter ipconfig. The results here should reveal that you either have an IP address assigned or that you have a cable unplugged (Media disconnected).
If an IP address is assigned and it meets the requirements for your local network, then there may be some issue with a worm or other malware causing your Windows 7 internet problems.
You can also confirm the state of your connectivity by "pinging" a specific website that you know will be up and running – such as Google. To do this, in the command prompt enter:
ping www.google.com
Confirmation should occur almost straightaway; if you get a reply from the target website then your internet connectivity problem doesn't relate to hardware or cabling.
Windows 7 Internet Problems? Check Your Network Settings
Some problems with your Windows 7 internet can quickly be resolved by checking your network settings. If you have previously found an issue using the ipconfig or ping commands then you will need to confirm that your computer has the right network settings setup.
To do this, go to Start > Control Panel > Network and Internet > Internet Options > Connections and confirm that you network settings are correctly configured. You may need to consult your system administrator or ISP for these details.
Checking Connectivity – Hardware and Cabling
Checking you cabling is another important thing to do. Naturally what you check and how you check it depends on what sort of setup you have. If you're using a USB modem, for instance, then you will need to check the USB cable as well as the cable from the phone line to your modem. If you suspect problems with the USB cable, rebooting your PC may resolve this.
Similarly if your data comes via Ethernet cable, you should check whether the cabling you have will work in another location (perhaps on a neighbor computer). With all connectivity issues, if you suspect that a new cable will resolve the problem then a replacement should be purchased.
Finally, issues with your modem or router may also be the cause of your problem. In this case you should begin by resetting the device, and following this restore it to the factory settings. Before taking either of these steps however, ensure you have the default settings for the router to hand so that you can login and reconfigure your network.
References
Source: Author experience
Images: author