PC Tools Registry Mechanic 2011 Review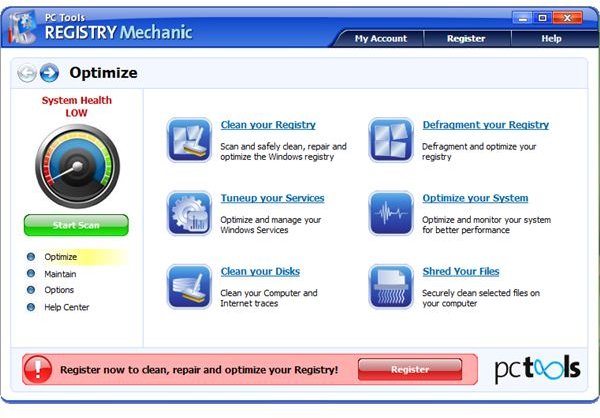 Version 10 of Registry Mechanic only provides a graphical user interface and minor fixes. Customers of Registry Mechanic should update to take advantage of the said fixes especially if you regularly run registry fixes and registry defrags in Windows.
For end-users that aren't familiar with Registry Mechanic: It's a set of system utilities from PC Tools, the maker of the popular Spyware Doctor with Antivirus program. Registry Mechanic's key feature is to clean and compact the Windows registry. It's not necessary to optimize Windows registry as long as you are not experiencing problems in a PC. However, many people continue to look for registry cleaning program to get rid of remnants left behind by applications that have been removed from the computer.
System Requirements and Setup (5 out of 5)
Installation of Registry Mechanic needs only a few clicks. PC Tools is known to bundle their software installer with third-party software but Registry Mechanic has a clean installer. Nothing is bundled; no add-ons. One startup item will be added by the installer: SSDMonit Application (SSDMonitor.exe) that monitors startup and shutdown performance of the computer. The program also added Startmansvc.exe which is required for system monitoring of startup and shutdown process of the PC.
After installing Registry Mechanic, the program will check for available program updates and run a scan to check the system registry for errors.
Anyone with XP, Vista or Windows 7 computer may run Registry Mechanic but it's recommended to have the System Restore function in Windows to run so as to allow Registry Mechanic to create a restore point before fixes are applied on the system.
User Interface (5 out of 5)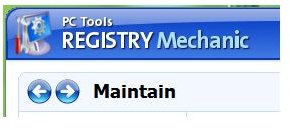 Registry Mechanic's user interface is simple and intuitive. With the help of back or forward buttons in the UI, you can navigate to home screen and other features that you've visited or used. Any tasks that you'll ask Registry Mechanic to run can be paused or stopped except when the program is in the process of compacting the registry in Windows.
Features and Options (4 out of 5)
Below are available features and options in using Registry Mechanic 2011:
Computer Optimization - set of tools to optimize the computer such as cleaning and compacting Windows registry, tune-up system services, clean the computer by using secure delete and removing temporary Internet files. Note that all of these PC optimizations except registry cleaning and defrag are available in PC Tools Privacy Guardian 4.5.
Computer Maintenance - Registry Mechanic can display the health report of the computer, startup and shutdown performance, Windows services management, and restore point viewer.
Smart Update - the built-in program updater for PC Tools products.
Log and System Restore - ability to log the activity of Registry Mechanic and create restore point before a fix or clean-up is applied
Custom scanner - Registry Mechanic provides an option to choose which area in Windows registry to scan and fix.
Exclusion Manager - an option to exclude files, folder or drives when scanning the computer for errors.
Ignored list - an option to ignore registry keys or values that the program detected as missing, invalid or an error in Windows registry.
Scheduler - Registry Mechanic can schedule a privacy and registry scanning.
Performance (5 out of 5)
Registry Cleaner of PC Tools
In this PC Tools Registry Mechanic 2011 review, I allowed it to scan the computer's registry for errors. I have compared a registry cleaner program for Windows XP and a registry cleaning program for Windows 7, which I find not all registry cleaners are recommended to keep.
PC Tools Registry Mechanic was right on every detected missing and invalid registry keys on the test system that has not received any cleaning by other registry cleaner. By locating each detected entry in the computer and by using the registry editor, I confirmed that Registry Mechanic did not find incorrect registry entries that required fixing.
The ability of Registry Mechanic to detect what it should detect is impressive. The bonus is that it will create a system restore point in case the user wants to restore the fixed items. Like other good registry cleaning software, Registry Mechanic allows you to view the paths of detected entry (location of the registry and file) that many registry cleaning programs will not display unless it's freeware or a registered version.
Compacting the Registry Using Registry Mechanic
One of the neat features in Registry Mechanic is the ability to defrag Windows registry. When I tried this feature, it properly displayed how much wasted space that my uncleaned computer registry actually has: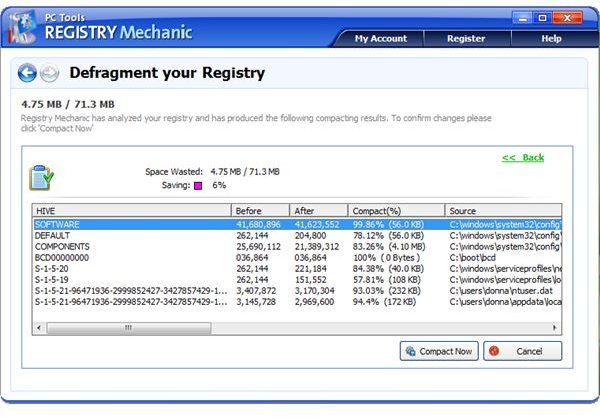 Using PowerTools Lite, it did report the same on the status of the registry in Windows which is good news because two different reputable programs have reported the same result.
Please read the review on PC Tools Privacy Guardian for information on performance in Windows. The disk and browser cleaning features in Registry Mechanic is exactly the same as what you get in Privacy Guardian.
Price to Value and Support (5 out of 5)
PC Tools Registry Mechanic is sold with a 1 year subscription and can be installed on up to 3 PCs. The price is $30 which is a good deal. Product support is provided by releasing product updates. Technical support is attended in support forums and via e-mail.
Conclusion
The ease of use and correct detections on what it should find as errors or missing entries in the Windows registry makes me decide that Registry Mechanic 2011 is a recommended registry cleaning program.