How to Fix Error 1935 When Installing Office 2010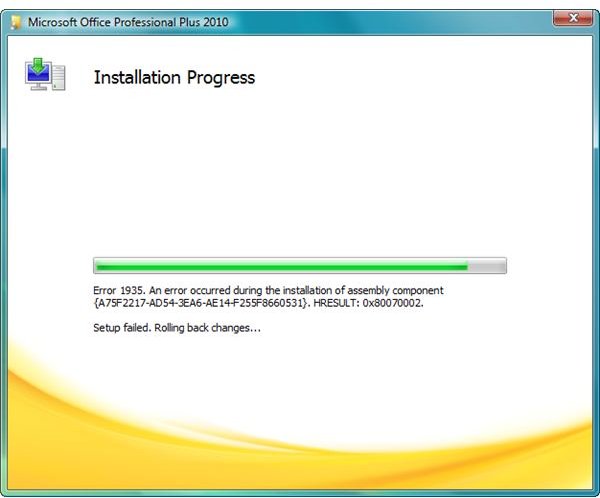 Installing an Office Product
Microsoft regularly releases a new edition of Office programs by providing new features and improvements. Office 2010 has new security options such as Message Bar, File Block, Protected View and Data Execution Prevention (DEP).
One of the common problems that people have seen when installing the new version of Office or upgrading from a previous edition is error 1935. The installation will not proceed and if the old version of Office is installed on the computer, the installation will stop and revert to the previous version. Below are simple possible solutions to fix Office 2010 installation error 1935.
Install the Available Updates for Office Products
If you are upgrading from an earlier version of Office but the installation failed with error 1935, visit Windows Update to check for important updates for Office software. Install the necessary updates before installing or upgrading an Office product.
Use File System Utility to Fix Error 1935
The File System Utility (fsutil.exe) is available in XP, Vista and Windows 7 operating systems. The utility is used to manage file and drive properties in NTFS volume. When an error 1935 occurs during installation of Office suite or programs, you can use the File System Utility to fix the problem:
Click Start > Run, and then type cmd.exe. Click OK to bring up the command prompt window. If you are using Vista and Windows 7, right-click cmd.exe in the search results, and click "Run as administrator".

In the command prompt window, type **fsutil resource setautoreset true C:\

**

Press the Enter key on the keyboard and you should see that the operation was successful. Close the command prompt window and restart the computer.

Proceed to installing the Office product again.
Tip: When you try to install security updates for Office and Windows products using Windows Update and you continue to receive an error, you should also try using the above solution.
Note that some suggest using the fsutil command after booting to safe mode and renaming the SoftwareDistribution folder to SoftwareDistrubution.old which is located in C:\Windows. Try that if using the fsutil command in normal mode will not succeed, but I personally fixed the error 1935 when installing Office product without having to boot to safe mode or renaming the SoftwareDistribution folder.
Install or Repair the Microsoft .NET Framework version 2.0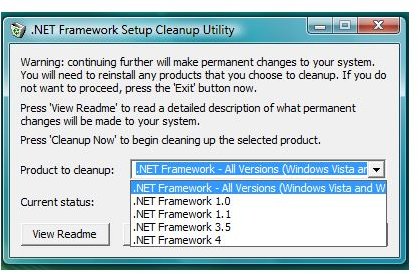 If the File System Utility will not solve the error 1935 when installing Office 2010 and you have .NET Framework 2.0 installed, simply repair the .NET Framework application:
Open Add and Remove Programs in the Control Panel
Locate Microsoft .NET Framework 2.0 in the list of installed programs.
Click Remove, and then click Repair. Restart the computer and try installing the Office program again.
If version 2.0 of .NET Framework is not installed in your computer, download and install it from Microsoft website. Note that .NET Framework is included in Vista and Windows 7 operating systems.
When error 1935 continues to occur during installation of Office program, re-install Microsoft .NET Framework v1.1:
In Add and Remove Programs, locate and select Microsoft .NET Framework 1.1
Click Remove or Uninstall. Restart the computer.
Download version 1.1 of .NET Framework from Microsoft, and then install it.
To automate the process of removing a particular version of Microsoft .NET Framework, try using the .NET Framework Cleanup Tool from MSDN Blog.
Disable Antivirus Protection or Restart Windows Installer Service
In some cases, an antispyware and antivirus program can interfere with the upgrade process of another application. Temporarily disable the real-time protection of antispyware and antivirus software before installing or upgrading to Office 2010.
If disabling the virus and spyware protection will not help, restart or stop Windows Installer service in Windows: Type services.msc in the run box, locate Windows Installer in the list of services, and then right-click to stop. Reboot the computer and try installing Office software again.
Do You Have Offending Software?
The following programs are known to cause error 1935 when installing Office 2010 which means you need to uninstall and reinstall it once Office 2010 is successfully installed:
WinTools
WinEasy
WebSearch
Easy Installer
HP Component Manager
Most of the above programs are flagged as spyware or adware so it's best to using anti-virus or antispyware to clean the computer. You can also manually remove the software using Add or Remove Programs utility.
Image credit: Screenshots taken by the author.