Windows Friendly iTunes Visualizers

WhiteCap
One of the first iTunes visualizers for Windows is WhiteCap by SoundSpectrum. WhiteCap runs on Windows XP and higher. There are literally thousands of combinations to create, which makes for an amazing visual experience. The visual effects continually morph and have real-time response to any audio played in iTunes. WhiteCap provides you with on-screen menus to fully customize the visualizer. WhiteCap is available as a free trial, which includes fewer features. For more features, such as more visualizations and added support and upgrades, you can choose the gold or platinum version for $20 and $30 respectively.
Image Credits: SoundSpectrum
Magnetosphere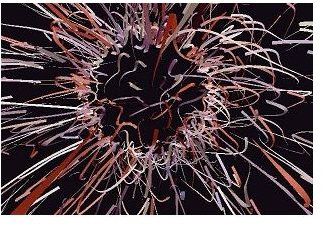 The Barbarian Group created Magnetosphere to add beautiful visualizations to iTunes on both Mac and PC. Apple has since purchased all rights to Magnetosphere and the updated version can be found in iTunes 8. You can, however, download the original from the Barbarian Group along with iTunes. The visualizer is free, but is bundled with the iTunes software. You can install it separately, without reinstalling iTunes, by finding the Magnetosphere.bundle from within the iTunes installation package.
Image Credits: The Barbarian Group
G-Force
SoundSpectrum adds another great visualizer to the list with G-Force. You can completely customize G-Force, as it has millions of different combinations. Visualizations are always different. It can be used as a plug-in for iTunes or as a stand alone visualizer, such as a screensaver. For those who want even more control, you can add your own visuals to G-Force to make it completely your own. The same prices apply to G-Force as WhiteCap.
Cover Version

Though a bit different from typical iTunes visualizers, Cover Version is still a great way to view your music. Instead of random designs and patterns, Cover Version, from imagomat, displays the album art for the current track using various effects. Some of the effects included are sliding pane, flapping flag and kaleidoscope.
Image Credits: Cover Version
Aeon
Aeon from SoundSpectrum provides you with mind blowing visuals within iTunes. The large library of visuals can be combined in different ways to create thousands of different combinations. The variety of colors and depth are different than other SoundSpectrum visualizers. You can adjust the speed of visualization along with musical sensitivity. As with other SoundSpectrum iTunes visualizers for Windows, Aeon is available as a free trial or paid version.
Winter Wonders
The final iTunes visualizer for Windows is yet another offering from SoundSpectrum called Winter Wonders. This visualizer is perfect for listening to holiday music. Unlike some of their other visualizers, with Winter Wonders, you can watch fireworks, snowflakes and colored lights while listening to your favorite holiday tunes. You can customize the settings and visuals to create the combination that's right for you.
Summary
These are by no means the only iTunes visualizers available for Windows. These are just a few of the best and are easy to install. Apple provides a tutorial for anyone new to installing plug-ins in iTunes. Many of the visualizers can be controlled using keyboard shortcuts or you can use the visualizer's menu.