Using Easy Connect and Windows 7 Remote Assistance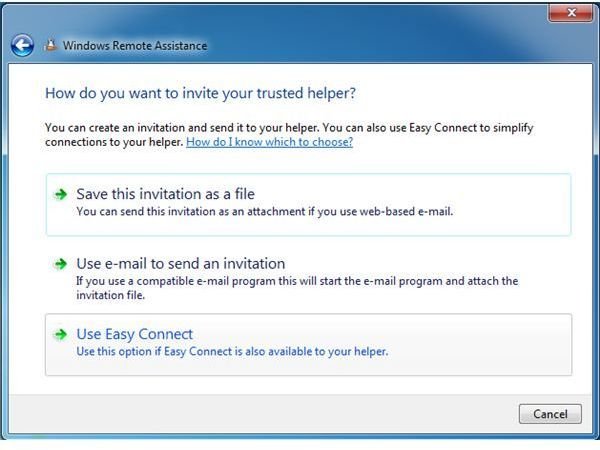 Windows Remote Assistance
Remote Assistance is a feature in Windows 7, Vista and XP operating systems that you can take advantage of when a problem occurs in your PC. If you need someone to guide you on what to do about an application, you can also ask someone to help you by showing you how to do it. Talking over the phone while helping solve PC problem is no fun anymore because the person you are helping might click a wrong menu, command or delete important files while being taught. Remote Assistance will also save time and money because you don't have to personally visit a house or working place only to fix a problem that you can do over the Internet.
Windows 7 also includes Remote Assistance but it is also featuring Easy Connect. Easy Connect only requires a password that is generated by Remote Assistance program. The password will be used by another person to start connecting to your computer using an Internet connection.
System Requirements of Remote Assistance and Easy Connect
To use Remote Assistance feature in Windows, the computer must have an active Internet connection. There's no need to use any other program to seek for help because Remote Assistance works like a basic desktop sharing application. The person only needs to ensure that the firewall is not blocking Remote Assistance program: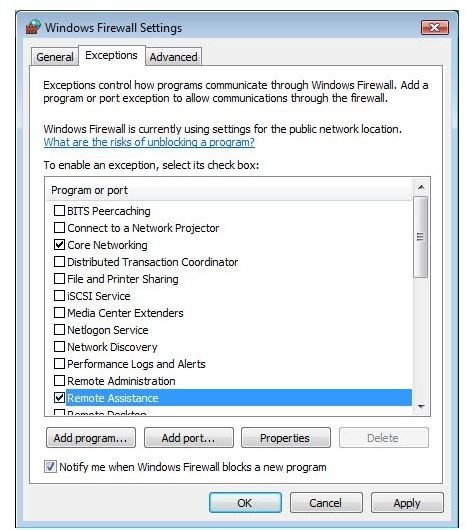 Windows Live Messenger can also be used to start using Remote Assistance but this is not necessary unless you want to use the feature of Windows Live Messenger while chatting or remotely helping a person.
Other requirements in using Remote Assistance is the user account permission. The desktop that you will be helping must be using its own account so that you can control or fix problems without dealing with account restrictions.
Windows 7 computers can use the Easy Connect feature but if one of the computers is not using Windows 7, you only need to save the invitation file, and then send it to the person that will help you or the person that you want to help. You can also send an e-mail to the person to invite helping you using Remote Assistance.
Features and Options of Remote Assistance Program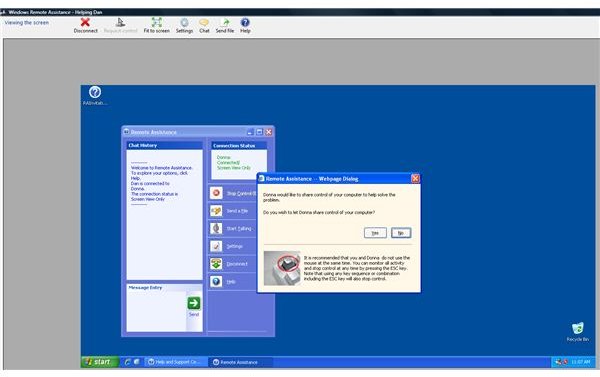 With Windows Remote Assistance program, you will enjoy the following features and options:
Share the desktop screen.
Allow full control or access to user account and desktop.
Instant Messaging or using voice chat. Note that voice chat only applies to XP and Windows 2003 operating systems.
Log the remote assistance activity or session.
Configure the time to allow remote assistance to be active.
Configure how many hours the invitation file can be use.
Easily connect to contacts that you've connected before using Remote Assistance (applies only to Windows 7 Remote Assistance).
Generate a password protected invitation file to use for Windows remote assistance.
Pause, resume and stop the remote assistance session.
Use Windows Live Messenger, if needed.
Windows Remote Assistance in XP, Vista and Windows 7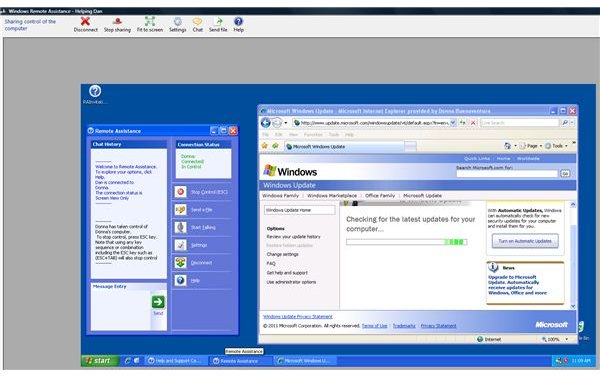 The Remote Assistance in XP computers is integrated to the Help and Support program in Windows or can be use using Windows Live Messenger.
Vista and Windows 7's remote assistance is a standalone program because it is now based on a desktop sharing application. The remote assistance program in newer operating system uses User Account Control (UAC) which means the helper requires to have your consent before it can run administrative actions to your desktop. Windows 7 remote assistance simplifies the process to connecting to another computer that needs help because of the Easy Connect feature.
Using Remote Assistance is quite easy and it does not use too much memory. The user interface is neat and simple enough that novices will not be confused in using the controls or changing the settings.
Easy Connect in Windows Remote Assistance

Easy Connect in Windows 7 uses a password and starts a peer-to-peer (P2P) connection using Remote Assistance. The password is generated by Remote Assistance. Note that in XP and Vista, the end-user is the one that creates a password. In XP system, the password does not require long characters while in Vista, a 6-character or longer is required.
When Easy Connect has generated the password you can pass it to the person that will help you fix PC problems. Remember that when a person succeeds to connecting to your computer, he or she does not have full control unless you allow the request. If at any time that you feel uncomfortable allowing anyone to control or see your desktop, you can click on "Stop Sharing" button in the Remote Assistance window or simply close the program.
Final words
Remote Assistance is quite a useful application to people that need help fixing their computers. There's no need to bring your PC to the shop, and there's also no need to visit a house or working place to fix another computer!
Remember to close any private documents that you don't want the other person to view or read when connected using Remote Assistance. Keep an eye on your desktop screen especially if your private files in the local hard drives are not password protected.