Free WindowBlinds Themes for Vista and Windows 7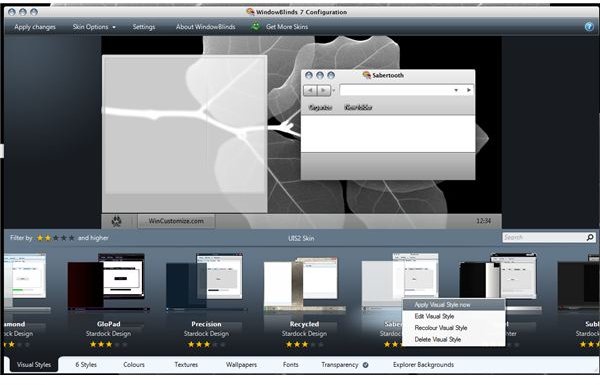 Vista and Windows 7 Themes
The free desktop theme in Vista and Windows 7 is limited to a few choices. It's either a classic or Vista and Windows 7 aero-based theme. If you want find neat, cool or new themes for Windows, it's best using the best utility for managing the look and feel of Windows. Get WindowBlinds from Stardock because there are plenty of WindowBlinds themes for Vista and Windows 7 to choose from.
WindowBlinds Themes
Desktop themes are the visual background, wallpaper, sound, taskbar, icons and other elements that you see on your desktop. Using the default desktop is good but not good enough if you like to see and hear new desktop elements.
WindowBlinds is the most popular application to change the way your desktop looks. You can choose from several desktop theme categories such as computers, food, games, holidays, nature, music, people, places and many more. Some of the desktop themes are free, as long as you are using the WindowBlind program.
An example of WindowBlind that I applied on my Vista desktop is called "Sabertooth":
It does not affect the performance of the computer even if I change the visual effects, wallpaper, fonts, transparency, colors, style, and textures. What is neat is I can continue using any desktop background that I have when the new WindowBlind theme is applied.
Animated WindowBlinds Themes for Vista and Windows 7
Not only are there neat and cool desktop themes to choose from when using WindowBlind software, but you can also install animated WindowBlinds themes for Windows: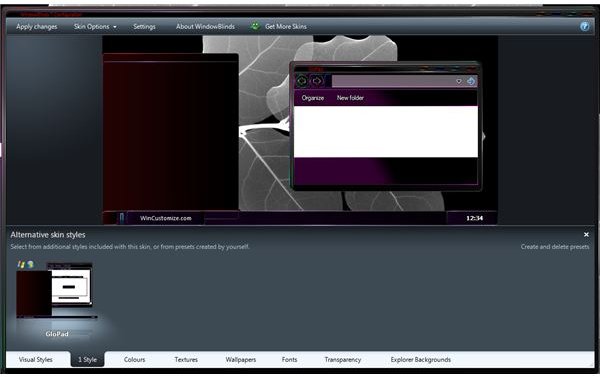 What is cool in using WindowBlinds is you can configure it to use basic or advanced desktop skins. The location to download more WindowBlind themes is at WinCustomize's WindowBlind website. You can search their website for new, updated, recently featured, top rated or most downloaded desktop themes. It's best to preview the provided screenshot before downloading a WindowBlinds theme because some themes' file size is over 1MB, while others are only a few kilobytes.
Skinning Desktop Themes Using WindowBlinds
Changing the look and feel of your desktop theme is done by using the best and quality skin available. Better read the blog or articles at https://www.wincustomize.com/articles/ to find out which desktop themes for Windows were recently picked by the authors. You'll never be disappointed in changing the desktop background, theme or style of Windows when you install one of the picked themes.
Using WindowBlinds to change the theme for your desktop is easy. There are many to choose from when you first install WindowBlinds or ObjectDesktop, or download new themes. As soon as you executed the new desktop theme (the file extension is .wba), WindowBlinds automatically adds the new theme in the list: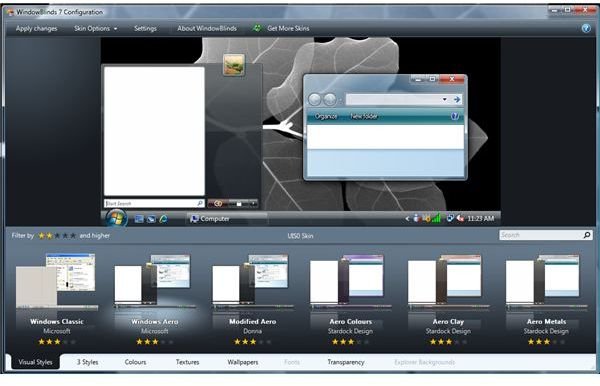 Simply select the theme, and click "Apply visual style now" or edit the style according to your liking. If you want to make Windows look like a Mac, you can have it as well!
Note that you have to run WindowBlinds all the time if you want to keep the new look and feel of your desktop. Unloading or exiting WindowBlinds program from the taskbar will return the theme to classic theme. You need to edit the properties of your desktop theme to get back the Aero-based theme.