Top 7 Free Widgets for Windows 7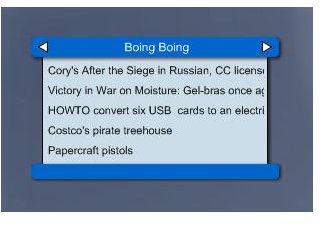 Free widgets for Windows 7 provide an interactive experience by displaying news, images, maps, weather and system performance right to your desktop. There are thousands of free desktop widgets to download and install, and each widget is unique and compact. Widgets don't consume much space on your screen and provide optimal functionality. It's the ease of use and attractive features that make widgets one of the best interactive apps for your Windows OS.
Among genuinely free widgets, Yahoo widgets are the most reliable, both in terms of functionality and visuals. However, the user must download and install a small Yahoo! Widget application in order to download and install additional widgets. This list of free Windows 7 widgets also includes some free Yahoo widgets. Before you download these widgets from the list, follow these steps:
Download and install Yahoo Widgets Installer (You will have to click the Manual Download button with the Windows logo)
Double-click the Widgetsus installer and follow the steps to complete the installation process.
You can now download and install additional widgets from the Yahoo! Widgets page. To install, just double-click the widget to launch. It will automatically snap on to the Yahoo! Widget sidebar.
Best Free Windows 7 Widgets
Here's a rundown of the best free widgets for Windows 7, including a free RSS and Atom feed reader widget, a comprehensive weather widget, a widget for maintaining monthly budgets and a system monitor:
1. RSS Reader
This simple, yet stylish RSS feed reader excels both in functionality and design. Just right-click the widget and add or remove feed URLs, and it will display all the latest updates from the world of technology, politics, sports and other news.
The widget boasts preloaded feeds from Boing Boing, Engadget, Slashdot and MSNBC. You can also set the widget width, color and the number of news headlines per page. Click on the headline to expand the story or click Read More to go the website. Overall, RSS Reader is a great addition to your free Windows 7 widget compilation.
2. Wolfram Alpha Widget for Windows 7

Better known as computational knowledge engine, Wolfram Alpha returns "answers" to factual queries. So, if you are stuck up with a derivatives problem, just type in the problem, and within seconds the search engine returns comprehensive solutions. To know more about Wolfram Alpha, read Getting the Most Out of Wolfram Alpha Search Engine.
Wolfram Alpha also provides a nifty search widget. With this widget installed, there's absolutely no need to go to the website. Just type in the query or search term and Wolfram Alpha shows the result on its website. But unlike the MultiSearchIT Win 7 gadget, this widget won't show the result in a separate small window. It will redirect to the main search engine website. Still, it can be a handy little search widget for geeks and budding scientists.
3. Weatherbug Weather Widget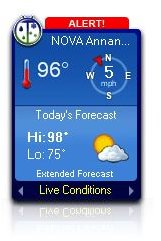 A comprehensive and compact weather widget, Weatherbug displays the current temperature and wind direction. All you have to do is type in the name of your city, state or district and within no time the widget will display live temperature, 3-day forecast, a satellite map and a weather camera is installed in your area.
The Weatherbug Weather widget is smooth and functions without any hiccups, a trait you will find in most some third-party free widgets for Windows 7. Overall, the widget is clutter-free, less clunky and relatively quicker than other widgets in displaying live conditions.
4. BudgetWise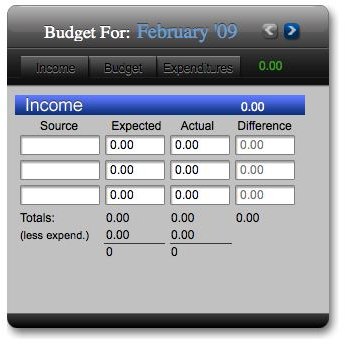 A nifty budget planning widget for your desktop BudgetWise lets you create monthly budget in a jiffy. The widget is categorized into three sections: Income, Budget and Expenditure. The Income calculator allows you to type in the source, expected and actual income and calculates the difference. In the budget section you have a neat chart that helps manage your monthly budget. The expenditure section lets you type in the category of expenses, payment mode and amount, which automatically reflects in the actual expenditure category of the budget section.
In BudgetWise, you can save the completed budget of the current month in .csv format. This exceptionally handy widget is one of the best free widgets for Windows 7 and a must-have for all your monthly budget-planning needs.
5. Micro Player

This mini music player widget is a perfect substitute for your Winamp or Windows Media Player. It can play audio files and CD audio tracks. No need to keep any of the iTunes or Windows Media Player open, just select the audio files and click the play button, and it will display the current track. The player's slim size and can be configured to consume less space.
Micro Player can play a variety of music files besides MP3, such as Wave, AIFF, WMA, and M3U. It can be a great addition to your widgets collection.
6. Sys Monitor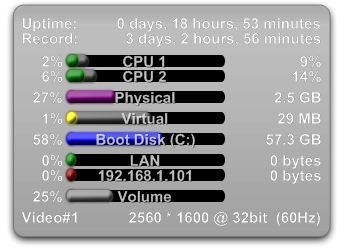 This is comprehensive and fully configurable all-inclusive system monitor. It provides information on CPU and RAM usage, the amount of Hard Drive space available in your system, your laptop battery, Wireless and LAN IP, and pagefile. You can add additional system monitoring graphs, such as virtual memory, but there may be some frequent hiccups when you add the Top Processes graph. The widget won't work as usual and you may have to reinstall it. However, everything else works fine, and surely Sys Monitor must-have widget to have a nice visual analysis of your system performance.
7. Typing Speedometer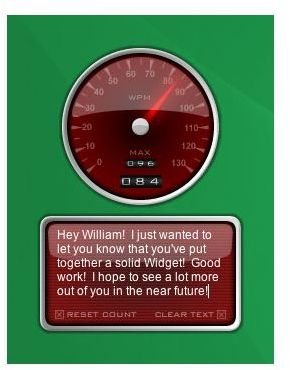 A fun little speedometer app that measures your typing speed, Typing Speedometer is one of the best free widgets for Windows 7. It has 3 modes of displaying your typing speed: standard words per minute, characters per minute and actual words per minute which measures the number of words typed by the user.
The widget also has a nifty "type anywhere" feature that allows you to type in documents and emails. In this mode, the speedometer will automatically measure your typing speed. The app will install a small .dll file before enabling this feature. The "type anywhere" mode is available only for Windows operating systems. Before you start using this app, make sure you set the calculation period as 1 minute to get accurate typing speed results.