Adding Items to the Windows Start Menu - How to Add Google or Yahoo Search to the Vista Start Menu?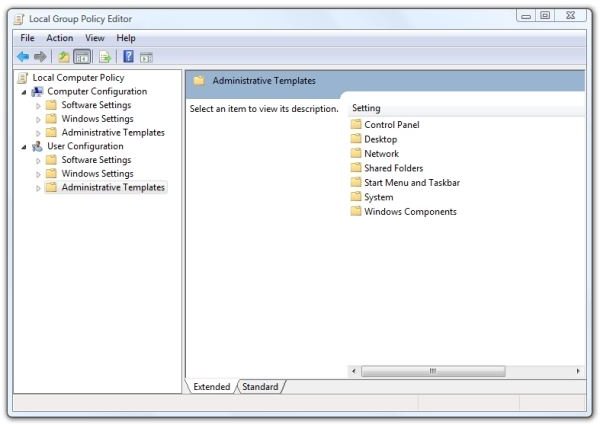 This tip requires a Business, Professional, or Ultimate version of Vista. We'll be using the Local Group Policy Editor to add our Instant Internet Search provider and a link to the Vista Start Menu.
These steps are also useful as a means of preventing Windows Live from changing the default search provider.
Ready? Let's start.
1. Press the Windows button, enter "gpedit.msc" and press Enter. If User Access Control (UAC) is enabled, select "Continue."
2. In the Group Policy Editor, select "Administrative Templates" under "User Configuration" in the left-hand pane.
Image
3. Double-click "Windows Components" in the right-hand pane.
Image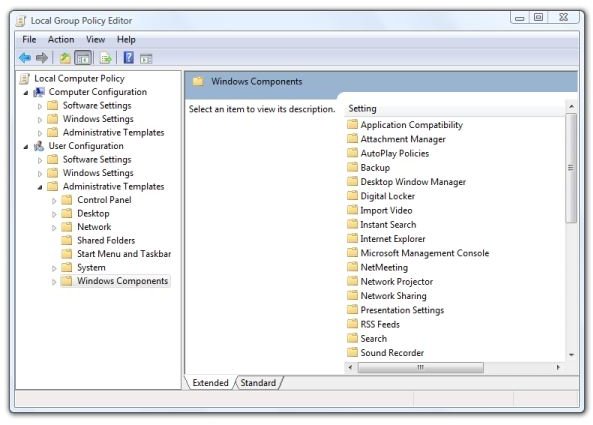 4. Double-click "Custom Instant Search Internet search provider" in the right-hand pane.
5. Click "Enabled."
Image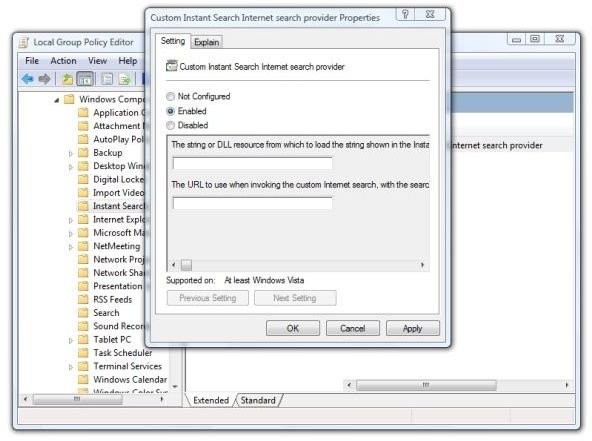 6. Select the service that you wish to use a default provider – Google, Yahoo, Microsoft Live Search – and enter the name of the service in the top field under "The string or DLL service from which to load . . ."
7. Then pick the corresponding string from this list
and enter the string in the field under "The URL to use when invoking the Custom Internet search . . ."
Image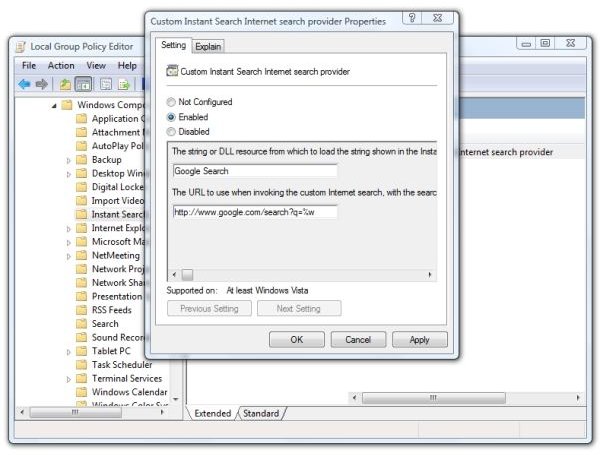 8. Click "OK" to close the dialog, and click File, then Exit to close the Local Group Policy Editor.
So what do we get? As shown in the image below, if you press the Windows button on your keyboard and start to enter a search term, you now have "Google Search" (or whichever provider you selected) on the Vista Start menu.
Image

What's a Quick Tip?
Quick Tips are Bright Hub articles which are shorter than a regular article but longer than a blog posting. Quick Tips focus on a single topic or the answer to a specific question that can be simply described with images and text.
Thank you for reading this.
Other Quick Tips
How to Measure and Track Broadband Consumption on Your PC - Need a way to measure the Internet bandwidth consumed by your PC and monitor your download habits? Maybe because your ISP has set new limits on consumption? This brief article shows how to use the free application Bitmeter to measure and track your bandwidth.
How to Test High Definition Video on Your Laptop or PC - Want to find out what high-definition video looks like on your current Vista or high-end XP PC without spending any money or buying any additional equipment? You'll find out quickly if your PC can handle 720p or 1080 video. All you need is a fast Net connection and Windows Media Player 9 or 11.
How to Prevent Windows Live (And Other Applications) from Hijacking Your Internet Explorer Home Page - Want to keep Windows Live applications and malicious applications (malware) from hijacking your home page location in Internet Explorer? This Quick Tip shows you how to lock (and unlock) your home page location.
How to Tame Vista's Folder Template Forgetfulness - If Windows Vista is confused and is showing your documents in a multimedia folder and your music in a documents folder, we've been there, too. This article will show you how, step-by-step, to tame Vista's template folder forgetfulness until, we hope, Microsoft finally fixes the problem for good.