The Best Free Backgrounds for Windows Live Space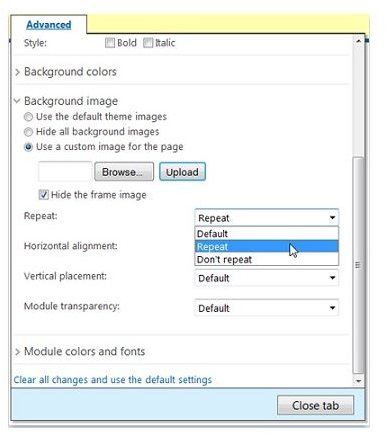 Personal Images
With Windows Live Space, you can use any image for your background. One of the best sources for free backgrounds is your own personal image library. You can use pictures you have found online, photos you've taken yourself or any other image located on your computer. Live Space automatically sizes your images when you upload to fit the correct background dimensions. If you notice problems with how the image is displayed, you can edit the image in Paint before uploading.
Free Backgrounds
If you want to find free backgrounds online, there are numerous sources available. Background Labs provides a large variety of backgrounds in an easy to search format. You can search by color, category and tag.
If you're looking for something more interesting, Caedes is a wonderful source. You can download most images in different sizes. You can only use Caedes images for non-profit sites.
Windows Wallpaper Live provides an excellent variety of Windows wallpapers, which can also be used as Live Space backgrounds. All backgrounds are free. Sort backgrounds by category to find what's right for you.
Many sites offer MySpace and Blogger backgrounds and templates. The backgrounds for these sites can also be used for Live Space. MySpace Backgrounds lets you find backgrounds in a large variety of categories, including holidays. Any backgrounds you can preview, you can use on your Windows space.
One last great source for free backgrounds for Windows Live Space is Backgrounds.org. The site offers beautiful backgrounds in a few different categories than the other sites, such as Disney, food and video games.
Other Backgrounds
Another way to get Live Space backgrounds is by visiting your favorite free photo or graphics sites. Any non-copyrighted image can be used. Some images can be used even with a copyright as long as you include the owner's information. Please pay close attention to any restrictions when using copyrighted images.
If you're looking for a specific image, the best thing to try is performing an image search on a site such as Google or Bing. Flickr is another excellent source of free images as long as you respect the wishes of the creators. You can find great pictures of scenery, buildings and random objects with Flickr.
Many places offer backgrounds for creating flyers, cards and other desktop publishing projects. Microsoft Publisher is one popular program that many sites cater to. These backgrounds can be used in Windows Live Space as well.
Using Backgrounds
When you have your free background, you must log in to your account to upload it. You may also need to change your color scheme to make your background look better, such as changing text so it doesn't blend in with the background. You can add a background using the Advanced menu from within Customize Your Space.
Resources
Background Labs: Free Backgrounds and Patterns, at https://www.backgroundlabs.com/
Caedes: Desktop Wallpaper, at https://www.caedes.net/
Windows Wallpaper Live: Free Windows Wallpapers, at https://www.windowswallpaperlive.com/
Free MySpace Backgrounds: MySpace Backgrounds, at https://www.freemyspacebackgrounds.net/
Backgrounds.org: Backgrounds, at https://backgrounds.org/