Using Windows Live Messenger and Wmp Plugin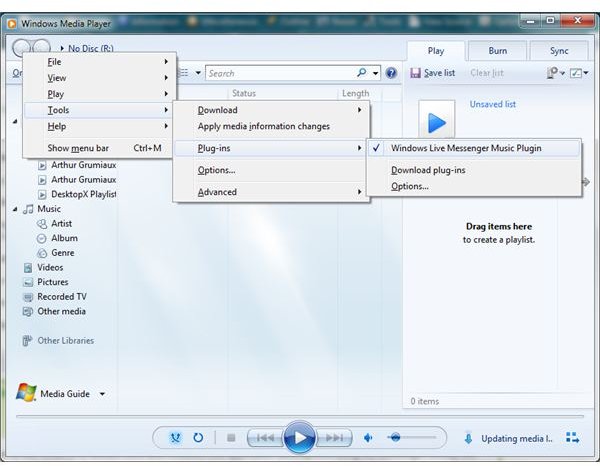 Display WIndows Media Player Current Song Titles in Windows Live Messenger
The latest version of Windows Live Messenger is available as part of the Windows Live Essentials 2011 suite of free applications from Microsoft.
With this release of the chat client you can integrate various other features; for instance the client features on-board support for limited integration with your Facebook contacts, while other features and plugins are available.
One of these is the ability to display the song titles that you're currently listening to in Windows Media Player – a great way to let your friends know just how cool you are (or not)…
Where to Find the Windows Media Player Plugin
Before getting started, make sure you have exited Windows Live Messenger.
By default, the Windows Media Player plugin should be present on your system. You can check this by loading up Windows Media Player and viewing the available plugins.
In Windows Media Player, tap the ALT key to display the main toolbar menu, and go to Tools > Plug-ins where you should see Windows Live Messenger Music Plugin listed – click this to activate. You can also use the Tools > Plug-ins > Options screen to select and activate the plugin.
If the plugin is not available, then you will need to upgrade your version of Windows Media Player; solutions for older versions are sadly incompatible with the solution for use with the current release of Windows Live Messenger.
Configuring Windows Live Messenger and WMP Plugin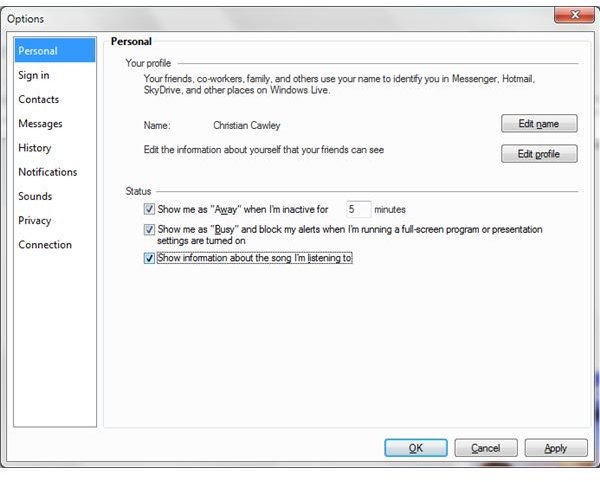 In order to take advantage of the plugin, it needs to be activated within Windows Live Messenger. Begin by opening the messaging client, then tapping ALT to display the main toolbar. Go to Tools > Options… and on the Personal tab check the box to Show information about the song I'm listening to.
With the plugin activated in both applications, you will now be able to share information about your currently playing track.
Note that this may not be possible if you are listening to a CD and have disabled Windows Media Player from downloading information about the title. If you wish to change this, go to Tools > Plug-ins > Options > Privacy in your media player and check Display media information from the Internet (this is the first option).
Displaying the Currently Playing Song in Windows Live Messenger
In order to share what track you're currently listening to with your online contacts, all you need to do now is press play in Windows Media Player. Almost immediately you should see a small box in the corner of the screen detailing the artist and track name and advising you that this information is being shared, while in Windows Live Messenger a small musical note will be displayed. Clicking this icon will take you to a Bing search results page for the song in question.
Note also that with the latest version of Windows Live Messenger you can set a status in addition to the track you are listening to.
(Screenshots by author)