Windows Live Hotmail Virus: Avoiding the Threat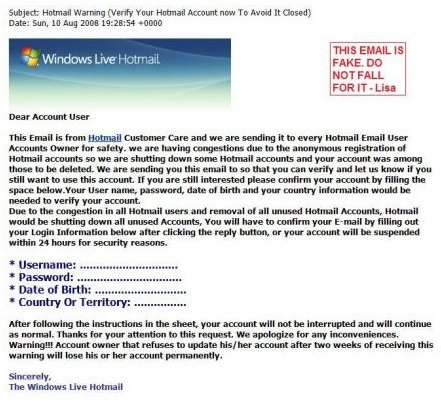 The first signs that something is up..
Occasionally you see something that makes you scratch your head, such as a notice advising you that an email was not delivered even though you did not send one, at least not to the recipient listed. Perhaps you get a phone call from a friend asking how you got involved in some crazy scheme. You may have had your address book and pc commandeered through a Windows Live Hotmail virus.
How Did I Get This?
With any malware attack, the two spots targeted are going to be the server, or in this case Hotmail, or the user, which in this case is you. Hotmail employs state of the art malware defense and has a host of IT engineers working to protect from threats and eliminate any that make it through the defenses. Occasionally, one may actually survive and make it into the infrastructure, but more on this later.
It may surprise you to learn that you likely caused the breach by responding to an email asking for information like the one pictured here or by opening an attachment in an email purportedly sent by someone you trust. Last, but not least, is the possibility of a virus entering through your Windows Mail or Outlook Express mail client.
Image credit: lisafromwindowslive
What Do I Do Now?
If you are on the internet, you should be using an antivirus program or security suite. Your internet service provider or ISP likely offers one as part of its package at no additional cost to you. If not, there are a number of free antivirus programs out there. AVG, Kaspersky, Avast and Windows Defender are the best known and may even be installed but not activated on your computer. Studies have shown that unprotected PCs are attacked within minutes of being online.
Best Strategies to Avoid Windows Live Hotmail Virus Attacks
1. Install antivirus software and keep it running constantly.
2. Use your junk mail filter and safe senders list. Changes in their appearance and function can signal a Windows Live Hotmail virus infection.
3. Never open email from senders that did not obtain your address from you.
4. Never open attachments unless you trust the source AND the email makes sense. Make sure the style, spelling and grammar are the same for this person or you actually do business with the sender.
5. Never share login information with anyone over email. Do not click on a link in the email to go to a login page. Always close out and open a new browser to login into the referenced account. You will usually see nothing wrong or out of place as the email described.
6. Report, report, report. Clicking on the action button on the right of the Hotmail message will give you the option to 'view source'. Copy the contents and paste them into an email sent to [email protected]. If the email is using a counterfeit logo or font from a corporation, send a copy to their security department as well.
Hotmail did experience an episode where vulnerability was exploited to allow the use of accounts for spam and fraudulent purposes, but that has been corrected and new procedures are in effect to safeguard the system's integrity. By being smart and taking the time to actually read links and addresses, your exposure to attack can be greatly reduced.