The Best Win 7 Gadget for Your Windows 7 Sidebar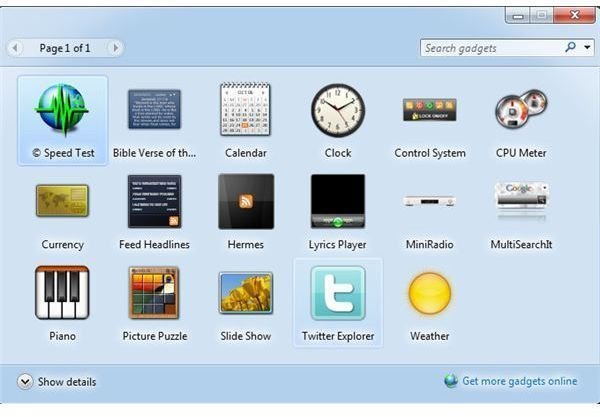 Windows 7 Gadgets – Fun Little Apps for your Windows Sidebar
Windows 7 gadgets are fun little visual apps that provide information right on your desktop. Unlike Vista, gadgets for Windows 7 can be resized
and set anywhere on the desktop. What's more, you can snap all your gadgets and give them a neat look by dragging them to the edge of the screen. Personalize your PC with the best Win 7 gadget, and get information at a glance or get easy access to tools.
While there are some gadgets already installed, you can add more. Just follow these steps:
Right-click on the desktop and select Gadgets
Click "Get More Gadgets Online" at the bottom of the gadget screen.
Select the gadget from the Windows Live gadget gallery and click the Download button. Later, double-click the downloaded widget and it will automatically show up in the gadgets window.
The Seven Best Windows 7 Gadgets
There are several uses of desktop gadgets. For example, and RSS feed gadget can display news headlines and keep you updated on the latest news. With this gadget installed on your screen, you won't have to hunt for news websites. Just like the RSS feed gadget, there are several novel gadgets that provide information on moon phases, your system's CPU & RAM and many more. There are fun apps like picture slideshows, jigsaw puzzles and Internet radios. Here's a rundown of the best free Windows 7 gadgets to personalize your desktop:
1. MultiSearch IT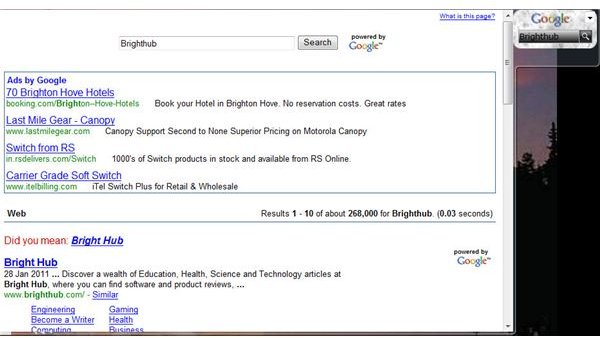 Want to search websites, images and software right from your desktop? How about using this nifty little multi-search Win 7 gadget that helps your search results on Google AltaVista, Bing, Yahoo and ASK? With loads of colorful skins and simple user-interface, MultiSearch IT is your perfect search gadget to search for your queries from your desktop.
No need to open your web browser, just select the search engine, type in your search term and press enter and up pops a mini-screen showing the search engine results page. You can search for music, software, maps and news. The gadget has loads of colorful skins. All you have to do is click the settings icon (wrench icon) and move the slider to change the background color and opacity. The gadget is available free at the Win 7 Online Gadgets gallery.
2. Hermes RSS Reader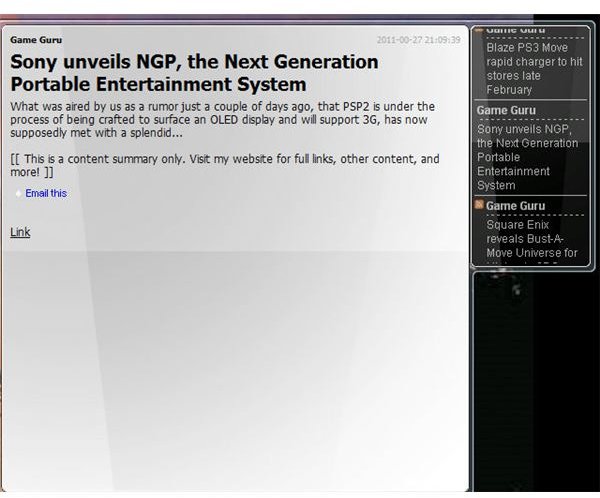 The one gadget that every Windows 7 user desperately wants is a free RSS reader. But, all they get is a shareware that does not allow them to customize or add their own feeds. Hermes RSS Reader is not one of them. It is a genuinely free Win 7 gadget that lets you add numerous feeds, which automatically update without opening the browser.
The best feature of Hermes is the configurable scroll speed. You can change the speed of its auto-scroll feature via the settings menu. You can also set update intervals to get quick news updates. The one drawback of the RSS feed reader is that you cannot change the background, though you can change the font size, color and type. Overall, Hermes is a must-have because it is customizable, compact and most importantly, free.
3. Control System

This compact Win 7 gadget lets you shutdown, restart or logoff your PC from your screen. While there are several similar "Control System" gadgets, this application is different, thanks to its special "lock" option that provides an animated transparent shield to avoid any accidental clicks. With the lock mode ON, you will have to double-click a restart or a logoff icon. You can easily remove the lock mode by clicking on the Lock button below and the animated transparent shield slides back. If you are looking for a unique control system gadget, then check out the features of this free app.
4. Mini Radio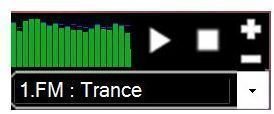 One of the most-wanted gadgets that users want on their Windows 7 sidebar is a free Internet radio – And Mini Radio is the best app in the list of free Internet radio Win 7 gadgets for your desktop. Along with over 70 stations, the radio lets you add your favorite stations. All you have to do is add the radio station's website URL and then you can listen to your favorite station right away.
You also have two options to change the visuals. You can choose a micro-visualization screen or turn your radio into a mini-virtual radio player. This gadget's quite compact and a great application to listen to your favorite radio stations.
5. Piano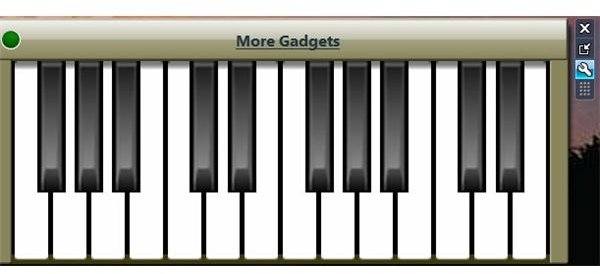 This simple and compact piano gadget may help you have a relaxing time during a hectic work schedule. The app has a big size mode that supports touch screen. It also lets you select the keyboard style, such as English, Latvia and many more. Piano is free and takes less space on your desktop. You can switch to the big size mode to get a real Piano look and feel.
6. Twitter Explorer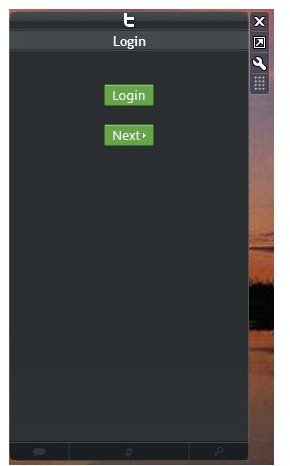 A nice little app to keep yourself updated with tweets on your sidebar. With a simple interface, the gadget lets you view recent activity of people you follow. There's a retweet and a reply button below every tweet. The look and feel of this free Win 7 gadget is reminiscent of the original Twitter. However, you can change the theme and size of this nifty little Windows 7 app. You can also change the update interval as well as the height of the twitter gadget.
Twitter Explorer can be a very useful Windows 7 gadget, provided the developers maintain and update regularly. The best part – it is completely free and takes less space on your disk.
7. Bible Verse of the Day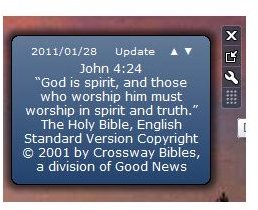 A small, but stylish gadget that displays selected Bible verses every day. The Bible verses are frequently updated from the BibleGateway.com feed. There are also various translations, including the King James version and the Darby translation. Just select the Bible version from the drop-down list via the settings menu and get the verse in that version.
The best part of Bible Verse of the Day is its design. It looks simple, but the blue background and white font combination looks great. You can also change the size of the gadget by clicking the resize button. Overall, this app is one of the best Windows 7 gadgets for people.