How to Set Up Computer Surround Sound - Windows 7 Audio Guide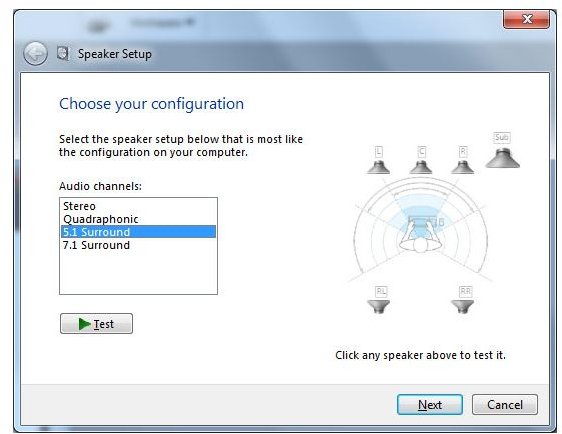 Windows 7 Surround Sound
In order to get the most of our movies or games on your Windows 7 PC, you should invest in a good surround sound speaker set. However, there is a bit more to setting them up than just plugging in the speaker wires. Windows 7 is defaulted to use stereo speakers, and unless you configure the sound settings to know what kind of speakers you have, Windows 7 won't know to push audio to the back speakers or center channel of your surround sound set. In this article, I'll show you how to set that up.
What is Surround Sound?
Surround sound is exactly as the name describes. It involves an audio system with multiple speakers that are used to more accurately recreate soundscapes as heard by the human ear. Generally, a basic surround sound system is described as 5.1 or 7.1 because it uses 5 or 7 full-range speakers along with a subwoofer. The subwoofer gets the .1 designation because it is designed only to produce low range (bass) frequencies while the other speakers handle the midrange and higher frequency audio. Since a subwoofer is not considered a full-range speaker, it gets the .1 label. You will also see stereo speaker sets that include a subwoofer and they are described as 2.1 systems, but those do not count as surround sound.
When setting up your surround sound speaker system, you should place the subwoofer under your desk or perhaps in a corner to help deflect the bass. Subwoofers are larger than the other speakers and should be put out of the way. The center channel speaker should go somewhere directly above or below your screen, and the satellite speakers should be spaced evenly apart. If you have to use varying distances to separate your speakers, some Windows 7 sound drivers include programs to adjust the individual volume of speaker locations to compensate.
Be sure to check out our article on the best PC 5.1 surround sound speakers on the market.
Windows 7 Speaker Setup
Open up the Windows 7 Control Panel, then go to the Sound application. Under the Playback tab, you will see a list of items supported by your system. Usually, the one labeled Speakers is already checked. Click on Speakers, then click the Configure button in the lower left corner of the window. This will bring up the Speaker Setup window.
The Speaker Setup screen is where you tell Windows 7 what type of audio output you are using. In the example graphic here, you see that my system supports four options: Stereo, Quadrophonic, 5.1 Surround, and 7.1 Surround. Choose the option that matches your own speakers, then click the Test button and it'll play a sound through each speaker in order to identify their position.
If the sound does not play through the appropriate speaker, double-check your connections to make sure everything is plugged in correctly. It's easy to mix up all those surround sound wires when you have so many different speakers.
(Image Screenshot from Author's PC)