Learn How to Choose The Best Fundraising Donor Database Software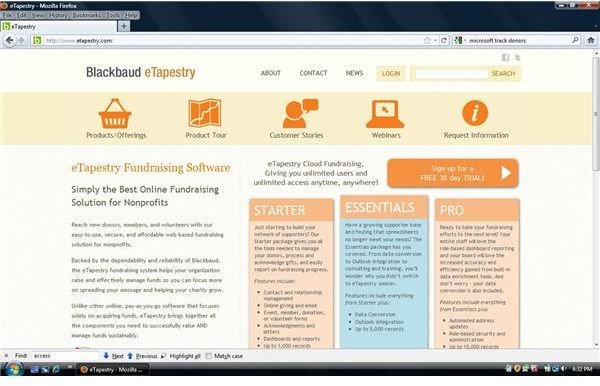 What Do I Really Need?
Choosing the best fundraising donor database software has to start with what the question, "What do I really need?" That should give you a starting point when looking at features, simplicity, and cost. If you are obtaining software for a small organization and you have some computer experience, a simple spreadsheet program already installed on your PC may be enough to get you started. It is important to remember that your software requirements will probably change as your organization grows.
Database software is widely available, but a general purpose program may not be the best choice for donor management. Microsoft's Access may even be installed on your computer already. There are free donor databases for Access available from Microsoft. Programs for donor or membership management are widely available, and some of them are even accessible online.
What Features to Look for?
Features that may be of value to your group include email tracking to see who opened your messages and who deleted them. Some programs have the ability to process online giving and enter the information into your database. Many have tools to coordinate and track volunteers. All of these are in addition to storing contact information and keeping a journal of donations received.
Some suppliers offer features on their software "ala carte." You get basic functionality included with the initial purchase, and other features are available for an additional fee. This may be handy in customizing your suite and to see if a feature is right for your organization. You may not need the extra capability and you can cut costs on features you don't want or don't need.
How Much Should I Expect to Spend?
Simplicity will help assure you that whoever is in your office can run the software; this is important if you are running on a volunteer staff. If this is not a major concern in your search for fundraising donor database software, at least check to make sure training resources are available from the vendor. There can be a tradeoff here if you have a dedicated core of volunteers for this assignment or someone who is already familiar with database management.
When it comes to cost, you want your money going to your foundation, not your software provider. Works or Excel is hard to beat if all you need are records and contact information for a few donors. MS Access is less than $150 and can provide you with this and reporting tools that are easier to configure. One offering, eTapestry, is free if you have less than 500 donors to manage.
Other donor databases are usually priced either as a subscription or as a purchase. Single user licenses can range from a few hundred to several thousands of dollars. If your group has more than one user at a time or users on more than one computer, be prepared to spend an additional $200-$600 per license. Another thing to keep in mind is that initial cost is only part of the picture; software with a low initial cost may have high training or support fees.
Are Free Trials Available?
The best fundraising donor database software for you is ultimately going to depend on how easily you can use the software. Fortunately, nearly all the suites and versions out there offer free trials ranging from one to six months. Perhaps the best thing to do is start out with a software package that offers a subscription, and try other software to see which one you like best or which one suits your requirements.
References