Two Of The Best MS Word 2010 Calendar Downloads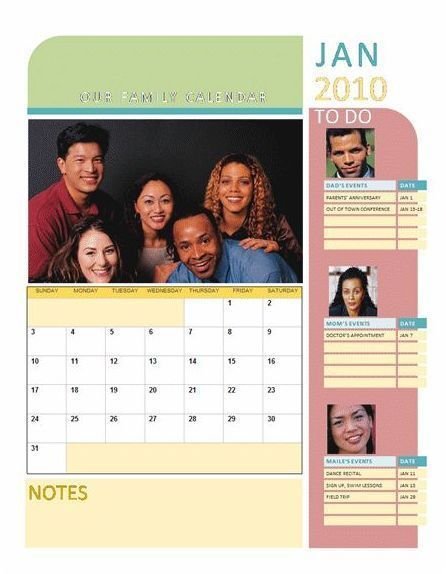 Downloadable Family Calendar
One of the most common calendars in the entire world is, of course, the family calendar. As such, this is the first Microsoft Word 2010 Calendar recommended. After all, who doesn't like showing off their family?
Whether you hang it in your work office, your bedroom, or your kitchen; this calendar can provide you with both inspiration and motivation whenever you take peek at it. It has a sleek, simple, clean, and aesthetically pleasing concept – as shown in the screenshot.
Besides its design, there are a few other noteworthy features you should know about. The first of which is the fact that this calendar allows you to replace each image for every month with your own photographs, just as if you were to create your own customized print calendar. When doing this, the photographs you select for each month will automatically be resized to better fit the format. Some common photographs that you can include are of your family, children, friends, pets, or even just yourself.
Besides the customizable photographs that you can enjoy, the calendar also comes with a "To Do" section. This portion of the calendar is located on its right side and allows you to record anything that needs to be done throughout the month. There are three separate lists for three separate people too, in case other people will be using it.
The last portion of the calendar is labelled "Notes" and is found at the bottom of the calendar. Obviously, you can use this section to write down any important information that you need to remember such as an appointment for the following month or what groceries you need to pick up.
Its functionality, design, and multiple use elements make this family calendar one of the best templates for Microsoft Word 2010! If you're interested in downloading this calendar, head on over to Microsoft's Official Website.
Downloadable Astronomy Calendar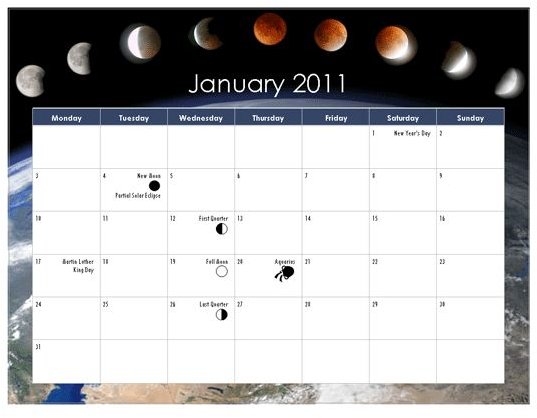 There's no doubt that the family calendar is necessary for most households. But what if you want a template that's a little bit more creative and fun? Well, the astronomy calendar is certainly an option worth considering.
This calendar is ideal for younger children or students because it teaches them about quite a few elements of space; almost like an introduction to astronomy. Of course, if you're interested in the topic too you might as well grab it and use it.
It is an aesthetically pleasing design that catches the interest of others with its bright and vibrant colors. Near the top, the different phases of the moon are illustrated horizontally while the Earth is located beneath them with the month on top of it. You can view a screenshot to your left or click on it to make it bigger.
With respect to the actual calendar months, a variety of different information is included directly on each day it occurs. This includes all of the basic information about space and time, including:
Moon Phases
Solar Eclipses
Lunar Eclipses
Zodiac Signs
Equinoxes
Solstices
This calendar is available in two different formats: Monday to Sunday, or the more widely used Sunday to Saturday. For its vibrant design and detailed information, the astronomy calendar is certainly one of the best calendars you can grab for Word 2010. If you'd like to download it, you just need to visit Microsoft's Website.
More To Come!
Remember, Microsoft Word 2010 is a relatively new version. Microsoft, as well as its users, are still developing calendar templates. As such, the number of worthy calendar downloads will likely increase as the months go on and people continue to contribute and improve their work. Always check back to see the latest and greatest calendar templates based on their design, functionality, and theme.