Online Photograph Storage and Management with Windows Live Photo Gallery - Top Online Photograph Software
Windows Live Photo Gallery
Launched in November 2007, Windows Live Photo Gallery is Microsoft's answer to Google Picasa. It is a simple solution which makes importing photos from your digital camera and organizing them by name, date, type, rating, etc. a seamless whole. Such organization aids quick retrieval and helps you manage your personal gallery with ease. With enhanced photography editing features you can edit photos, combining multiple photos to create panoramic views, add captions, adjust the color, crop and fix redeye.
Having tweaked your online gallery, you can create entire albums, slideshows and screensavers for you and your family and friends to enjoy. Live Photo Gallery also has the capability to manage video content and interacts seamlessly with Windows Live Spaces or flickr for publication of galleries onto the web.
On using Live Photo Gallery, one of the first things you notice is that importing photos is extremely quick, and thanks to extensive tags such as name, date, star rating, keyword, etc., your ability to find and navigate around multiple galleries is considerably easier than other photo gallery packages. After all, the major time wasting factor of many photo suites is the time that has to be spent trawling through photo after photo, which is frustrating and ultimately dampens enthusiasm.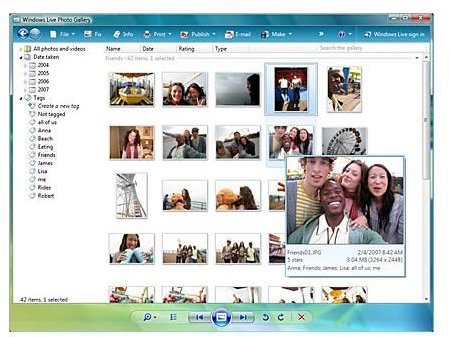 Another nicety of such organization is that with excellent tagging you can create slideshows much more professionally, as you don't feel like you are re-inventing the wheel, clicking on each photograph and tagging it one by one, and then having to create the effects when you have already run out of time and patience. However, arguably the best feature of Live Photo Gallery is the ability to create panoramic views by stitching together multiple photos that have been taken side by side and in the same location. Even with complicated photos or combinations of as many as eight or nine images, with minimal cropping the stitching effect produces great panoramic shots.

Another advantage of Live Photo Gallery over other 3rd party gallery suites is that it runs incredibly smoothly on both XP and Vista, whereas other packages tend to take an age to launch or process photographic edits. What is more, as Live Photo Gallery is so excellently integrated with the other Live services, there are easy options to publish your gallery content on Spaces, send links via Messenger, or email content via Hotmail. You can also publish video content on forums such as MSN Soapbox and YouTube.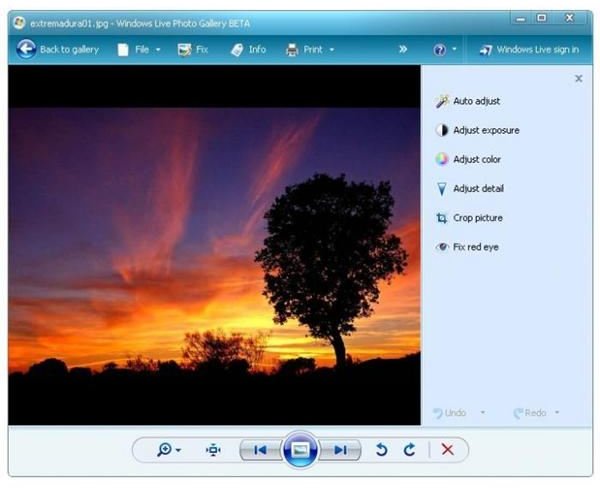 With a user interface that is in keeping with the rest of the Live service offerings, Live Photo Gallery is an easy to use piece of software. It is pleasing to the eye, intuitive, and has all the editing facilities a novice to an intermediate photography editor needs. For speed of delivery it is second to none and uploading of photos is so easy the need to spend hours organizing and managing your content is reduced. In conclusion, while Google Picasso is more robust, Windows Live Photo Gallery wins hands down because it is light-years faster to load and use for every day photo uploading, managing and editing needs.
This post is part of the series: Microsoft Windows Live - A Review
This series provides a look at each of the applications provided in Microsoft Windows Live software bundle.