Create My Own Free Web Page With Windows Live Spaces - Free Personal Web Page Designer Services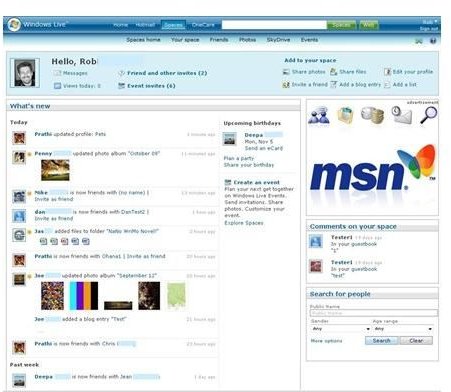 Windows Live Spaces
Whether you want to keep in touch with others, create and share online slideshows, photo galleries or simply want your own personalized webspace then Windows Live Spaces is just for you. Incredibly customizable for such an elementary level webspace service, Spaces is easy to understand and build to your own requirements. Best of all it works reliably from any mobile architecture.
This is a new age for the web, as more and more users become comfortable with the Internet. As technology becomes more advanced, end users are finding new ways to enhance their online experience with a personalized feel. The beauty of Live Spaces comes from its ability to pull functionality from other resources via superb interfacing with the likes of Live Messenger, Mail and Hotmail. As a webspace, it is great at accommodating file sharing, blogs, chat, pictures. With multiple add-on gadgets, Windows Live Spaces is appealing to a broad range of users. As we demand more exciting multimedia and multi streamed communications services Windows Live Spaces provides the next generation of personalized browsing.
The Live Spaces front end has a great look and feel, in keeping with the Windows Live theme, and being such a personalized service, has a highly impressive collection of easy to use templates and color schemes. As such, Spaces is tailor made for even the most novice user to tweak and as there are over two hundred million personal Live Spaces accounts in use today it suggests the service is quite popular. What is more, a Spaces web page can be accessed and updated via any device, mobile or static.
Creation of a Spaces account can take some time, primarily because of the importance to establish security of both content and contact access. This leaves you feeling confident that your webspace is both personalized and secure. However, once created, there are multiple streams of configurability, all simple in action. Be careful, Spaces is far too easy to delete and it would be nice to see some form of backup or restore facility for Spaces amendments or deletions. What is also somewhat annoying is the intrusive nature of advertisement banners. It is one thing to see ad banners on Hotmail or SkyDrive, but on a personal webspace where every inch of screen real estate is of premium importance such eye catching, dominating banners are not welcome. However, they can be removed by purchasing a premier 'Live' account.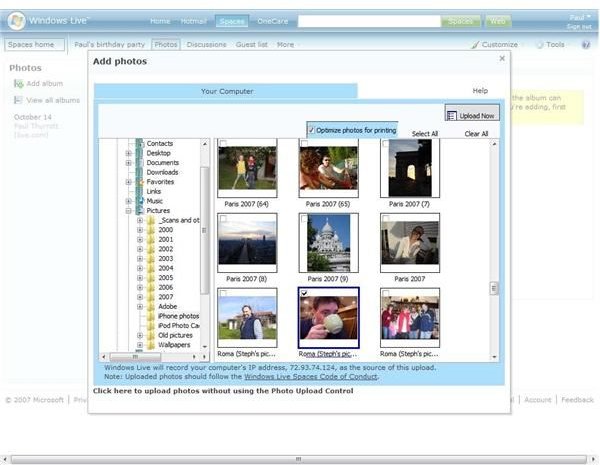 Windows Live Spaces has an excellent keyword search facility, which can trawl through the millions of Spaces accounts on the network to find specific keywords and users with similar interests. For example, performing a search of accounts with any reference to 'baseball' brought back 140,628 Windows Live Spaces references and 20,343 contact profiles that mentioned the word 'baseball' on the site.
Spaces also has some excellent additional functionality and third party plug-ins. Offered as gadgets, these add-ons allow for flexible configuration of the webspace and updating of personal information. What is even more impressive is that these gadgets are not just built by Microsoft but also by 3rd party developers. Begging the question; dare we say Microsoft is going open source?
It is fair to say that Live Spaces has some way to go before it catches up to the more experienced players on the social networking market, MySpace and FaceBook, but for the basic user right up to the technical guru just needing somewhere to lay their 'e-hat', Spaces is a great personalized web service. One bone of contention I have is that with such a wealth of permissions it is not particularly easy to use for the younger generation, with their demand for cutting edge multimedia communications, chat and blogging. Furthermore, as Spaces is really meant to appeal to the younger generation of users, the installation and configurations could really do with being more intuitive and easier to manage. This is important not only to help the younger generation embrace the idea of Spaces but also to protect against unsuspecting users broadcasting their identity to the world at large. This can be a scary proposition for many parents.
As webspace services become more and more influential in daily life, and online communications become openly embraced, social networking will require more customizability and tightened security mechanisms. In this regard Microsoft is in a great position to compete with MySpace and FaceBook; as Windows drives 70% or 80% of the world's PC architecture.
Webspace setup, design and administration has never been easier. With Live Spaces, users can embrace a whole new concept in sharing and interacting. With an abundance of gadgets and interactive tools for visitors to use, personalized page services such as Spaces will become even more popular.
This post is part of the series: Microsoft Windows Live - A Review
This series provides a look at each of the applications provided in Microsoft Windows Live software bundle.