Five Completey Free Registry Repair Utilities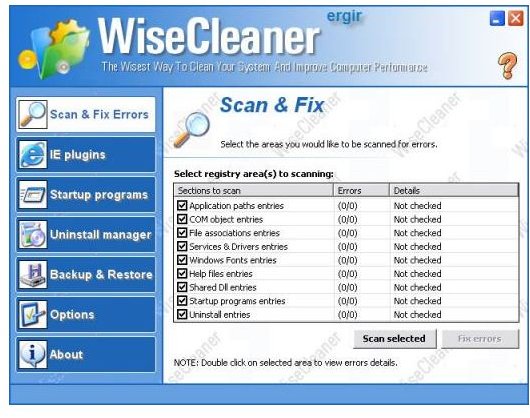 Recommended Freeware Registry Repair Utilties
Does Windows seem slow to boot-up? Are Windows system error messages popping up often? Do you find yourself restarting Windows with the power button because it won't log off or shut down? If so, then it may be the case that the registry requires a good cleaning.
What the heck is the registry? To put it simply, the registry is a database full of software and hardware information which assists in configuring Windows. It can contain hardware configuration data, program paths, and other system related settings that tells Windows how to operate. As such, it's an important part of Windows and cleaning it can enhance the system.
Fortunately, there is a good variety of software that can assist. Registry cleaner software provides the tools for scanning and cleaning (or fixing) the registry. Better still, some of these registry software packages are freeware, and are actually quite good too! These are five recommended registry cleaner downloads that will go some way to restoring the registry.
CCleaner
CCleaner is one registry cleaner that comes recommended on nearly all 'best registry cleaner' lists. This is not just a registry cleaner as it also comes with a disk-drive cleaner for unwanted files. Other tools include uninstall options and software listing to remove software, a start-up manager, and system restore manager for managing system restore points. In addition to this, it has a registry cleaner to scan and clean the registry by removing old registry entries. The flexible menu system gives you many options to select for how you wish to clean the registry. Not only this, but CCleaner also has a registry back-up and restore option just in case you make an unwanted change. For further details on CCleaner consider checking out this Bright Hub review which rates it one of the best PC optimization software titles.
Wise Registry Cleaner
The Wise Registry Cleaner has both a freeware and non-freeware version. Wise Registry Cleaner will scan the registry and then fixes obsolete registry entries. This includes two options along the lines of safe and not safe, whereby selecting safe will ensure that higher risk registry cleaning is avoided. Wise Registry Cleaner also has a back-up feature that will automatically back-up the registry before making any changes. As such, Wise Registry Cleaner is considered to be one of the most foolproof registry cleaners that is 100% safe. Overall, the freeware version includes all the registry cleaner options of Wise Cleaner Pro, but without the additional system optimization options.
Eusing Free Registry Cleaner 2.6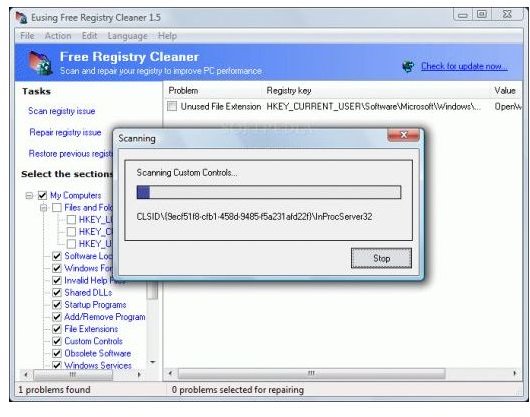 This free registry repair software provides all the standard options you would expect to find. It scans the registry, and then provides a list of potential registry fixes. After scanning, Eusing lists the results so that you can then select what to fix. Eusing also backs-up the registry. In addition to this, Eusing Free Registry Cleaner provides an undo option so that any registry changes can be undone. As such, Eusing is an effective registry cleaner.
TweakNow RegCleaner Standard
TweakNow RegCleaner is a registry cleaner which has a good menu design. It provides options to search the registry, and also even tweaks the registry. In addition, RegCleaner includes an automatic back-up feature. RegCleaner even has a beginner and expert mode to assist where the beginner mode displays items only safe to remove, while expert mode will make clear those that are not. So overall, RegCleaner is a fast and precise registry cleaner.
Comodo Registry Cleaner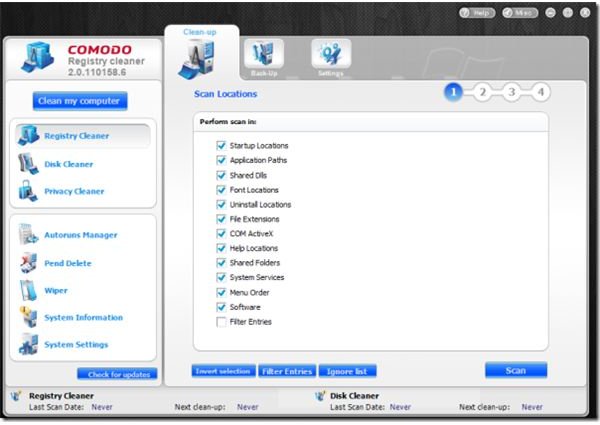 The final registry cleaner that is worth adding to the hard-disk is that of Comodo Registry Cleaner. Overall, it has a slick design and some good options for registry cleaning. Comodo Registry Cleaner can establish restore points, and also schedule regular registry cleans which is a good option not included with the other registry cleaners mentioned here. Some extra tools include a start-up scan which can remove start-up software without needing to reboot.
So, these are five must download registry cleaners. Most of these software packages have supporting websites where you can find further details on them. Overall, they are effective registry cleaners - but you still need be careful when cleaning the registry. So, take advantage of some of their back-up options.