Free Online Storage Space & Free Online Storage File Sharing with Windows Live SkyDrive

Windows Live SkyDrive
As open communication and worldwide data exchange become a major priority for today's PC user, Microsoft has developed a free online storage service called Windows Live SkyDrive. Tagged as part of the File Sharing suite of Windows Live applications, SkyDrive offers up to 25GB of online storage capacity which users can access remotely, and because it is web based that means anywhere, anytime.
For the novice user 25GB of storage is a substantial amount of space and brings mobile storage to the masses. For example, you could store hundreds of documents, images, audio or video files on such a generous online partition. Data is stored in Public, Private and Personal folders, with the SkyDrive owner setting permissions for other users to gain access, read or edit SkyDrive information. The ability to set such permissions is fundamental to the SkyDrive's success as a globally recognized storage facility and with lock down administrative control the SkyDrive is able to provide users and owners alike with the peace of mind they expect.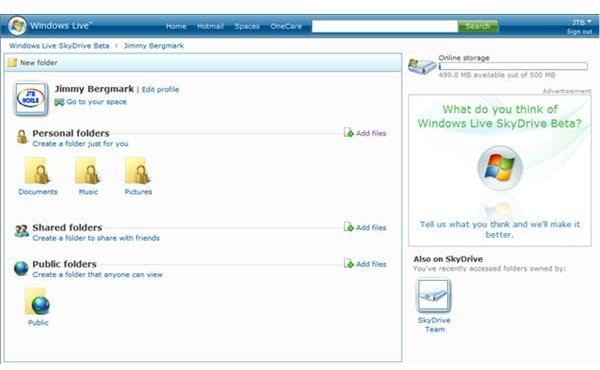 As with all Live products, installation is quick and begins with a sign-up process requiring setup of a Windows Live ID. This is all fairly straightforward and is required of both SkyDrive owners and users wishing to access a SkyDrive. This tightens security but can be annoying to those who would rather not have to sign-up to what is in effect a giant Microsoft database, just to gain access to an online storage facility. To provide access to a SkyDrive the owner sends out email invites to other users for them to accept or reject. The owner of a SkyDrive can restrict invitees to files and folders, and restrict permissions to either read or edit.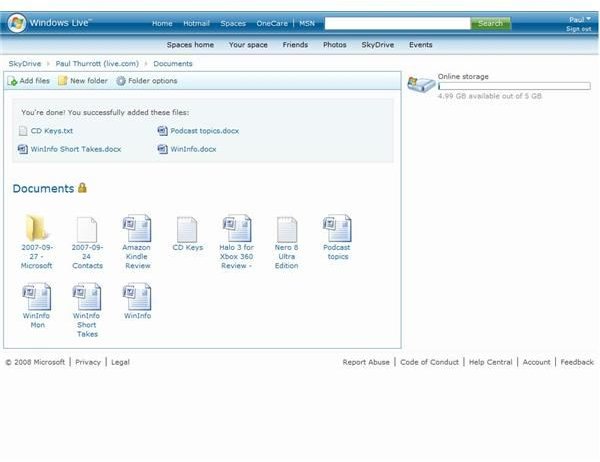 At this time the Live SkyDrive service has minimal integration with other Windows Live services- Live Mail and Live Spaces; but this integration is improving by the week with enhancements in Web 2.0 and sophisticated add-on functionality.Windows Live SkyDrive is clearly still in the beta stages of development. However, with such a clean interface this is an excellent entry level service. It would be nice to see some improvements in functionality, the ability to create slideshows in public folders, save e-mails as easily as documents, and integration with other 3rd party storage media. For now, the simple operability, excellent folder structures and lock down permissions Windows Live SkyDrive offers gives excellent service.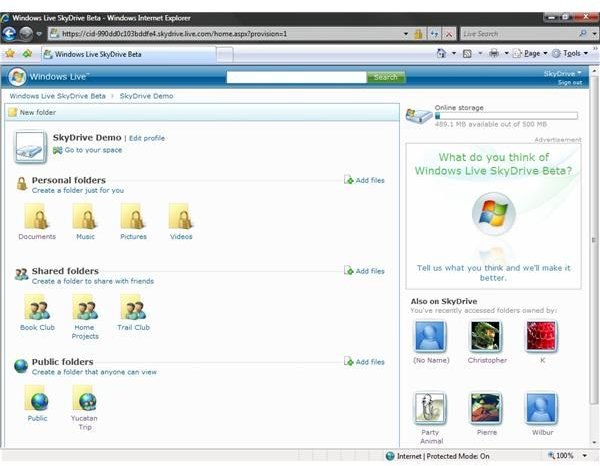 There is much to like about Windows Live SkyDrive, and with the introduction of gadgets and more advanced storage configurability, audio and video file manipulation and automated backup/synchronization of data, the sky is the limit! (no pun intended).
This post is part of the series: Microsoft Windows Live - A Review
This series provides a look at each of the applications provided in Microsoft Windows Live software bundle.