What is Windows Live Toolbar Beta - Live Toolbar Functionality and Performance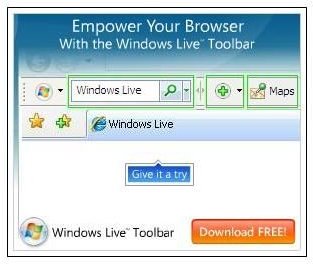 Windows Live Toolbar
Windows Live Toolbar is Microsoft's answer to personalized Internet searching. Replacing MSN Toolbar, the new Live service is present and functional from any web page, fast and reliable, without compromising online security. However, there is a major drawback- and that is the Live Toolbar only works with Internet Explorer version 6 and above. This is a considerable disadvantage over other toolbar services such as Yahoo and Google, which function on any browser, be it IE, Firefox, Opera, etc. That said, it is good that the toolbar does not automatically attach itself to your web browser, instead allowing you to toggle it on or off from the Internet Explorer 'View' drop-down menu.
Downloading the Windows Live Toolbar is almost instantaneous and can be installed in standard, custom or advanced mode. Again, as with other Live application installs, be careful when installing the Toolbar and uncheck the options to set Live.com as your homepage and Windows Live Search as your default search engine. Once the installation is complete, Microsoft will offer to add a phishing detective and anti-phishing filter to your toolbar functionality. These features offer an excellent first line of defense, blocking pop-ups and protecting your browser habits and online activities against scams and viruses.
What you will find when using the Toolbar in earnest is that it is a perfectly functional 'add-on' to your browsing needs but no different than other toolbars such as Google and Yahoo. Its effectiveness is in its simplicity, as you don't have to revert to another web page to perform a search.
The Toolbar itself is clean and informative, with simple functionality delivered via icons and left/right click menus. You can search categories of information- News, Local, Images, Feeds, etc., and launch quick links to various prominent Microsoft sites such as MSN.com and Windows Live favorites. The Windows Live Toolbar also offers an abundance of customizability to aid the user experience, some of which is useful.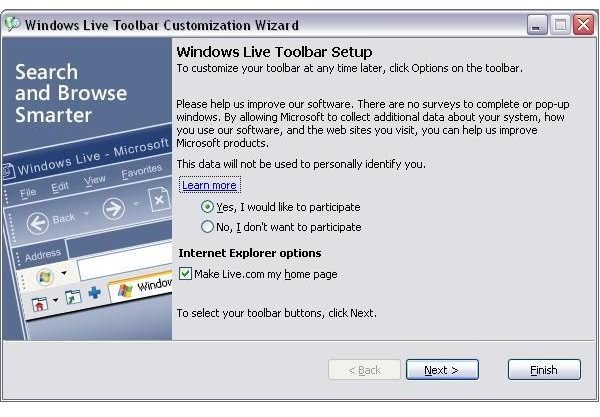 The physical act of searching is responsive and intuitive; for example, when searching for words with double meaning, the toolbar will offer suggested phrases for you to choose the relevant angle of search. You can also pick types of search related to subject matter- news, financials, sport, etc., and view the history of your searching.
What is most impressive about the Live toolbar is the integration with other applications and the intuitive contextual pop-ups which display relevant information pertaining to the search result you have highlighted. For example, highlighting a company name will display the address, a directions map or a weather forecast for that region. These are useful on screen aids and in my opinion are not overly intrusive, although some may find them annoying. In terms of integration, as we have touched on previously, there are excellent links to various Microsoft services. But best of all is the integration with other Live services. For blogging, correspondence and security needs you can quickly launch services such as Live Writer, Spaces, Mail or Messenger. You can even perform on the spot scanning via Windows Live OneCare, although this service is only free for 90 days.
In all, the Windows Live Toolbar is a practical and responsive service which can aid your browsing experience. Many of the features described above have been standard on other toolbars for quite some time now. Microsoft is not breaking new ground with this toolbar architecture; however it is comparable to Google and Yahoo for delivering an intuitive interface and search results. The major advantage of the Live Toolbar is its multi dimensional links to other applications and ability to deliver tabbed browsing. This makes the toolbar an almost 'one-stop-shop' for most users' browsing needs.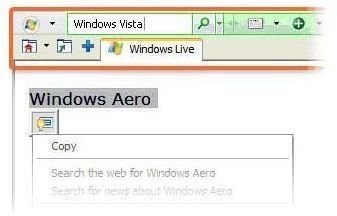 However, as the toolbar does nothing out of the ordinary, and crucially, as it cannot be attached to other web browsers other than Internet Explorer 6.0+, its usefulness can only go so far. Thus, as excellent a service as it is, unless you require other Windows Live services at the click of a button, I would suggest the Google toolbar.
This post is part of the series: Microsoft Windows Live - A Review
This series provides a look at each of the applications provided in Microsoft Windows Live software bundle.