Free Software to Speed Up Your Computer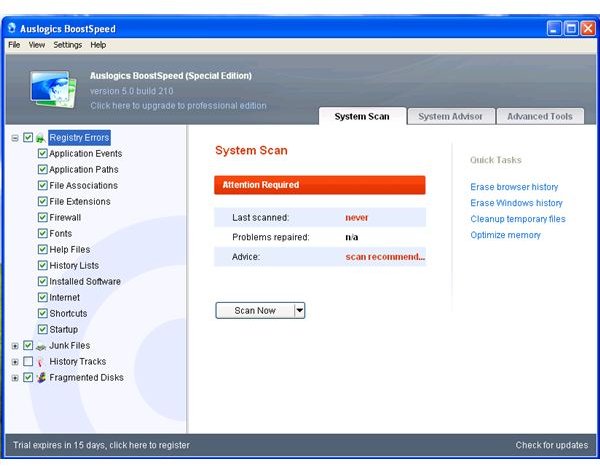 The Key to a Healthy PC
Our body needs proper diet, regular exercise, enough sleep and good hygiene to have be healthy. The house we live in also needs cleaning and maintenance to keep the family happy and safe. Computers need the same attention – by keeping it cleaned, secure and safe, the computer will last longer than you can expect and will perform well most of the time.
There are computer users who are aware which areas in Windows should be tweaked and maintained but there are users who wish to maintain the computer with a one-click solution or by using computer programs that know exactly which area or applications in Windows require cleaning and tweaking, to keep it in shape and performing with good speed. Below are some of the best free software to speed-up your computer.
All-in-One Solutions
For users who prefer to use an all-in-one solution that is free software to speed up your PC, consider the following tools:
Auslogic Bootspeed SE – The special edition of Auslogic Bootspeed is free for personal use but a free account registration is required at V3.co.uk website. Bootspeed includes a cleaner for the registry, junk files and history for XP, Vista and Windows 7. It also features a defrag tool and a system advisor scanner. The system advisor scanner will check the security status of the computer e.g. Autorun, administrative share or IE security settings. This is an advanced tool to manually or automatically optimize the computer's performance, manage the startup items in Windows and many others. Note that an email registration is required to activate Auslogic Bootspeed SE. Failure to register the software means you are limited to using the software for 15 days. It's free to activate as long as the email address you enter is valid.
Ashampoo WinOptimizer – The 2010 edition of Ashampoo WinOptimizer is also available for free at V3.co.uk website. This program includes a registry Optimizer, drive cleaner, and secure file deletion. Like Auslogic Bootspeed, WinOptimizer also provide a diagnostic utility. Tuning up the computer is easy as 1, 2, 3 when using WinOptimizer as it provides a one click optimizer function. The program runs on Windows 7, Vista and XP operating systems.
Glary Utilities Free – To clean and maintain the computer using Glary Utilities free edition, all you need is to install the software and then run a scan. The one click solution using Glary software includes disk cleaning, optimization, registry cleaning, privacy protection and much more. It runs on Windows 7, Vista and XP systems and requires no email registration. The only issue is the installer of free edition Glary software is bundled with third-party software. You should uncheck the option to prevent installation of unnecessary program.
Note that using an all-in-one tool may help in keeping the computer clean and fast but be careful with allowing the program to remove or repair important system files or registry. Always create a backup before using any of the above free software.
Standalone Tools to Speed Up Your PC
Some users prefer using standalone programs for maintaining the computer's health and here are some those free tools:
Online Tools for Speeding Up Your PC
Microsoft provides an online service to tune-up the computer's registry and hard-drive. The free Windows Live Safety scanner includes online malware scan, registry cleaner, and a defragmenter. It can be used with Internet Explorer or Firefox browsers.
Image credit: screenshot taken by author.