What is Windows Live Messenger? Downloading the Newest Version of Windows Live Messenger
Windows Live Messenger
Since MSN Messenger was a very powerful and groundbreaking instant messaging (IM) portal, Microsoft has done well to avoid making wholesale changes to a service that offered slick communications. Now built as Windows Live Messenger, not too much has changed, but what has is considerably augmented. Now with enhanced chat, video and voice communications, a snazzy looking interface in keeping with Windows Vista, and sharing facilities, users of Live Messenger now have even more choices. No longer just a messaging service, Live Messenger provides an instant connection to contacts, family and friends through text, voice and video.
Live Messenger allows users to take control of their own messaging service and contacts list. This combines powerfully with other Windows Live software to interface for enhanced communications servicing. Connecting Messenger with Hotmail, Spaces, Events, etc., provides integrated information services. Furthermore, integration does not stop at Microsoft owned software as Live Messenger can co-exist and interact with 3rd party IM services such as Yahoo and Google.
Downloading Live Messenger takes only a couple of minutes but unlike other Windows Live software installs, Live Messenger asks if you want to install 3rd party software in the form of Rhapsody music. To my mind this is highly inappropriate.
As an application for generic use Live Messenger is excellent. It is futuristic and has simple menu driven functionality that provides any level of user with the opportunity to personalize their own messenger service. However, for those who prefer the old MSN Messenger, or a simple, clean interface without all the gimmicks, you can simply switch off configuration settings and go with the default Live Messenger layout.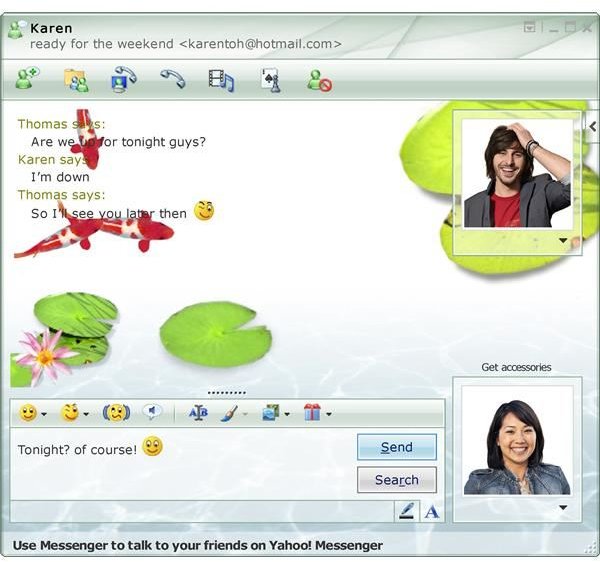 Certainly as you explore the new layout and use the online chat facility for the first time you can appreciate the time and effort that has gone into the development of the interface with its array of skin sets, emoticons and other add-ons such as multi-player gaming, free PC to PC calling and video chat. All of which take IM to a new level; in fact it should really no longer be tagged as a messaging service- now that the software allows users to make free telephone calls around the world.
What also makes Live Messenger stand out from the crowd is the introduction of file sharing. This is a considerable upgrade to many other IM clients, allowing users to transfer and share personal files, images and videos whatever the size with easy drag-and-drop navigation. There is also a free file scanning tool built into Live Messenger which combats potential threats from viruses and phishing scams. In conjunction with file sharing Live Messenger provides great video and audio online chat service (provided you have a webcam or headset). However, Live Messenger doesn't allow you to receive calls from landlines or mobile phones.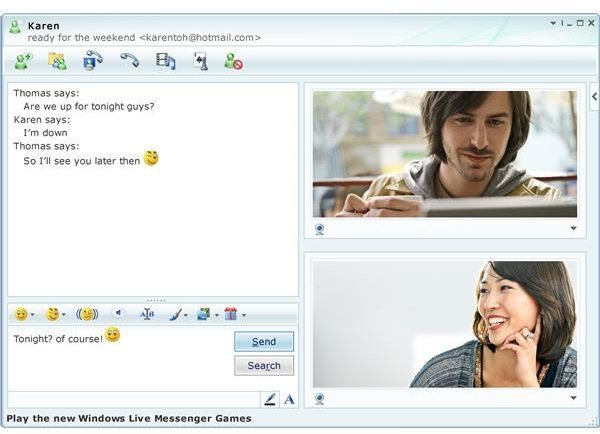 In all, Windows Live Messenger is an excellent (almost all encompassing) communications hub. The contacts list can hold up to 600 people, integration with other Live and 3rd party services is a step in the right direction and file sharing makes Live Messenger a cut above the rest. What is more, the service sound and visual quality are excellent.

If it weren't for the constant distraction of ad banners, and the annoying fact that Microsoft Messaging services are so in your face, popping up in every application and within startup (although this can be switched off) the service would be near perfect. If it could accept inbound calls, it would be the all singing, all dancing PC communications hub many are looking for.
This post is part of the series: Microsoft Windows Live - A Review
This series provides a look at each of the applications provided in Microsoft Windows Live software bundle.