How to Monitor and Track Broadband Connection Time, Speed, and Usage on Your PC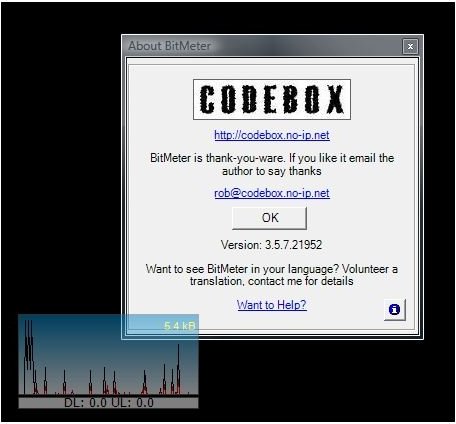 On October 1, 2008 Comcast started enforcing a 250 GB limit (cap) on broadband consumption. This applies to the amount both downloaded and uploaded. Verizon Wireless earlier this year revealed a previously secret 5 GB usage cap for smart phones and wireless data cards. In June 2008 Time Warner Cable started testing metered Internet access in Beaumont, TX with a miserly 40GB primary limit.
It's more important than ever now that you monitor and track your broadband usage so you'll know if you approach the limit. Fortunately the free and elegant Bitmeter II program for Windows can not only track usage by GB, but also can alert you on a per-gig or percentage of total cap basis.
Bitmeter is in a special class of applications called thank-you-ware. The author asks nothing more than if you use the application and like it, you drop him an email saying thanks.
Image
Here's what Bitmeter looks like. In the image, we've enlarged it about four times bigger than we normally use it and have also enlarged the text area for clarity.
Image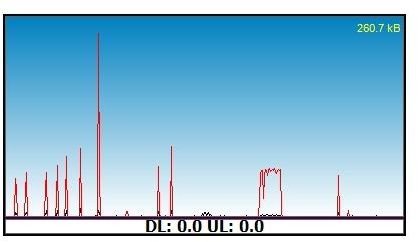 This is the main menu of Bitmeter, obtained by right-clicking in the application window. Here it is set to "Float" or remain on top of other windows.
Image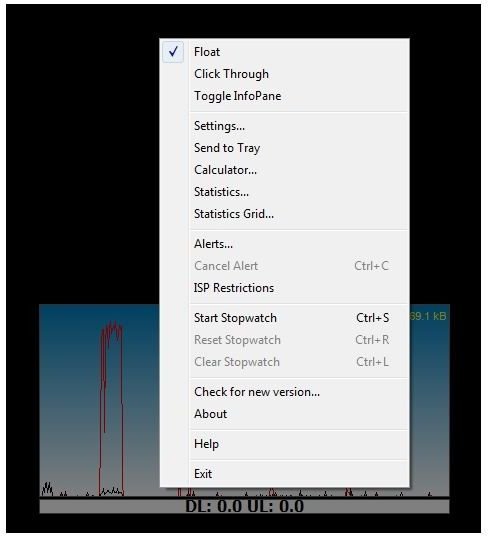 This is the dialog obtained from selecting the main menu and then "Statistics."
Image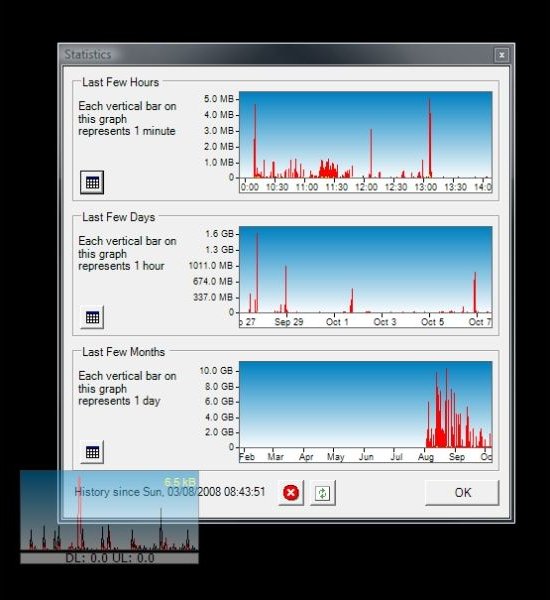 And this is the network summary obtained by displaying Statistics, then clicking the grid icon to the left of "Last Few Months" and selecting the "Summary" tab. Alternately, Menu, then "Statistics Grid" is a fast way to reach this Summary dialog.
Image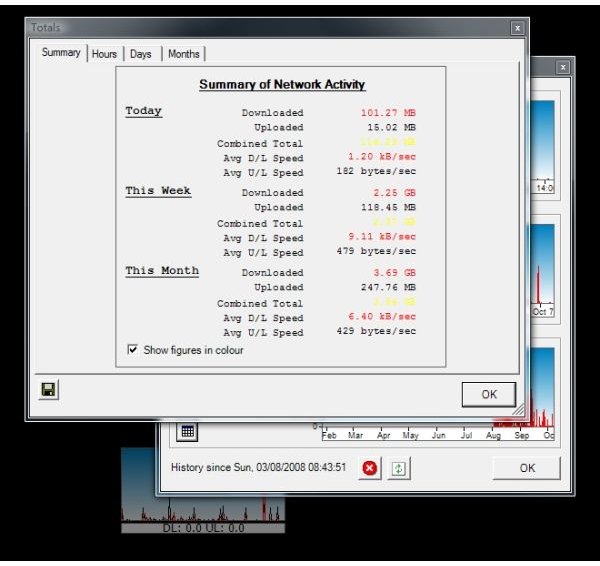 To set an alert to warn you when reaching a total bandwidth amount, select Menu, then "ISP Restrictions." In the image below, we selected 31 days. Bitmeter was smart enough to know that's a month and this is the seventh, so it's showing 24 days to go. "Total Traffic" tells it to track both upload and download throughput. "Alert me when I reach . . ." is the percentage of quota. We have it set below for 95% of 250 GB.
Image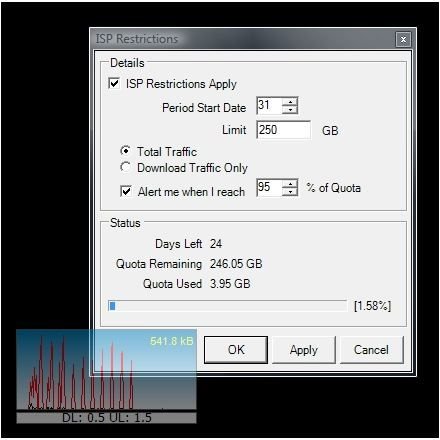 You can set Bitmeter to alert you when a certain amount of bandwidth has been used – sort of a "mile-marker" on the way to the cap. Here we've set it to alert, both visually and audibly, for each GB consumed.
Image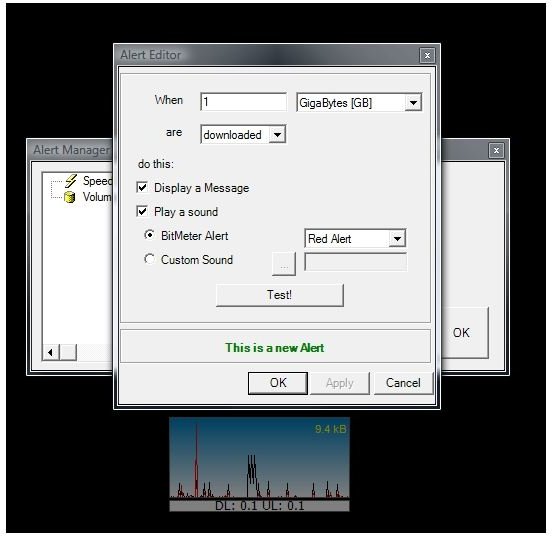 Another interesting feature of Bitmeter is that you can run it as server and log in from another computer through a web browser to check the status and statistics of bandwidth usage of your home or other remote PC. (In the image, we've obscured our local IP address.)
Image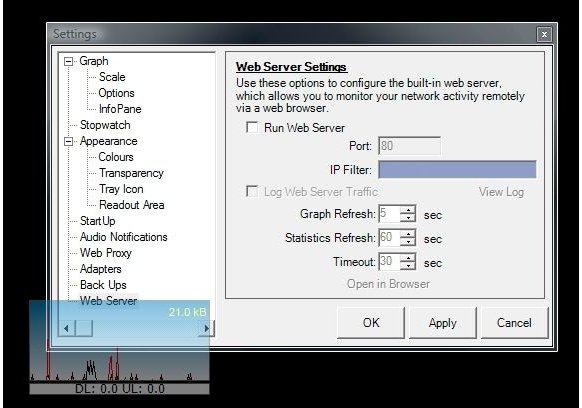 If you have configured your PC to do Internet Connection Sharing in Windows, Bitmeter will show and measure the throughput of the main PC as well as any other PCs connecting wirelessly. However, if your connection sharing is done by a wireless or wired router before the main PC, you'll need to install Bitmeter separately on each computer using the network.
Conclusion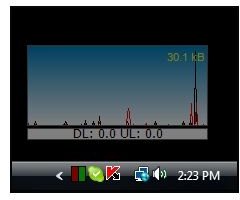 I've been using Bitmeter for a couple of years now. It's unobtrusive and doesn't cause trouble. It sits in its corner near the system tray on my PC and just works without complaint. All software should work this well. I unreservedly recommend the use of Bitmeter if you need to track your bandwidth usage.
What's a Quick Tip?
Quick Tips are short Bright Hub articles which are shorter than a regular article, but longer than a blog posting. Quick Tips focus on a single topic that can be simply described with images and text.
Thank you for reading this.
Other Quick Tips
How to Test High-Definition Video on Your Laptop or Desktop - Want to find out what high-definition video looks like on your current Vista or high-end XP PC without spending any money or buying any additional equipment? You'll find out quickly if your PC can handle 720p or 1080p video. All you need is a fast Net connection and Windows Media Player 9 or 11.
Three Clocks for Three Time Zones in Vista - It's always been there - that little digital clock in the System Tray in Windows. It's a bit more talented in Vista than it used to be, and it can be easily tweaked to add one or more additional clocks set to any time zone in the world. Here we show you how.
Put Your Contact Information on Your Web Pages using Hcard - Want to make your contact information or company contact information more accessible on your web pages? Rather than have visitors download your vCard, consider including hCard contact information directly in the HTML for the page itself.
How to Cleanly Restart explorer.exe (Windows Explorer) in Vista - "Windows Explorer has encountered a problem and needs to close. We are sorry for the inconvenience." Arghh! (We can fix this with a little-known shortcut built into Vista.)