Windows Live Mail Speed up Email Management with one Online Email Client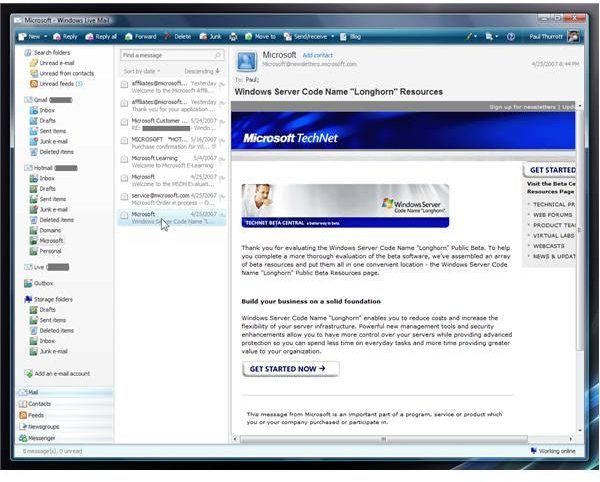 Windows Live Mail
With email fast becoming the most popular form of communication on the planet, the strain on resources and confusion that reigns through having such an array of email service providers is bedazzling. Now Windows Live Mail allows users to combine email accounts into one highly impressive application. If you want to combine web email services (Hotmail, Gmail or Yahoo mail) with your static email service providers (AOL, BT or Sprint), then Windows Live Mail is a highly effective service.
Basically a re-branding of Microsoft Outlook Express, and in its new form a 'Lite' version of Microsoft Outlook, Windows Live Mail works equally well in Windows XP and Windows Vista. The ability to combine multiple email addresses across multiple platforms- in one service is most useful, helping users coordinate all those disparate accounts in one easy to use package. What Windows Live Mail also offers is excellent spam filtering and security.
First impressions of Windows Live Mail are of a clean user interface, designed to provide the user with easy access, familiarity and control of communications. With such a complicated mix of email accounts within one place, Live Mail does an excellent job of making the screen informative and easy to navigate with minimal disruption to service. However underneath the GUI (Graphical User Interface), Live Mail is not particularly thorough in its message organization and deletion, and message list preview panes don't deliver content as quickly as individual services such as Hotmail or GMail. Then again, this is to be expected as the system has to retrieve content from multiple platforms.
The installation of Live Mail is simple and clean in both XP and Vista, but be careful - as with all Live applications, Live Mail asks if you wish to make IE your default browser and MSN your homepage. Personally I find such questions intrusive.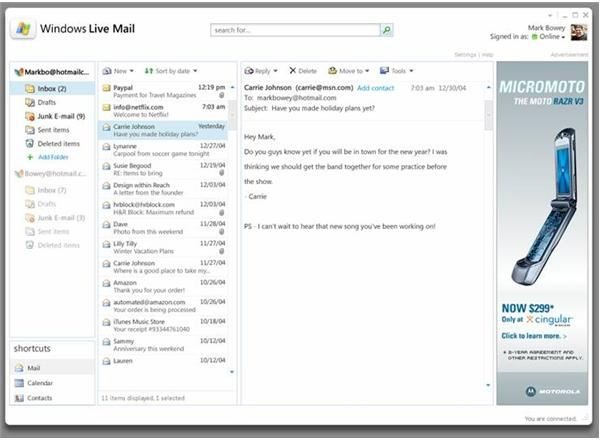 Having completed the install, Outlook Express will disappear from the Start menu in Windows XP. Similarly in Vista, Windows Mail disappears. However neither program has been fully uninstalled and both are still accessible for use. It is disappointing that Live Mail struggles on screens with 800 x 600 resolution and toolbars, buttons and view panes look disjointed and cramped. No amount of tweaking the user interface or re-sorting column headings makes a difference. With such a robust and multi-dimensional email compilation suite something has to give- and it is the usability on smaller screens with less area to display items.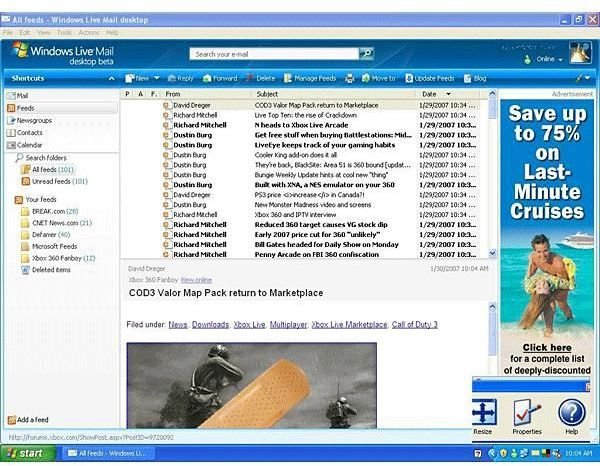 As with Live Hotmail, composition of email is simple and the idea of incorporating editable thumbnail images during email creation is a great concept but still needs work. This is because the nature of multiple streamed email into one service puts considerable strain on resourcing and screen real estate. Therefore images in thumbnail form look squashed, sometimes even unrecognizable. This is sure to become better with improved technology and cleaner coding formats.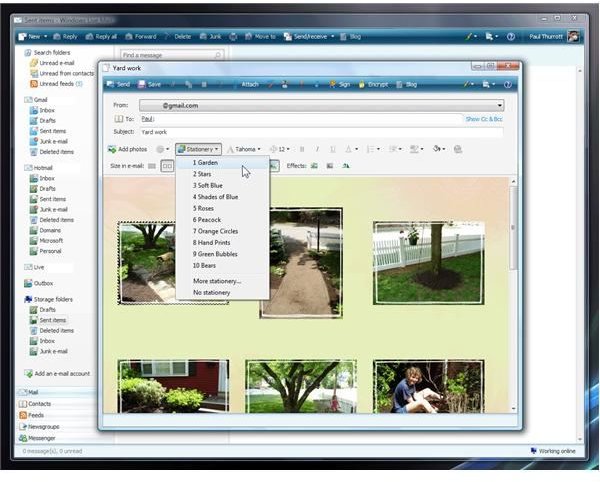 Searching of Live Mail is very quick for such multi email server retrieval and can be operated via a right click from most panes. Advanced search options also offer a wealth of email configurability, allowing filtering spam and phishing, blocking content and red alert indicators.
Such combined email tooling is a difficult platform to master. While most of the excellent features deliver in a responsive and accurate manner the need to cover all potential email services in one screen makes Live Mail a more basic offering than those individual email applications that cater for just one provider. However, with the ever improving Live suite a work in progress, slick add-on features readily available, and excellent interfacing with other Windows Live products, Live Mail is an impressive all-round multiple email account application.
This post is part of the series: Microsoft Windows Live - A Review
This series provides a look at each of the applications provided in Microsoft Windows Live software bundle.