How to Download and Install iTunes for Windows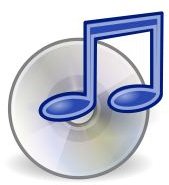 iTunes for Windows
iTunes is a free multi-media manager for Macintosh and Windows operating systems that you can use to synchronize, convert, organize, rip or backup songs to or from CD or DVD media, and other devices such as iPods, iPhones and iPads. It can also connect to the iTunes store to buy games, music, videos, podcasts, eBooks and audio books. You can also use iTunes Ping, a social networking service that is integrated in iTunes 10. There are many features in iTunes to enjoy as long as you need this digital media player. Read more of this iTunes for Windows download and install guide if you'd like to have the program on your computer.
How to get iTunes for Windows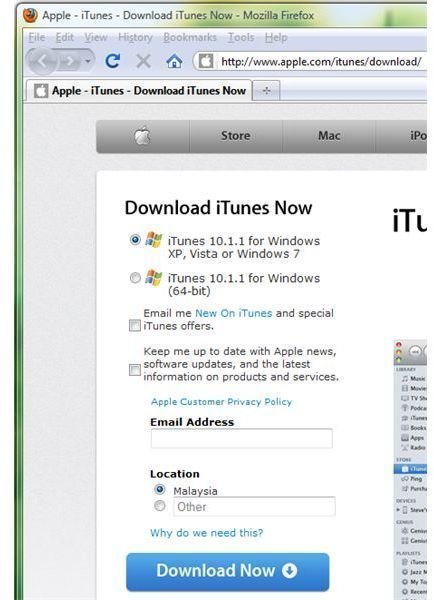 Users of Internet Explorer, Firefox, Safari or Opera browsers that can visit the Apple download page for iTunes can download iTunes for the 32-bit edition of Windows. Only Firefox and Safari users may see the iTunes download for the 64-bit edition of Windows. If you are not using Firefox or Safari in Windows, and you want the iTunes x64 version, you should visit the support page to get it: https://support.apple.com/kb/DL1047.
Note that you don't have to enter an email address to download iTunes. It's also not required to subscribe to the two newsletters that Apple is offering, unless you want those. Simply uncheck the boxes for "Email me New On iTunes and special iTunes offers", and "Keep me up to date with Apple news, software updates, and the latest information on products and services", and then click the "Download" button.
Installing iTunes for Windows
The install process of iTunes is straight-forward, but you need to know that following the default installation wizard of iTunes will make the iTunes player the default audio player for Windows, and it automatically updates the software when available or as per the set schedule.
Some users of iTunes only want the synchronization and conversion feature, which means they should uncheck the last 2 boxes below when installing iTunes for Windows: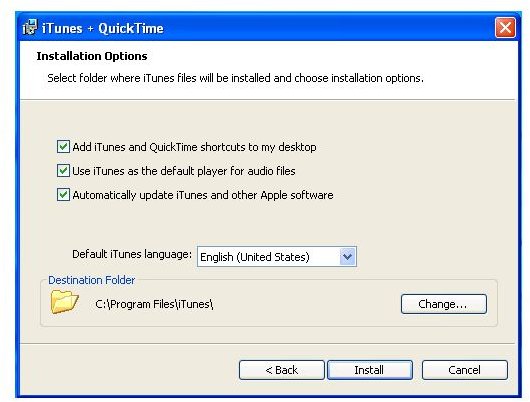 iTunes installation will add QuickTime Player, PictureViewer, Apple Software Update, Apple Application Support, Apple Mobile Device Support and Bonjour. You can safely remove Apple Software Update, Apple Mobile Device Support and Bonjour software using the Add or Remove Programs utility in Windows, if you don't need the services or software.
Users of iTunes cannot remove QuickTime Player, as it is supposedly required for using the iTunes media player. Apple has integrated QuickTime, so you can use it to play media files online or offline.
Three Apple connected services will be added in Windows: Apple Mobile Device, Bonjour Service and iPod Service. The first two will be gone, if you have removed Apple Mobile Device Support and Bonjour software using the add or remove program utility.
There will be unnecessary startup items for Windows after installing iTunes: QTTask and iTunes Helper. You can stop these items from loading during the Windows startup by opening the System Configuration Utility (MSCONFIG) in Windows. You can also use CCleaner or WinPatrol to manage startup items in Windows.
Installing iTunes without Apple QuickTime
There are some media players or software that are incompatible with QuickTime Player from Apple, which is why some users prefer to use iTunes without QuickTime Player.
You can install iTunes without QuickTime, but you have to install the third-party software, QuickTime Alternative. The process is quite easy. Just follow the instructions below:
Download and install QuickTime Alternative from Codec.com website.
Download iTunes setup file from Apple website.
Use 7-zip or WinRAR to extract the iTunes installer into a temporary location or folder. You will find several .msi files such as AppleMobileDeviceSupport.msi, AppleSoftwareUpdate.msi, iTunes.msi, iTunesSetupAdmin.msi and QuickTime.msi.
DELETE QuickTime.msi.
Using command prompt, navigate to the location of the extracted files, and then enter msiexec.exe /i iTunes.msi /quiet
The iTunes installer will not install QuickTime as long as you have QuickTime Alternative installed already and if you use the command line install option.
Final Words
I personally don't buy the reason behind the requirement of QuickTime when installing iTunes, because removing iTunes software will not remove QuickTime player in Windows. Removing iTunes will also not remove all the other software it installed. Apple should provide the option not to install QuickTime, since there are reports in the Apple support forum that QuickTime is not compatible with some other software, that users prefer or are required to use. Until Apple realizes that customized installation options are important to Windows users, it is best to install iTunes using the command line option without QuickTime.
Image credits: Screenshot taken by the author. https://upload.wikimedia.org/wikipedia/commons/4/4a/ITunes.svg