We Answer: How Do You Print Words on a Picture in Windows Live Photo Gallery?
How Do You Print Words on a Picture in Windows Live Photo Gallery?
There are several image editing tools available for Windows users. Some of these are free, others are pretty expensive and aimed at professionals, and some come included with other Microsoft packages.
One such example is Windows Live Photo Gallery, a tool that is included in the free Windows Live Essentials pack and enables you to organise, adjust, tag and generally manage all of your images. Adjustments that can be made with Windows Live Photo Gallery include removing red eye (the photographic phenomenon caused by the subject looking at the camera flash) and resizing, and several colour effects can also be applied.
However there is no facility to directly edit an image – so how do you print words on a picture in Windows Live Photo Gallery?
Limited Text Tools
In truth, Windows Live Photo Gallery has a lack of text tools. Rather than print words directly onto a picture users can instead add tags and captions to their images. Captions are a great way of adding a bit of humour to an image as well as providing an easy visual label, while tagging an image can help you when searching.
These text elements can be added in Windows Live Photo Gallery by opening an image (double-click or right-click > View File) and selecting Tag and caption from the menu. People tags, a Geotag and Descriptive tags can all be added, as can a Caption, which will be displayed in the Windows Live Photo Gallery index view.
This is the full extent of Windows Live Photo Gallery's text tools – they're limited and don't allow you to add anything new to the images. However, the software is called "Windows Live Photo Gallery" as opposed to "Windows Live Photo Editor", so in order to add text or make any other adjustments to your images you will need to take advantage of another free Microsoft application.
Adding Text to Images with Microsoft Paint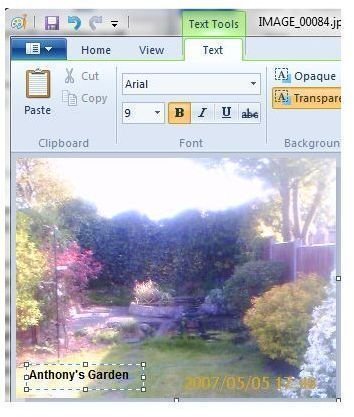 Windows 7 has been shipped with new versions of some of the "classic" Windows applications, most notably Paint. Available from Start > All Programs > Accessories > Paint, this basic image manipulation and art package can be used to add text to images.
To begin, open the application and use the menu tab to Open the image you want to add the text to.
With the image open, zoom in as necessary via the control in the lower left corner, and use the A icon in the toolbar to open the Text tool. The mouse pointer will turn into an insertion point; left-click and drag this in the area you wish to add the text.
As you do this, the Text Tools tab will appear; here you will be able to change the font and size of the text you enter, as well as use the palette to change colour. You might also adjust the position of the text by aligning your mouse pointer with the edge of the text box; the pointer will turn into a cross and you can left-click and drag this around.
When you're done, press CTRL+S to save or use Save as from the menu to retain your changes under a different file name.