Best Free Benchmarking Win 7 - Free Computer Performance Tests for Windows 7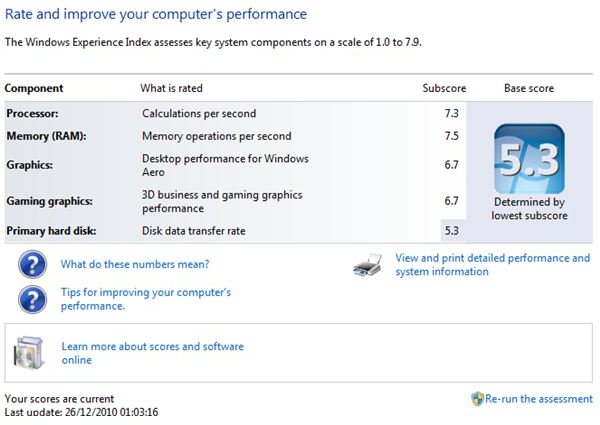 How Benchmarking Can Help
Your new PC might look shiny and new, but it might not run the new software or games you have in mind. Similarly, you might have built a new gaming tower from scratch, but until you test it you will never know if it is good enough.
So how do you know if your Windows 7 PC is up to the job? The simplest way of finding out is to check your Windows Experience Index rating, but this is unlikely to tell the whole story. Instead, you should be looking at assessing your PC with benchmarking software.
Various free benchmarking utilities are available and these are designed to test how your computer processor, RAM, motherboard and graphics cope in different scenarios. The more up-to-date and modern your PC or laptop, the better it should perform.
Advantages of Benchmarking
The main advantages of benchmarking are that it enables you to "score" your PC based on its key components. Using one of the benchmarking tools below you can get an idea as to whether your Windows computer has problems (primarily) with its ability to display graphics as well as whether or not the CPU and RAM are suitably matched to give you the best user experience.
While some of this information is available in the Windows Experience Index rating (Start > right-click Computer > Properties > Windows Experience Index) a dedicated benchmarking tool is needed to give the full picture.
Best Free Benchmarking Tools for Windows 7
Here is our list of the top 3 benchmarking tools for Windows 7:
Fraps 3.2.5 – Available from www.fraps.com, Fraps will record how many frames per second (FPS or FrPS, the origin of the utility's name) are displayed in a single portion of your screen. Custom benchmark testing can also be performed, enabling you to measure the frame rate between two points on your display.
Fraps also features screen capture and video recording tools, enabling you to take images from games and even record your progress. However these services cost $37, and are incidental to the free benchmarking.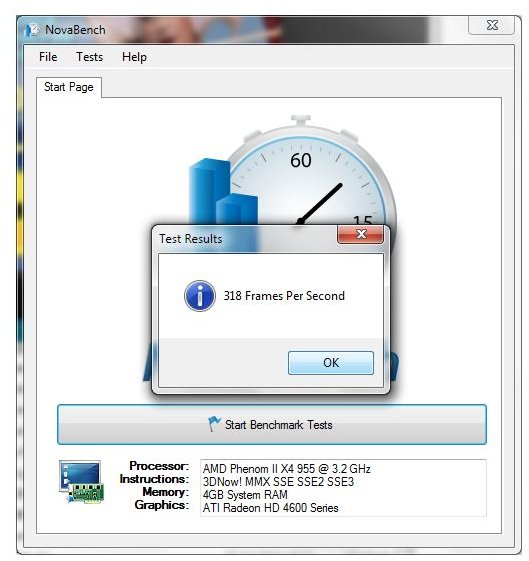 NovaBench – Comparatively modest to Fraps and 3D Mark is NovaBench, a useful utility available from novabench.com. Despite the stripped down presentation and basic function set, NovaBench is probably the best place for any new benchmarker to start, providing as it does both graphics and PC hardware benchmarking information.
With NovaBench you can execute free computer performance tests on graphics separately to your general overall system testing and also choose from several CPU tests which can be used to assess your PC or laptops performance in certain situations.
3D Mark – The latest release of this benchmarking software supports DirectX 10 as well as providing statistics on the performance of your PC in handling SM4.0, geometry shaders and introducing new CPU and PPU testing.
Different releases of 3D Mark are available; the basic, free version is 3D Mark Vantage, with two premium versions available at $6.95 and $19.95. Note before you head over to www.futuremark.com to download the full version that this tool is 413 MB in size.
(Screengrabs by author)