The Top 10 Best Registry Cleaners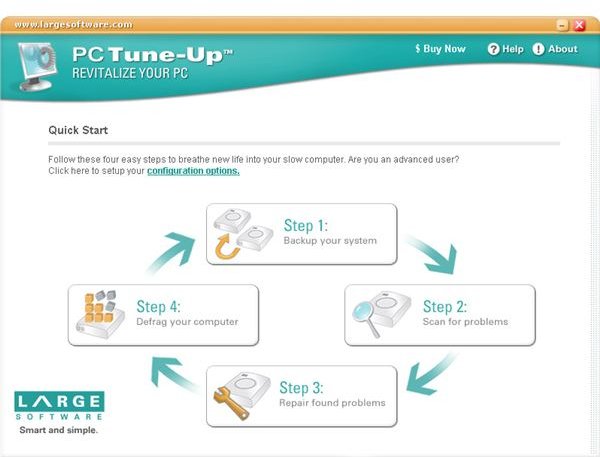 Top 10 Registry Cleaners
The problem with Windows is that it does not clean up the registry quite efficiently. Whatever task you perform gets recorded by the Registry, from installing a brand new application to visiting a website. Just run regedit to open the registry editor and navigate through HKey_Local_Machine > Software to check the entries. You will find numerous unwanted or incorrect entries not cleaned up by Windows, leading to a system slowdown.
The most viable solution to system slowdowns is a system scan with a good virus removal tool and registry cleaner. The antivirus program will remove any spyware/Trojans and the registry cleaner will scan the system for unwanted and incorrect entries and remove them immediately.
However, one needs a good registry cleaner that catches the maximum errors and is easy to use. You will find many free and paid registry cleaners, but you must be aware of any spyware threats. To make things easier for you, here's a rundown of the 10 best registry cleaners that have a simple user interface and are able to catch maximum incorrect and unwanted entries recorded by the Windows Registry:
10. PC Tune-Up
PC Tune-Up is one of the best computer tune-up utilities that defrags, backup and cleans up the clutter and repairs the registry quite efficiently. With a nice circular flow chart, the software explains how it will speed up your PC. It first makes a registry backup and then scans for problems, which are then repaired by removing errors in file extensions, uninstalls, paths, shared DLL's and many other sections of the registry. After a thorough scan and repair, the program defrags your computer, which is the final step in making your PC clutter-free.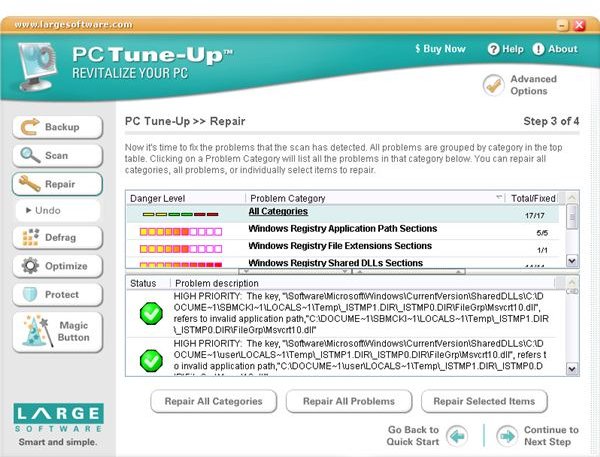 The best part of PC Tune-Up is its simple interface. Even novice users can use it without any problems. There are advanced settings for advanced users as well. You can try it for free and then buy PC Tune-Up for $29.95 if you are satisfied with the results. The free version lets users scan and repair their registry, but is limited to only five uses.
9. Registry Tune-Up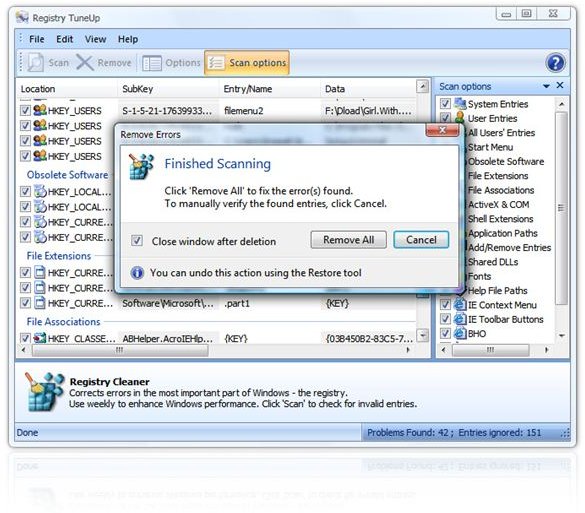 Registry Tune-up is one of the most effective tune-up utilities that optimize the Windows Registry to enhance system performance. It allows users to ignore the ones they think is not safe to remove from Windows Registry. Users can build their own ignore list to prevent key registry entries from getting removed, thus having complete control in the registry optimization process. The program also has an undo option to prevent any accidental deletions.
Registry Tune-Up has two modes: Normal and Advanced. While the Normal mode easily suits novice users, the Advanced mode is for users who want a thorough cleanup and other features that improve the registry. In this mode, the software decides automatically whether the entry of the entire sub-key has to be removed. With so many features, this free registry optimizer is one of the 10 best registry cleaners of the decade.
8. Advanced System Optimizer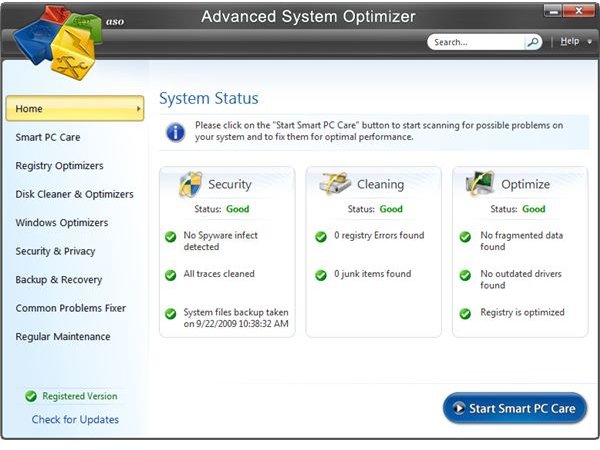 This software is basically a collection of diagnostic tools that optimize your system to improve its performance. Its registry cleaner is quite efficient in removing unwanted entries that are created each time a user installs or uninstalls software on his system. The registry utility then defrags and rebuilds the registry to ensure a smoother performance.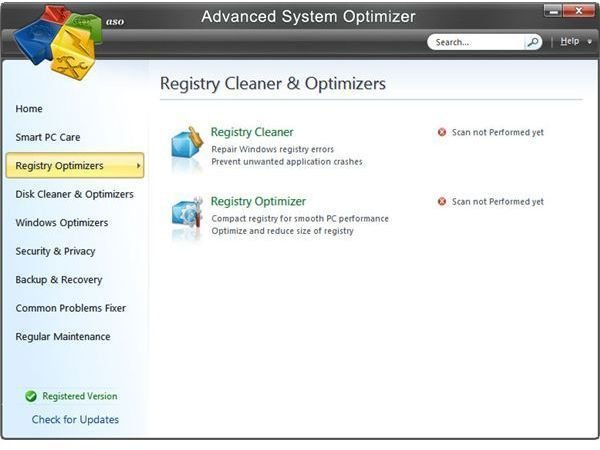 Besides the registry cleaner, the program has a host of other tools, including a system cleaner which deletes unnecessary files and a nifty hard disk optimizer that defragments the PC hard drive to ensure hassle-free PC performance. There's also a nice driver updater that installs your PC with the most up-to-date drivers on your PC. Additional utilities include a smart memory optimizer and a game optimizer that improves gaming performance.
While the additional utilities are note-worthy, it's the registry cleaner that most users will look forward to when downloading and installing Advanced System Optimizer. In my opinion, the registry cleaner is quite okay, but then you will have to shed a few bucks to get this service as the free version scans the system and does not remove the registry. If you are ready to pay $39 for this all-in-one optimization tool, then it can be a good choice. But, if you want a registry cleaner only, then I would suggest you go for free utility options such as Easy Cleaner and Comodo System Cleaner.
7. EasyCleaner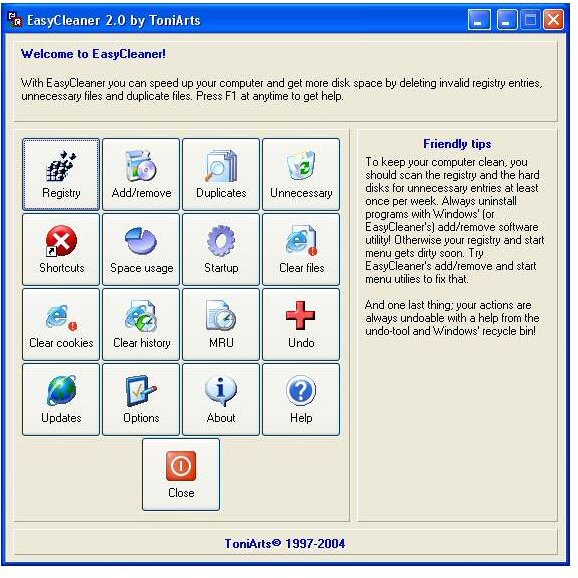 The main reason for including this free registry cleaning utility in the list of 10 best registry cleaners is because of its quick scanning and removal of invalid and unwanted registry entries. It does a great job in removing unnecessary files temps, and backups. The best part of Easy Cleaner is its ability to scan and delete duplicate files, an aspect which is missing in most fancy paid registry cleaners.
Besides cleaning the registry, EasyCleaner keeps a check on programs that start at Windows startup and deletes any unwanted ones to ensure system speedup. The interface is simple and easy-to-use and a ready helper always assists you in scanning and removing errors in registry initially. At first, the interface may look quite primitive, but then who wants to sacrifice an efficient performance over a fancy interface. Overall, a great free program that's much better than the performance of a paid registry cleaner.
6. PowerTools Lite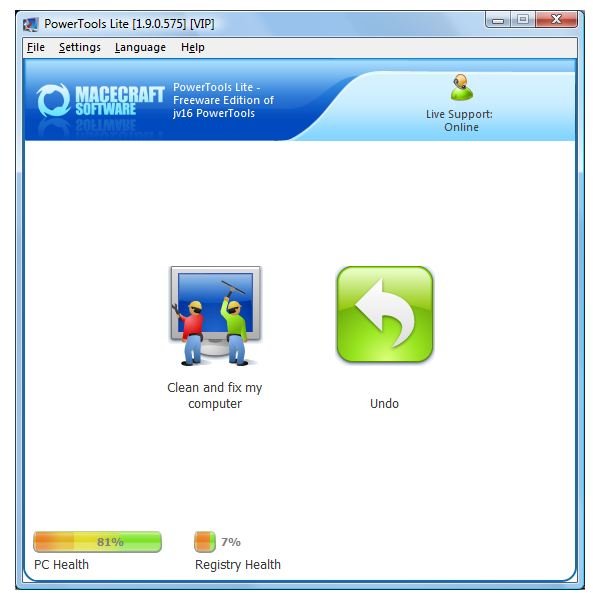 This free registry cleaner is quite suitable for novice users. It quickly detects registry errors and fixes them within a few minutes. The unwanted registry junk is cleaned up, thus avoiding any chances of sluggish performance of your PC. PowerTools Lite also has a backup feature that makes backups of the entire registry before scanning and deleting unwanted and incorrect entries.
The interface is plain and is quite easy to navigate. Overall, PowerTools Lite is a powerful and a comprehensive free registry cleaner for Windows PC and one of the top contenders of 10 best registry cleaners of the decade.
5. Comodo System Cleaner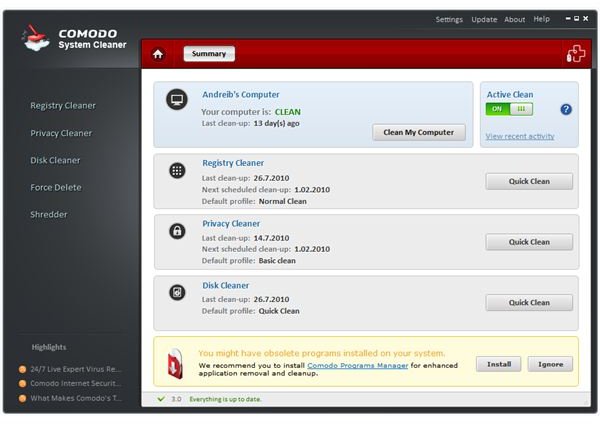 If you are looking for an all-in-one system cleaner and optimization utility, then you should install Comodo System Cleaner. It cleans and optimizes system registry and frees up space in your hard disk. It also deletes Internet browsing history, cookies, thus maintaining your net privacy.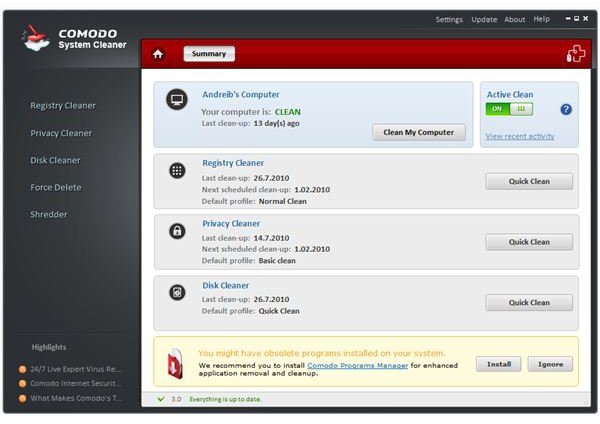 Of all these features, it is the registry cleaner that's quite impressive. The program's registry cleaning utility first allows users to select locations where it will perform the scans for any invalid and unwanted entries. The utility will then scan those areas and detect any incorrect entries within a few minutes. The utility's Safe Delete technology easily reverts any file deletion that you think may be inappropriate or may cause glitches. Their patented Registry Protection Technology ensures that users can restore any key registry entry deletion removed by mistake during the cleaning process.
Comodo System Cleaner is, by far, one of the 10 best registry cleaners available for free. The various patented technologies ensure ease-of-use and systematic registry cleaning and optimization.
4. Glary Utilities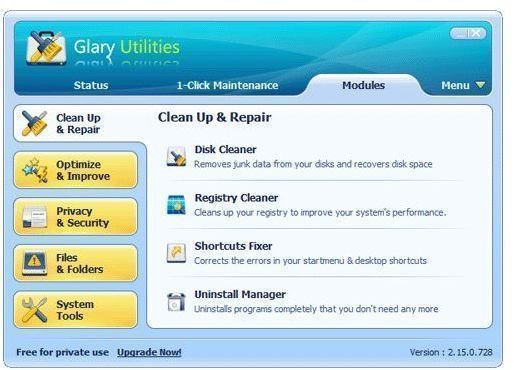 This is an excellent one-click PC maintenance utility that ensures a thorough registry cleaning and optimization. The freeware has multiple tools, but the focus is on its registry cleaner. And to be honest, the registry cleaning utility is quite impressive. With a single click, users can expect a complete fix of stubborn registry errors. Glary Utilities quickly scans the system and detects any anomalies in the registry. It then deletes the ones that are unnecessary and also makes sure it doesn't remove the important entries.
Along with the nifty registry cleaner, the program has several additional mini-tools such as a Startup Manager tool, a memory optimizer, registry defrag tool and file shredder. Glary Utilities is quite new in the registry cleaner arena, but is efficient enough to optimize your PC performance. It is certainly a free alternative to paid utilities like Advanced System Optimizer.
3. Auslogics Registry Cleaner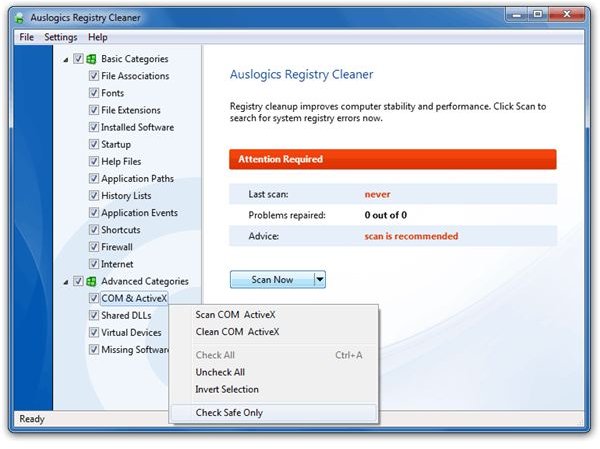 Another great registry cleaner for novice users who want a no-nonsense utility that does what it says – detect errors and delete unwanted entries. Users can either choose the default quick registry scan option to detect and remove common errors in the registry or can use the advanced registry cleaning option to choose additional categories like Active X Objects and Classes.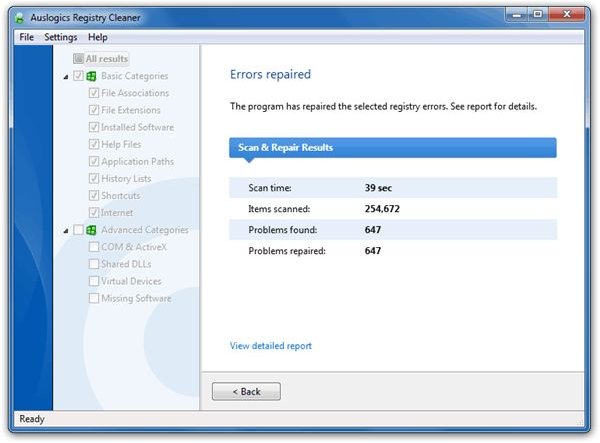 The scan performed by Auslogics Registry Cleaner is quick. One may, however, feel that performing a thorough registry cleaning may damage the Windows registry. Well, the software has nifty functional tools that ensure the most important registry entries don't get deleted accidentally. Before scanning it gives a brief description about each registry entry and the consequences of deleting the entry. It also provides a comprehensive backup solution to avoid damaging the registry. After detecting and fixing the errors, Auslogics presents a detailed report mentioning the number of scanned entries, the total time taken to scan the entries and number of problems found. Overall, Auslogics is a reliable registry tool and is worthy software to be listed in this compilation of the 10 best registry cleaners.
2. Eusing Registry Cleaner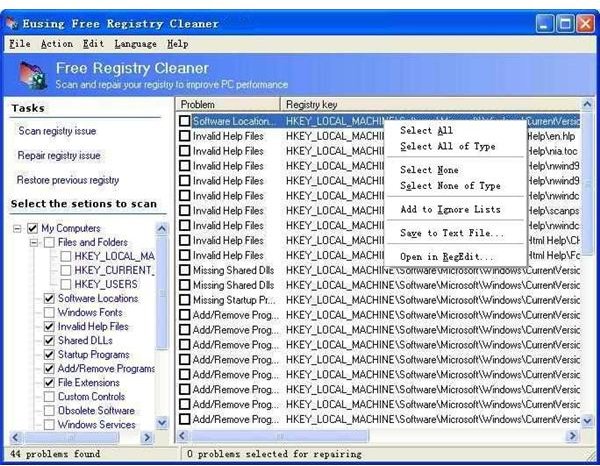 This nifty little free registry cleaner is just a 914KB small executable file, but the detection and cleanups performed is as good as any commercial program. The installation is quick and the program takes less space in your hard drive.
After installation, you will have to register with the Eusing website and start using this tool right away. The software scans registry issues and displays a list of errors in the registry. All you have to do is click the repair registry button to remove and optimize the Windows Registry.
Eusing Registry Cleaner is one of those free utilities that are at par with popular registry cleaning tools contained in CCleaner and Comodo System Cleaner and Glady Utilities.
1. CCleaner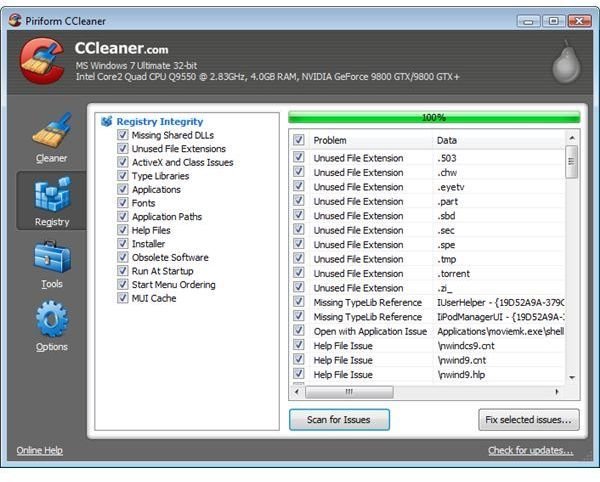 The list of 10 best registry cleaners cannot be complete without mentioning CCleaner. It is, by far, the most comprehensive and efficient system optimizer. Its neat features improve your PC's performance by deleting unnecessary registry entries and files. Users can first backup before optimizing the Windows Registry, thus avoiding any risks of damaging the "heart" of Windows.
The best aspect of CCleaner is that it performs all tasks that are generally done by paid utilities. Along with Comodo System Cleaner and Glady Utilities, CCleaner guarantees complete system optimization. To learn more about the ins and outs of this free utility read this in-depth CCleaner Review.