Installing and Running Windows 7 64 bit in VMware Fusion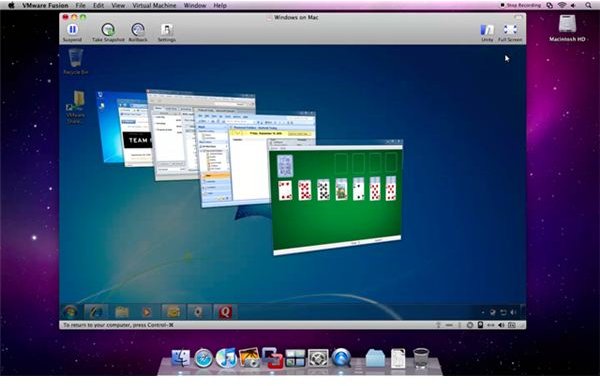 Getting Started
First you must obtain a copy of the Windows 7 64 bit operating system. You can either purchase a DVD version or download a disk image from Microsoft or any other reputable retailer. You can use the trial version if you just want to try out Windows. After your trial period ends, you have the option of purchasing a license. If you plan to use the DVD version, insert the disk into your Mac before proceeding.
Installing
Open VMware Fusion. Go to File and select New. If you insert a disk, VMware automatically recognizes your operating system. Choose your disk drive to continue with the installation. If you are using a disk image or ISO file, press Continue without a disk. Choose your disk image file from the Use operating system installation disk image file list. Select Continue.
Depending on your version, the Windows Easy Install feature may not support Windows 7. For best results in this scenario, choose Windows Server 2008 x64 Edition as your Windows Easy Install operating system. This makes the installation much easier. Select Continue.
Enter your product key into the Windows Product Key box, including dashes. Press Continue. Select any necessary Windows settings, such as your timezone. Click Finish on the configuration summary screen. At this point in the installation, VMware takes over. During the process, you will experience some reboots, but this is a common part of installing any Windows operating system.
Running
When you're ready to start running Windows 7 64 bit, start by opening VMware Fusion. Select File and choose Open. Select your Windows virtual machine. Be prepared for a slightly slower version of the operating system. Install applications while the virtual machine is open. You can download software by visiting the site through the virtual machine. You can also insert the software disk into your Mac and run the installation from the virtual machine. Configure settings, such as your desktop and icons through the Windows control panel. All Windows features work as if you were running the system on a PC. Some bugs have been reported when using certain applications and settings, however.
If you have problems running the 64 bit edition, see the VMware Fusion website for support and forums where you can ask questions. You can learn the right settings to get the most from Windows on your Mac, including how to set up popular applications. The community blog offers a very detailed guide to installing and running Windows on a Mac. It also provides very useful links on all the trial software you'll need to get started if you want to just try out both Windows and VMware.
Image Credits: Used with permission from Apple Insider
Resources
VMware: Product Support, at https://www.vmware.com/support/product-support/fusion/
VMware Blog: Windows 7 on Mac with VMware Fusion, at https://blogs.vmware.com/teamfusion/2009/01/windows-7-on-mac-with-vmware-fusion-a-practical-guide.html