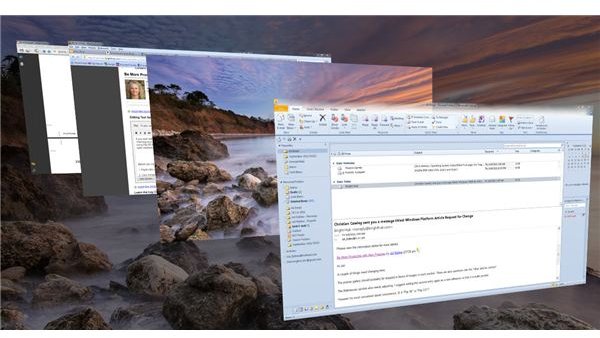 Enable Aero on Vista (it's Enabled on Windows 7)
If you work with multiple open windows, you should be using Flip or Flip 3D to move among them. Perhaps you have iTunes running and playing music, you're surfing the Web in Internet Explorer, you're checking your mail with Microsoft Outlook, and you're working on a document, all at the same time. With this many programs open, it's cumbersome to move among them effectively. There are ways though, including Flip and Flip 3D.
If you've never seen Flip 3D, check it out. Windows Flip 3D offers a novel way to access and move among open windows and is used in conjunction with the Aero interface. (You can't use Flip 3D if your computer does not support Windows Aero.)
Before you can use Flip 3D you need to enable Aero on Windows Vista (it's enabled in Windows 7):
1. Right-click an empty area of the desktop, and click Personalize.
2. Click Windows Color and Appearance.
3. If you're currently using Windows Vista Basic, you'll see the Appearance Settings dialog box.] If you're currently using Windows Aero, you'll see the Aero options, where you can select a different color scheme, enable transparency, make changes to the color intensity, or show the color mixer. If you see the former, choose Windows Aero. If you see the latter, configure Aero as desired.
4. Click OK to close the window.
Learn the Key Combination

With Aero enabled, you can now use Flip 3D:
1. Open multiple windows.
2. Hold down the Start key (Windows key) and press the Tab key one time.
3. Click the Tab key again, while keeping the Start (Windows) key depressed.
4. When the window you want appears in the front of the list, let go of both keys.
If Flip 3D doesn't work, you will probably see the watered down version of it, Flip, shown here. To see this, try the key combination Alt + Tab. Whatever you use, whether its Flip or Flip 3D, moving through windows has never been easier.
Tips for Using 3D and Multitasking
Although it seems reasonable to leave all of the programs you may need open all the time and use Flip 3D to move among them, often it's not the most efficient way to work. There are many reasons for this. First, with your email program open, you're constantly getting "dinged" that new email has arrived. With most people, it rarely matters what they are doing, they'll almost always flip over to see what it is. Much of the time, it's not worthy of flipping. Most email is spam, email from a newsletter, or an email from a friend that can wait. By multitasking in this way, you actually lose time.
Another reason the idea of leaving lots of programs open at one time fails the efficiency test is that your computer has to share its resources among open applications, even if you aren't using them. Of course, iTunes would require resources to play music, and you know your email program checks for email every 10 or 15 minutes, but what about the other programs? Did you know that open programs may be checking for updates, auto-saving your work, and performing other tasks in the background? It's true. If your computer has limited resources to work with, say only 2 GB of RAM or a single-core processor, your computer may slow down. You'll notice on occasion; I notice it when reading PDF files. When scrolling, there's a lag.
The takeaway is this: Flip and Flip 3D are great tools for moving among open programs, but beware that you don't have too many open at once. It can reduce your personal efficiency and cause the computer to perform more slowly!
Other Configuration Articles You May Enjoy
Vista's Sync Center - It's OK, but use something else if you can
Windows Mail (Vista) - Get the Most from Configuration Settings
References
The author's experiences suggest that Flip 3D is an efficiency tool and can help users move among open windows quickly.
The images here were taken by the author on a Windows 7 computer. Using Flip 3D on a Windows Vista computer is the same.
This article has been placed in our archives.