Guide to Using Eusing Registry Cleaner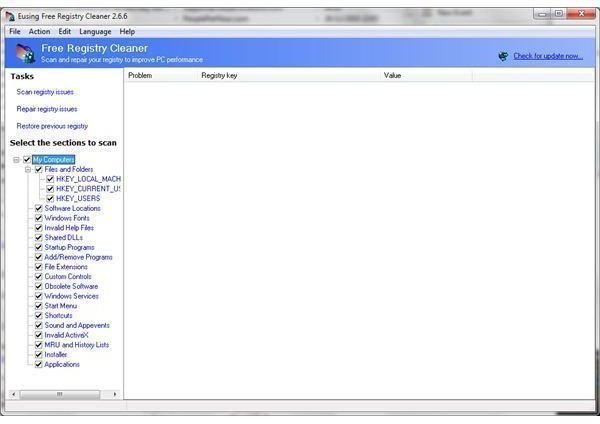 Why Do I Need a Registry Cleaner?
Problems with your Windows system registry can lead to all sorts of problems, most commonly a slow-running computer and one that has problems installing software. These issues are due to previously uninstalled software not being completely removed, a problem that is part Windows, part uninstall routine.
There are various tools available for fixing this. Microsoft used to make regclean.exe available to users via a download from the website, but this isn't really considered a useful tool for Windows 7.
Eusing Free Registry Cleaner is a freeware solution that can tidy up the registry, allowing your PC to run more smoothly.
Installing Eusing Registry Cleaner
Eusing Free Registry Cleaner is compatible with all desktop versions of Windows from Windows 95 through to Windows 7. Windows NT, 2000 and 2003 can also benefit from this tool.
Available free from www.eusing.com, Eusing Free Registry Cleaner can be quickly downloaded and installed in a matter of seconds. A small 941kB executable, EFRCSetup.exe should be run once downloaded, and installation should race through to completion.
Note that once the application is running you will be asked to register it. As freeware you can use Eusing Registry Cleaner without paying, but contributions are accepted in order fund further development of the utility.
Eusing Free Registry Cleaner Functions
There are a few key features with Eusing Free Registry Cleaner, all designed to make your PC run faster.
First of all there are three default Tasks:
Scan registry issues
Repair registry issues
Restore previous registry
These are available in the left pane of the utility and provide quick links to running a scan and repairing issues.
Meanwhile the Restore previous registry option can be used if you have used the File > Backup Full Registry… option.
Also in the File menu is Startup Manager, which provides access to the various programs that launch at startup, enabling you to disable them if necessary, much as you might with MSCONFIG.
Note also the Language menu, which can be used to choose a language that you are familiar with for running the utility.
Detect and Repair Registry Issues with Eusing Free Registry Cleaner
Using Eusing Registry Cleaner to detect problems is easy.
Begin by choosing what you want to check in the Select the sections to scan portion of the left pane; by default, the entire registry is checked, but you can easily limit your scan to just one area of your PC if required, useful if you have an inkling as to the problem area.
When you are happy with the sections that are being scanned, click Scan registry issue to begin the check. After the scan has completed a list of results will be displayed – you can click Repair registry issue to fix these problems, or use the File > Backup Full Registry option to give yourself the option of something to fall back on if the repair task fails.
With the repair complete, you should find that your PC runs much quicker!