Is GarageBand Available for Windows?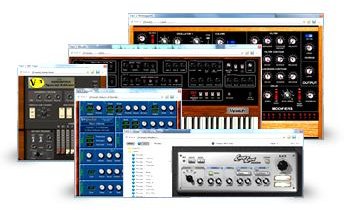 GarageBand is Only for Mac
This article is about music creation software. If you are interested in audio editors, check out this article on the Top 5 Free Audio Editors. There is also a list of the Top 10 Free Music Mixing Software Options.
GarageBand is software that is only available on a Macintosh operating system. While it is true that certain Mac software has been made available to Windows over the years (such as Safari, iTunes and QuickTime), GarageBand is not one that will be making its way to Windows anytime soon. Nonetheless, there are some alternatives available for Windows users. Alas, most of these programs will cost money. This list is compiled based on what types of products are available, and the value they provide. Generally, you will find that any music-creation software will cost at least $35.
One thing in common with all of the available products below is that they have a wide variety of products, from the beginning music-maker to the advanced music producer.
M-Audio Session
Session by M-Audio is probably the closest GarageBand clone to ever be available for the PC. They have four different versions available, but the most common one would have to be their Session, retailed at $49.95. It's designed to produce high quality results without the need of any prior experience or training in music-making. The drag-and-drop loops are similar to that of GarageBand, and it also comes equipped with over 1200 loops and instrument sounds. For the more advanced user, Session Music Producer can be had for $99.99, which includes a USB microphone. Essentially, it comes with all the tools necessary to turn your computer into a recording studio.
Cakewalk
Cakewalk has been producing music-recording software for years, and is the recipient of Music Editor's Choice awards and Performance awards. They have a multitude of different software available in a vast price range, so that users can choose the software that best suits them. Beginning creators can choose Music Creator ($34.99) or Studio Instruments for those looking for a band-in-a-box style setup; these are the most affordable. They also have software available for home studios, and virtual studios, though those cost from $99 to $400; these products are released under their Sonar line of software. The higher prices are better suited for professional music producers.
Fruity Loops
Fruity Loops produce powerful sequencing tools, but limited products. The entry level program FL Studio Express Edition is available for $49.99, though it does not include a piano roll or recording options. FL Studio Fruity Edition ($99.99) is best suited for sequencing and creating audio, but does not record audio (which means you won't be able to plug in any instruments or record yourself singing). For audio-recording, and more advanced music sequencing, you will need FL Studio Producer Edition ($199.99).
There are various Fruity Loops articles here at Bright Hub. Here's a standard tutorial for Fruity Loops.
Mixcraft
Mixcraft 5 is a multi-track recording studio that is seen as a good alternative to GarageBand. It is also relatively inexpensive compared to the other sequencers and music production software listed, plus it includes over 3000 loops in various musical styles. While it may not be as powerful as some of the other software listed, it is still very strongly equipped for creating loops and recording audio.
(Image from acoustica.com)