Banner Printing with Microsoft Word for Mac: Guide to Making Banners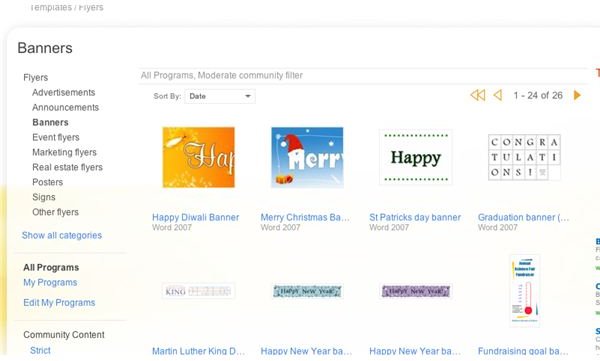 Can I Make Banners with Word for Mac?
Microsoft Word for Mac has the functionality to manage the printing of banners, perhaps several pages wide, which can be stuck together and used to greet someone on their birthday or wedding.
It's one of those obscure functions, however – but as with all things in Microsoft Office, you can get professional results with the right printer.
Banners can be any length or size, and really are only limited by your imagination, the amount of paper you have and how much you're prepared to spend on ink.
Banner printing with Microsoft Word for Mac can be achieved by simply resizing some text until you get one or two characters on each page or by utilizing one of the templates available via Office Online.
Make Your Own Word Banners
The quickest way to get started is to simply go for it, type the phrase that you want to turn into a banner and print it out!
OK, it might not be quite as straightforward as that, but give some though as to what you want to say, and how big you want to go in saying it. For instance, does "Happy Birthday!" warrant two pieces of A4 paper or 15? The best way to make this decision is to type your banner phrase, select the text and then resize it with the Font tool on the Home tab. Once you have scaled it up to what you feel is a suitable size, then add any colour to the text that you might want, use the Layout tab to alter the Orientation in the Page Setup section and once you have added any borders that you feel are necessary (Layout > Page Background > Borders) you're ready to print!
Use the View > Print Layout option to get the best look at your banner, and use the Zoom control in the lower-right of the status bar to help with this.
Use Templates for Banner Printing with Microsoft Word for Mac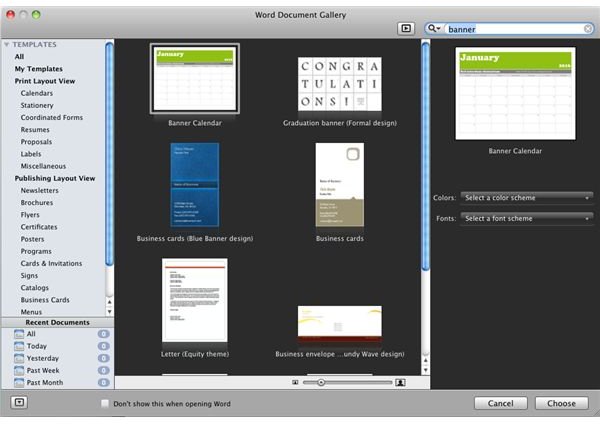 If you're not so keen on working out the size and dimensions – not to mention the number of sheets you will need – to create your own banners from scratch, you could take advantage of the superb selection of templates available from Office Online.
This can be accessed from the application itself. With Word 2011 running, go to File > New from Template… to open the Word Document gallery and use the search tool to browse the included templates and those online for banners.
One such suitable example is the "Graduation banner (Formal design)" template, which spells out the word "CONGRATULATIONS" across 17 sheets of paper.
Find More Templates at Office Online
You might also choose to look for more templates, which you can do via the browser at Office Online (office.microsoft.com). Rather than be restricted by templates designed for Word 2008, this option gives you access to any templates for any version of Word on either Mac or PC.
By searching for banners this way, you will receive more examples in the search results but within them you should be able to find banners harking back to Word 2003 and earlier, which can easily be downloaded to your Mac and edited with Microsoft Word: Mac 2011.