Panda Cloud Antivirus Pro Review
New Version of Panda Cloud Antivirus Pro

Version 1.3.0 of Panda Cloud Pro and free editions have been released with new features and improvements. End-users are automatically updated because there's no option to stay with an older build. Cloud protection by Panda for Windows 7, Vista and XP continues to provide protections from viruses, Trojans, spyware, rootkits, and other types of malware. It also offers behavioral-based protection for new and unknown threats by providing real-time behavioral blocking and an analysis feature. Vaccination of USB drives and disabling Autorun features in Windows are other protections offered by Panda.
Here, we'll explore if Panda Cloud Antivirus Pro edition is better than the free edition and learn about the new web and URL filtering feature.
Panda Cloud AV Pro Features and Setup
The install process of Panda Cloud AV Pro is no different than the free edition. A computer reboot is not required and it continues to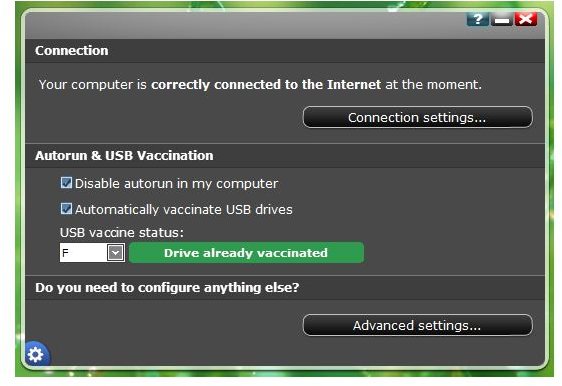 offer a third-party security toolbar that is powered by Visicom Media, Inc. The toolbar offers identity and anti-phishing protection and users who opted to install the toolbar will find 4 new programs added in Windows:
Panda Cloud Antivirus - The main application to protect Windows computers from viruses.
Panda Identity Protect - This program requires the Panda security toolbar in order to function.
Panda Security Toolbar URL Filtering - You can take advantage of web and URL filtering even after you've removed the toolbar. This feature will not be installed, if you don't install the Panda Security toolbar.
Panda Security Toolbar - Search toolbar that's really not necessary to install.
Panda Cloud Antivirus Pro v1.3 provides the following new and improved features:
Web and URL filtering - Protection against malicious websites and drive-by downloads. This new feature is available in both

editions of Panda Cloud AV: Free or Pro.

Fast notifications of virus detections.

Improved user-interface for quarantine and recycle bin in any edition of Panda Cloud AV.

Suspicious detection counter - The events history will now display the number of suspicious detections.

Hot updating of behavioral blocking rules.
Memory Usage and Performance of Panda Cloud Antivirus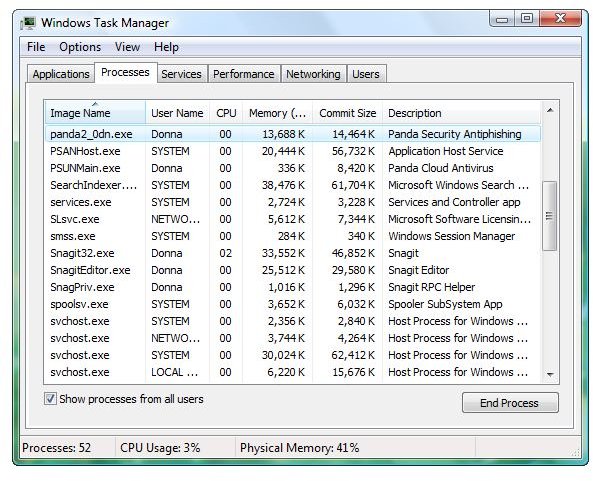 The memory usage of Panda Cloud AV Pro is acceptable. It uses between 12 to 20MB of memory while idling or protecting the computer. During a system or optimized scan, there's only a slight increase on memory usage - around 27MB only. However, some users reported a high memory usage of Panda Cloud Antivirus and it is being looked into by the Panda team. It seems a corrupted installation is the cause of high memory usage. If you find such problem, you should uninstall Panda Cloud AV using the customized installer that is available on the Cloud Antivirus Blog.
Note, that you should release the license key of Panda Cloud AV Pro before reinstalling the product. To release the license key, login to your Cloud Antivirus account, and then release the license key from there.
On Vista systems with Panda Cloud Antivirus Pro, it didn't seem to slow performance. Also, the program did not have conflict in using widely-used applications. An optimized and system scan of a 150GB Hard-disk with 43GB of used space can finish in 11 minutes and 22 minutes.
Malware Protection
Panda is known to provide above average protection against viruses. When I tested Panda Cloud free 2 months ago, the program was able to provide 94% of protection. I wondered if there was a difference of detection capability for viruses in using the Pro edition of Panda Cloud AV, so I put it to the test by scanning 400 positive malware samples: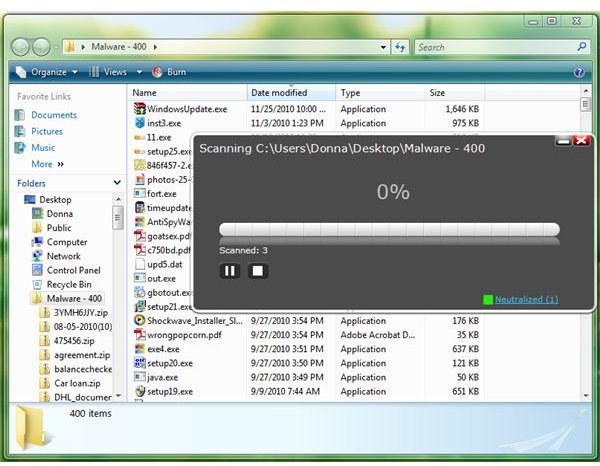 Panda Cloud AV Pro was able to detect 379 out of 400 malware threats, which means the detections offered by the Pro edition is no different from the free edition.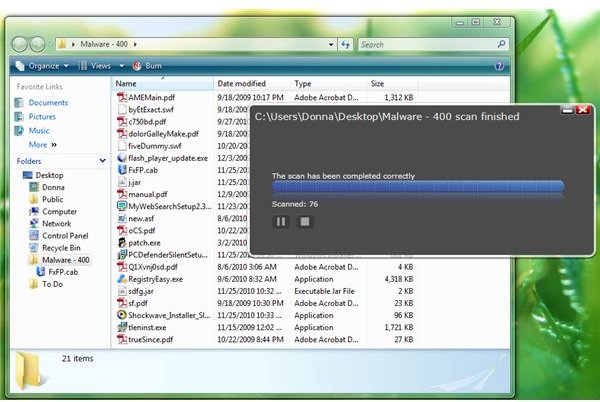 I also put to the test the real-time and behavioral blocking and analysis, including the repair function by Panda Cloud AV Pro, by manually executing a new Trojan downloader.
The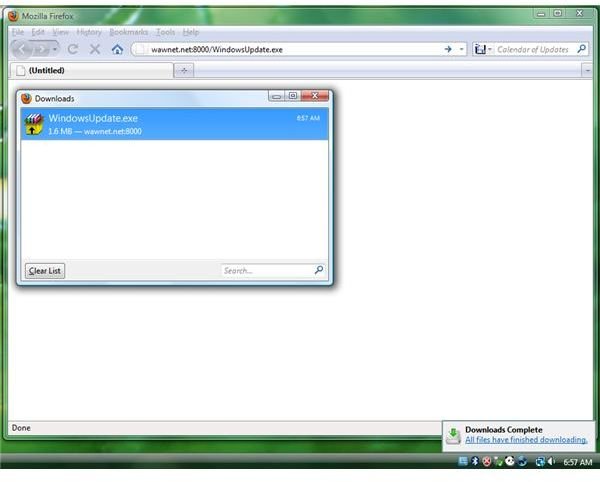 the download of the Trojan. Executing the Trojan succeeded in which a new svchost.exe processes is now running with a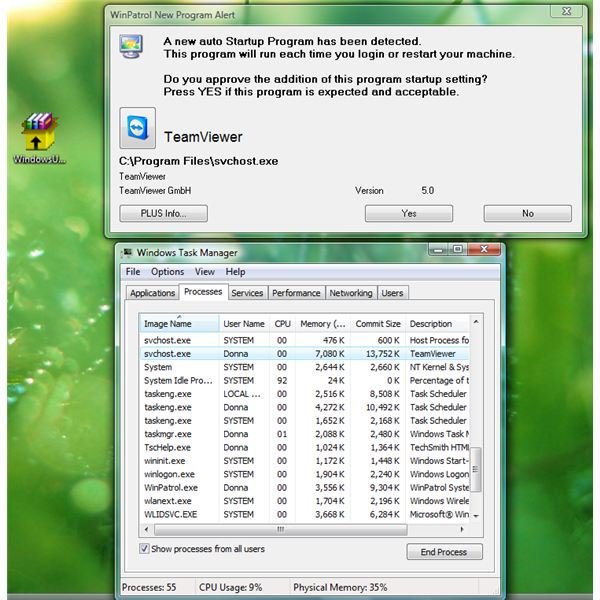 . Next, I ran the optimized and context menu scan on the downloaded Trojan. Both scans found the threat, but failed to repair or neutralize the infection. Computer reboots continued to show the system was infected.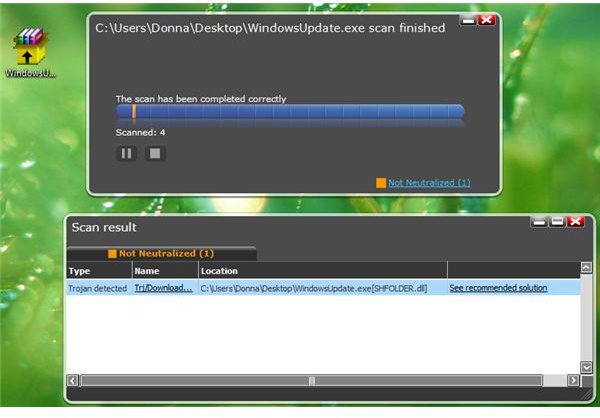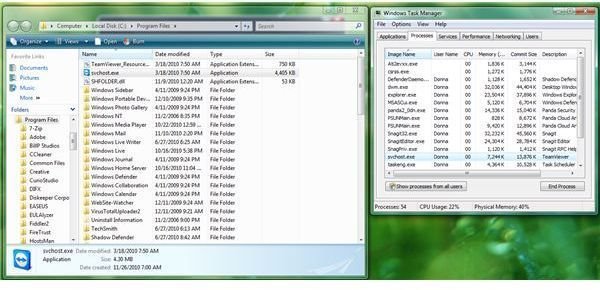 Panda Cloud AV Pro's detections on threats is good but the removal process of infections requires improvement. The web and URL filtering is also slow because the malware URL is known to many users.
Price and Support
Panda Cloud AV Pro costs $30 with 1 year of subscription. I find it expensive if you compare it to NOD32 ($40), Avast ($35) and Avira ($24) that provides more than 96% of protection against viruses.
Panda provides a 24x7 support via its support forum. Paid customers have access to the VIP support forum.
Conclusion
I recommend using Panda Cloud Antivirus Pro only if you have another signature-based scanner running in real-time on your computer such as Malwarebytes' Anti-Malware (paid version), Ad-Aware Internet Security free, SUPERAntiSpyware Pro, EmsiSoft Anti-Malware or Windows Defender. The protection by Panda Cloud AV (Pro or free edition) is using cloud protection which is good only if you use an antivirus program that does not require definitions update tasks.
_Screenshots taken by the author courtesy of Panda Cloud Antivirus Pro (_https://www.cloudantivirus.com/en/)