Review of Trend Micro Titanium Internet Security
Take Security Seriously with Trend Micro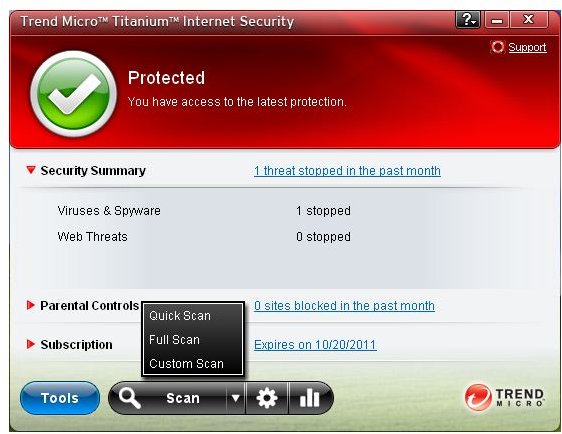 There is no application or utility on your PC more important than antivirus software. With the number of threats on the rise, it is important to have a decent security suite installed and regularly updated so that you can stay on top of any threats that might come your way. These might be viruses, worms, Trojans, spyware or any other malware, and protection from these can save you time and indeed money.
Trend Micro isn't usually a name associated with the top selection of antivirus solutions such as Norton and McAfee, but with the release of Trend Micro Titanium Internet Security that might be about to change.
System Requirements and Price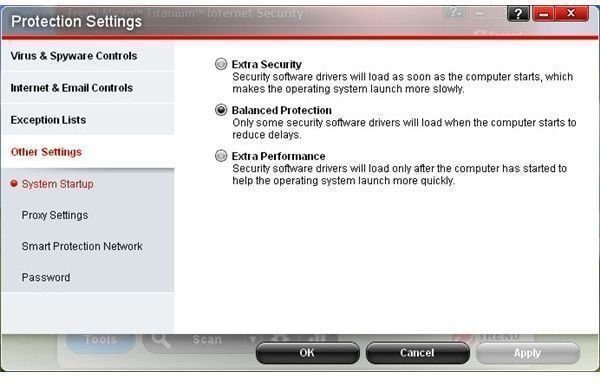 System requirements for this software depend upon your operating system.
Windows XP users should be on Service Pack 3 with a minimum 450MHz CPU, at least 256MB of memory and 500MB hard disk space. Compatibility is limited to 32-bit XP systems.
Windows Vista users should be running Service Pack 1 or later, with at least 800MHz CPU, a minimum 512MB system RAM and 500MB hard disk space.
Windows 7 users should also be on Service Pack 1, with a CPU speed of 1GHz and 1GB of system RAM. Again, the security suite requires 500Mb of hard disk space.
In addition, your system needs to be running Internet Explorer 7 or 8, have a PDF reader, a 640x480 pixel display, and high speed Internet.
You can download a trial version from Trend Micro's website – this will last for 30 days, and the full product is priced at $69.95.
User Interface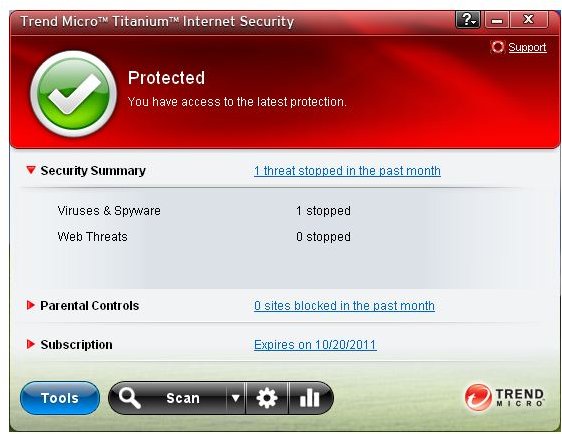 I don't think there is a better user interface in any security suite currently available than the one provided here by Trend Micro. Anyone that has used previous security tools from Trend will see something they recognize, and the ease of use and clarity of features is carried over, with all of the important tools arranged so that you can easily find them. Everything is clearly labeled to make accessing the suite a pleasant experience.
Scanning tools can be accessed either via the console or via the Start menu or any desktop shortcuts created during installation.
Security Features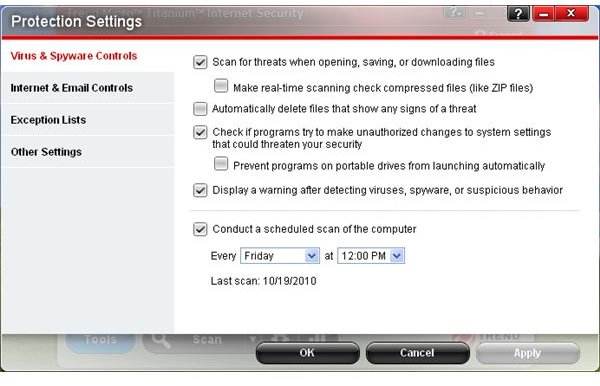 The latest Trend Internet security suite contains all the features you would expect to find in a desktop security suite. The console – accessible via the system tray where you will see the familiar Trend red disk logo – is split into 4 sections:
Virus & Spyware Controls – Schedule scans and outline behavior when threats are detected.
Internet & Email Controls – Block websites, activate Firewall Booster, and filter spam messages.
Exception Lists – Allows you to add applications and folders to a list of items that won't be scanned.
Other Settings – Manage the performance profile on your PC, allowing you to use the security suite on PCs that boot slowly by delaying loading of the application and drivers.
In addition, there are also Parental Controls to keep your children browsing safely and Data Theft Prevention tools to prevent your personal information being hijacked while in route to websites you have signed up to access.
Is Trend Micro Titanium Internet Security Worth It?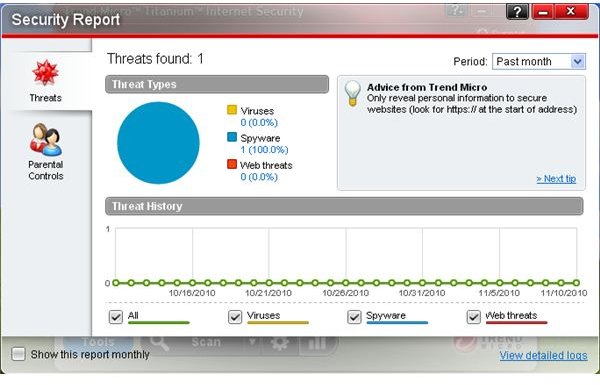 This Trend Internet security suite is a light on resources and tough on threats. I've tested Trojans and worms with it, placing them in system files as well as My Documents and the temp folder and the suite's anti-virus software has pulled them up straight away on each occasion.
Firewall controls are simple to master, offering additional strength to the built-in Windows Firewall, and while it doesn't offer all of the configuration options of something like Norton or even the free to use Comodo Internet Security, no one should be using a software firewall these days without making certain their router's firewall is also activated.
In terms of value for money, with all of the features that Trend Micro Titanium Internet Security offers and the adeptness with which it detects threats without killing even a low spec Windows XP machine, you should consider this to be a good purchase.
References
All references and screenshots from Trend Micro Titanium Internet Security.
Software available from Trend Micro, https://us.trendmicro.com/us/products/personal/internet-security/