Free Avira AntiVir 2010 Review - Part One
What's New in Avira AntiVir 10 Free
Avira released Avira AntiVir Version 10 last March 2010. The new version boasts new features in AntiVir Personal edition:
Shadow Copy function - The program is now using the Shadow Copy technology by Microsoft in Windows. This allows the antivirus to scan locked or currently in use files.
Simplified UI on detected malware - The user interface in AntiVir 10 that prompts users for action when a malware is detected has changed to single option only instead of 6. More about this in the Malware Protection section in page 2 of this article.
Generic system repair - The malware removal method used by AntiVir is now improved. Remnants of malware in the Windows registry or any critical area in the system are now completely removed. This is why AntiVir 10 has received a 5.5 score out of 6.0 from AV-Test.org*.
* AV-Test.org published August 16, 2010 the result of their test on 19 security solutions - https://www.av-test.org/certifications?order=repair_desc&lang=en
Installation and System Requirements (5 out of 5)
AntiVir Personal edition runs on Windows 7, Vista and XP. Windows 2000 users can still use AntiVir program but Avira will stop supporting Windows 2000 on July 13, 2011. Please note Microsoft has discontinued support to Windows 2000. Avira wrote on their website that the AntiVir ProActiv technology in the paid solutions of Avira will not run in Windows 2000. This is why using unsupported operating systems is not recommended.
Please note that I recommend getting AntiVir from the vendors' website or reputable download sites only. There are many rogue antivirus distributors that are exploiting the name of legitimate antivirus programs. Avira antivirus download is located here on their website. The program is currently available in 9 languages.
The installation of AntiVir Free is a quick process using its Express install method. A custom installation is also offered but I recommend using the custom install, only if you are advanced user. If Windows Defender is enabled in Vista and Windows 7 or installed in XP, AntiVir recommends disabling Windows Defender manually: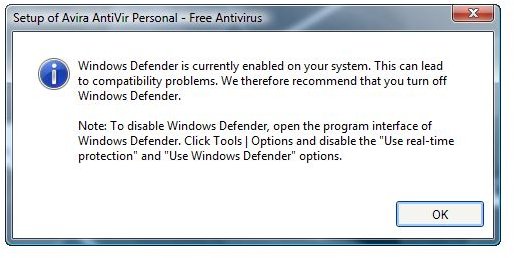 The configuration wizard for AntiVir 10 is presented after installing AntiVir using the "custom" install. To take advantage of better protection, I recommend using the high detection level: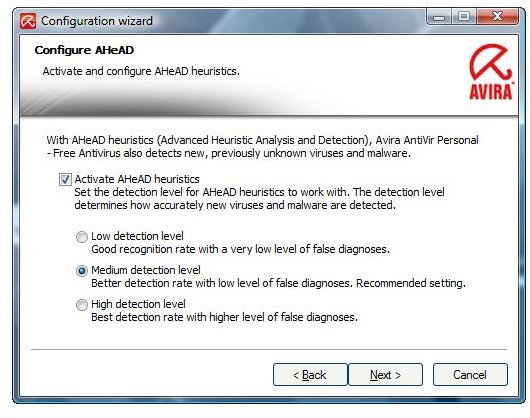 You should also configure Avira AntiVir to detect all types of threats that the program is capable of detecting: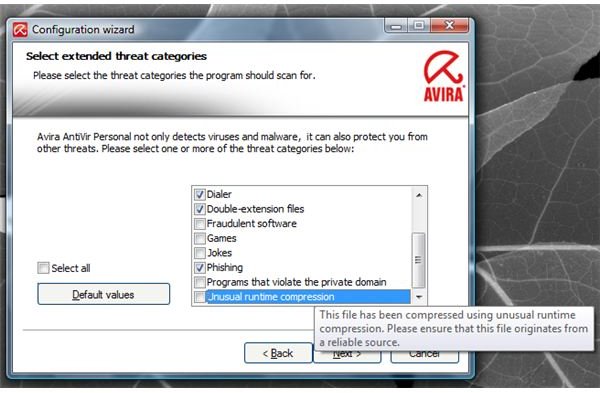 Also, you should configure AntiVir Guard to use the Secure mode so it will start as early as possible to immediately block or remove malware that will auto-start right after the user login to Windows: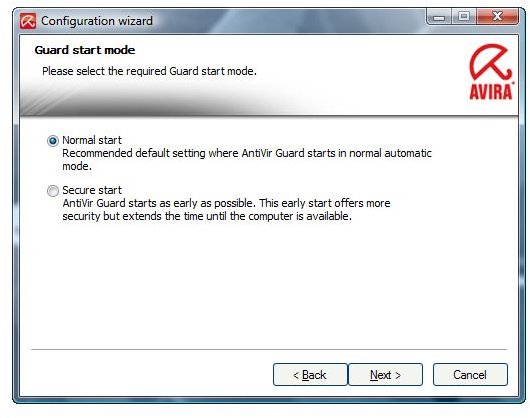 Other recommended settings are to allow AntiVir scanner and guard to scan all files by choosing the Expert mode in the Configuration window. Use this setting only if you have enough RAM installed on your computer: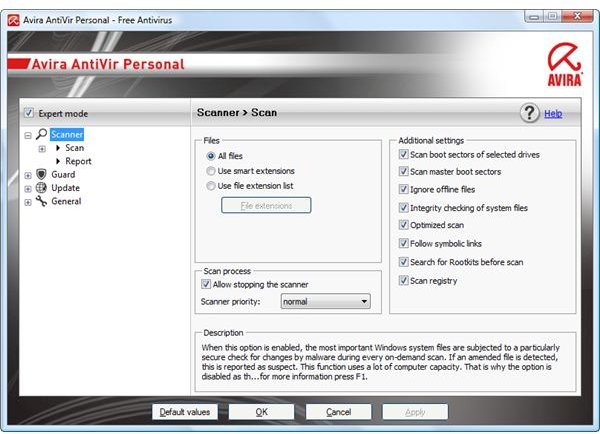 Finally, configure AntiVir by enabling the advanced processes protection for the program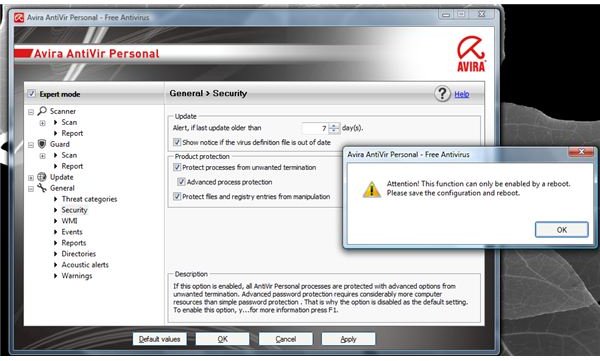 Memory Usage & Program Performance (3 out of 5)
The memory usage by AntiVir Personal edition is acceptable. In the test system, Avira is only using 24MB of memory. The running processes are avshadow.exe, avguard.exe, sched.exe and avgnt.exe. If you have the antivirus configuration and the program's UI window opened, you will find avcenter.exe and avconfig.exe as active processes which will use 11MB and 17MB of memory, respectively.
The only issues that I noticed is when opening the configuration window of AntiVir on "Archives," the setting will take a while before displaying the available options.
Updating AntiVir detection signature is easy using its built-in updater. However, the program will display AntiVir Notifiers to promote the paid edition of Avira AntiVir.
On Page 2, our review of Avira AntiVir 2010 continues including a look at scan performance and malware protection and removal.
Scan Performance (4 out of 5)
Running a scan using AntiVir will open another process, avscan.exe, which may use up to 80MB to 150MB of memory. Example, a rootkit scan using AntiVir uses up to 86MB of memory while a system drive scan uses 150MB of memory: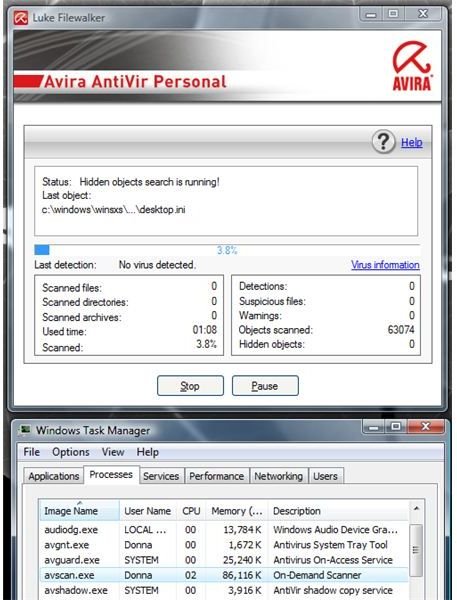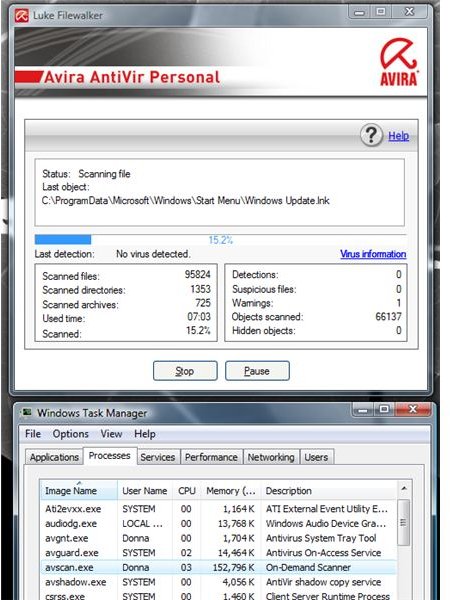 There is no system lag while using AntiVir antivirus program and I was actually using several applications when running the system drive scanner. The system drive has 150GB hard-disk space with 68MB free space only. AntiVir finished scanning the drive in 30 minutes and 5 seconds. The rootkit scan on the same hard-drive finishes in less than 5 minutes. The full system or system drive scan will automatically scan for boot sector infections but you also have the option to only scan the boot records. Note that the scan activity by AntiVir, including program events is long. You have the option to view and save the scan report.
What is neat with AntiVir scanner is the option to run any type of scan as current user or use administrative permission. Profile scanner as administrator lets you scan all user profiles in Windows.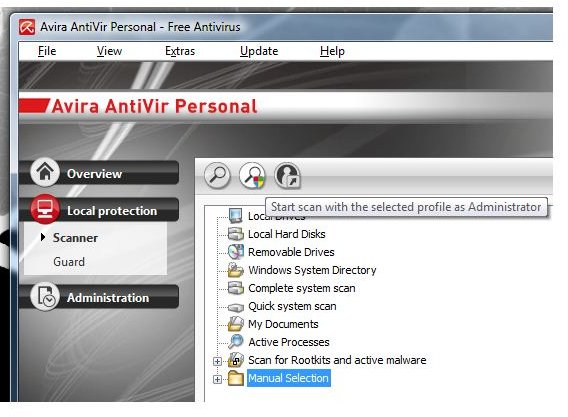 Malware Protection of Avira AntiVir 10 (4 out of 5)
In the previous version of AntiVir, the AntiVir Guard offered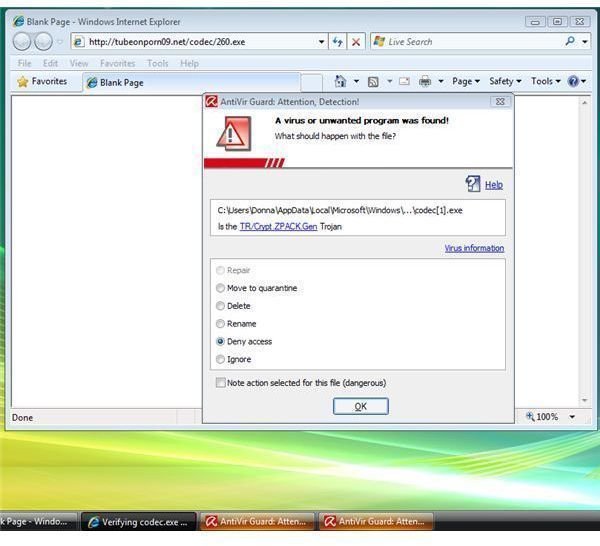 to the user to deal with detected malware. In Version 10 of Avira AntiVir, you only have single option - to apply a recommended action for positive malware which is "Remove":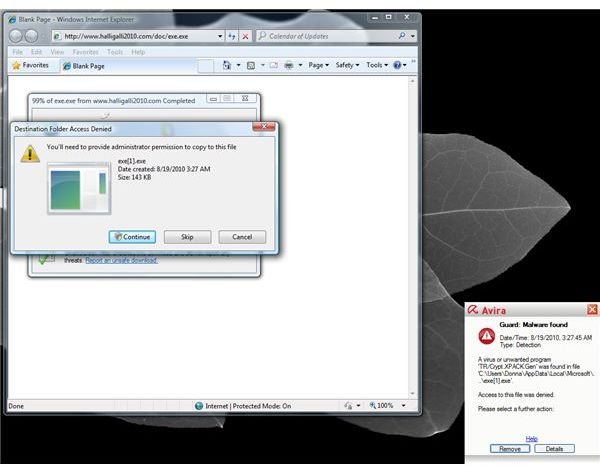 If the user clicks on "Details" instead of the "Remove" action, AntiVir 10 will run a very quick scan, provide a link to the virus information, and an option to apply AntiVir's recommended action: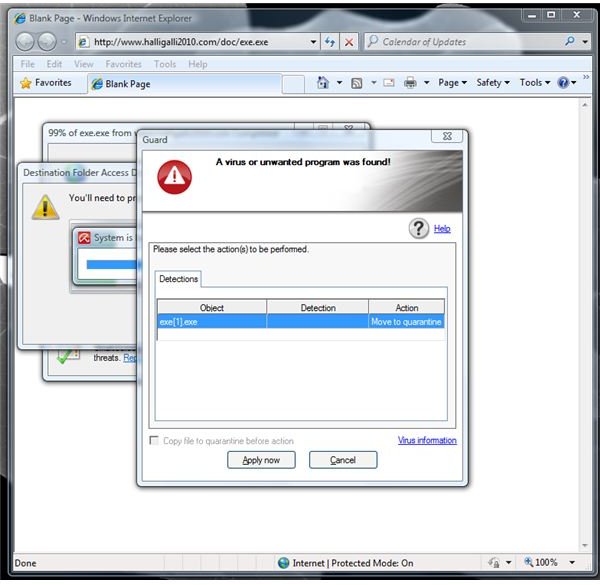 Clicking the "Apply" button allows AntiVir to completely remove the malware using its Generic System repair function: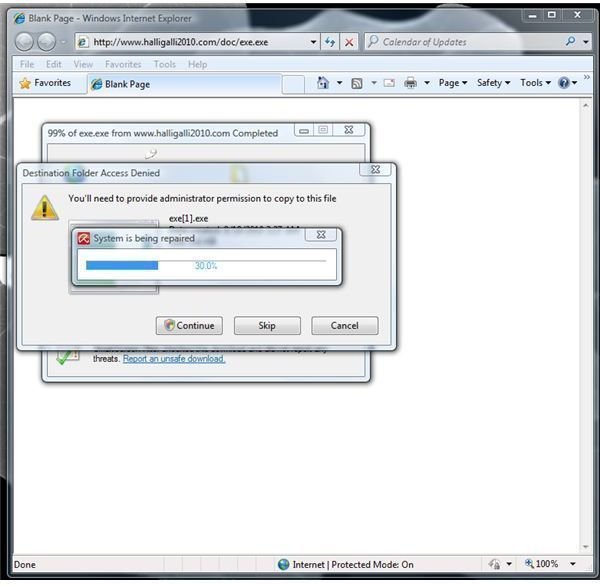 I decided to test the real-time protection by AntiVir 10 Personal edition by transferring 365 malware samples to the system drive. AntiVir Guard is quick to provide an alert for detected malware and run a scan on files that are being stored in the system: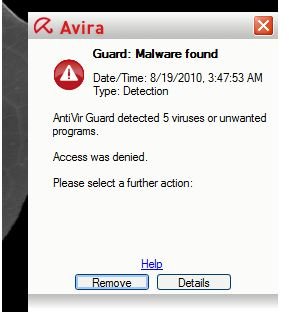 AntiVir prevented 338 malware in real-time: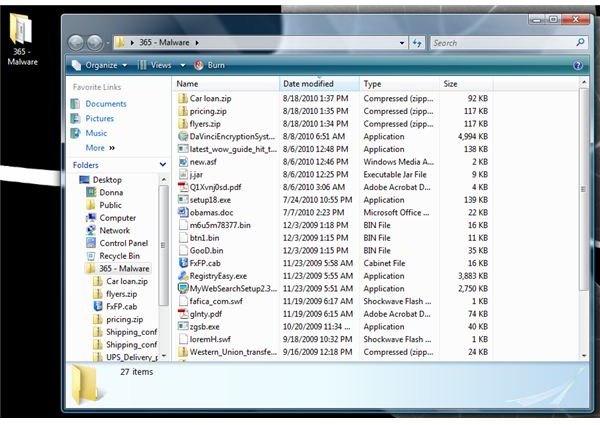 I also allowed the on-demand scanner by AntiVir to scan the remaining 27 malware and it detected another 10 samples, leaving the computer unprotected against 17 threats: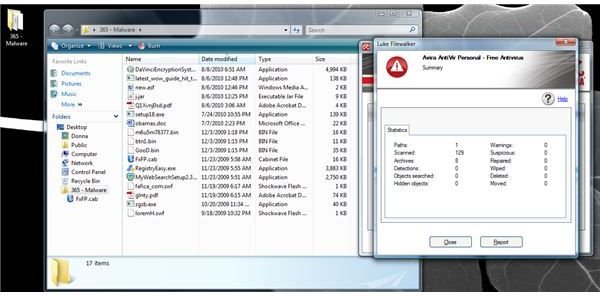 Malware Removal by Avira AntiVir 10 (4 out of 5)
To test the removal capability of AntiVir, I disabled the real-time protection and then infected the XP computer with a Trojan downloader. The Trojan installed a Security Tool rogue program: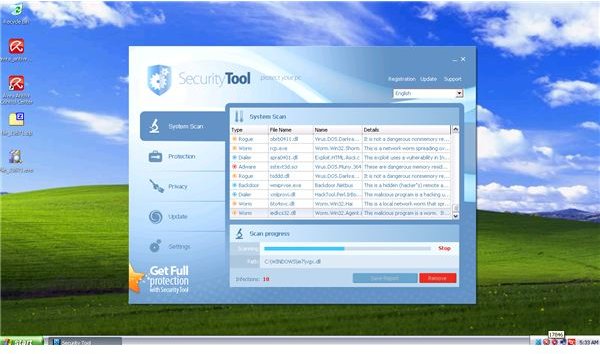 When I enabled AntiVir's real-time protection, the Security Tool virus prevented launching the AntiVir antivirus program or the scanner: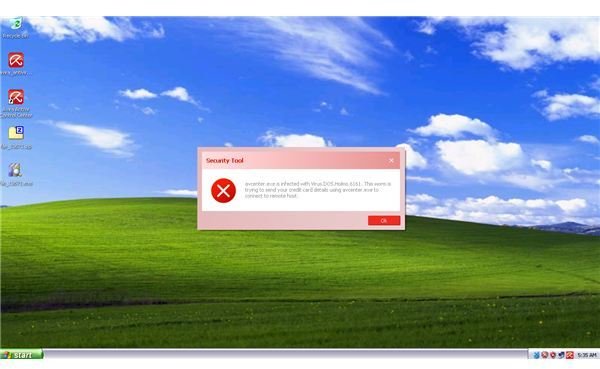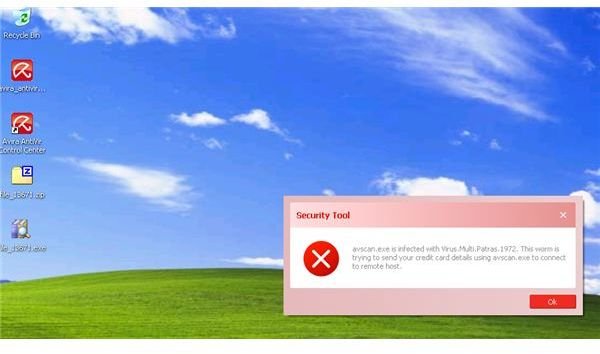 If you did not configure AntiVir to use a Secure start mode**, the system is completely infected even after a restart because the rogue program will continue blocking the AntiVir antivirus program. With Secure start enabled, AntiVir completely detected the malware processes and cleaned the PC.
Note that you cannot install Avira AntiVir on a PC that has a nasty malware infection because the malware processes will prevent the installer of the antivirus program. Kaspersky AntiVirus 2011 features installation for an infected computer.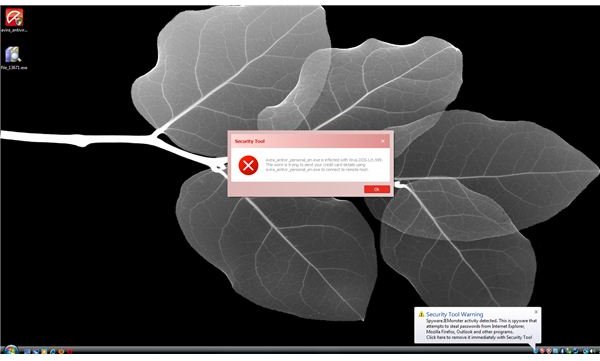 ******Secure start mode - See page 1 of this article on "Installation and System Requirements" on how to enable Secure start mode.
Conclusion
The free antivirus program of AntiVir continues to provide high detection rate. It can offer up to 96% of protection against malware. The boot-time of the computer with Avira AntiVir is less than 25 seconds only. Avira AntiVir version is a highly recommended upgrade for existing users of AntiVir 8 or 9. Avira AntiVir Personal Edition is recommended to people looking for free-of-charge antivirus solution.
Screenshots taken by Donna Buenaventura - https://free-av.com/en/download/download_servers.php