Review of Spyware Doctor Free for Windows
About Spyware Doctor Free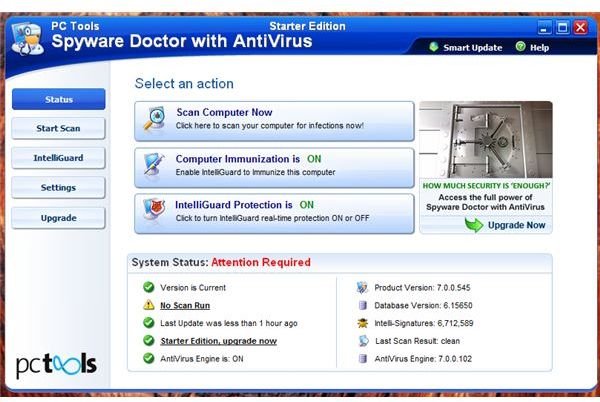 PC Tools continues to offer the free edition of Spyware Doctor with AntiVirus Starter Edition. You can get Spyware Doctor free from the Google Pack website. You need to uncheck the boxes of other software title in the list to only download the free version of Spyware Doctor with Antivirus. Some download websites also offer the standalone edition of the program, but they are serving an out-dated and not supported version of Spyware Doctor free.
System Requirements and Installation (4 out of 5)
You can use Spyware Doctor Starter Edition for Windows 7, Vista and XP. You should not use this program if you already have another antivirus program with real-time protection.
The installation process for Spyware Doctor Free is done by Google Updater, right after it finishes downloading the software. The Google Updater will be installed in Windows and the browser helper object (BHO) is added in IE browser with filename swg.dll. The BHO will run in the background and prevents other search engines from modifying the default search engine in the browser, if you've configured Google Updater to set Google.com as the search engine.
Spyware Doctor Free uses 201MB of hard-disk space. A reboot is not required after the installation unless you modify the real-time protection settings in the program. Spyware Doctor will register its status in Windows Security Center as an antivirus and anti-spyware program for Windows. It will also add two Windows services named PC Tools Auxiliary Service (pctsAuxs.exe) and PC Tools Security Service (pctsSvc.exe). A startup item is also added with filename pctsTray.exe and it is named ISTray.
Features of Spyware Doctor Starter Edition (4 out of 5)
Spyware Doctor with Antivirus Starter Edition v7.0.0.545 features the following:
Intelliguard - The real-time protection module in Spyware Doctor free. You can configure Intelliguard to monitor all files and processes, scripts and executable files. The default setting is to monitor only the processes but I highly recommend changing the settings to monitor all files and processes so you can take advantage of better malware protection. You should also configure Intelliguard to detect Potentially Unwanted Programs (PUPs) because it is not enabled by default. Note that Intelliguard's File Guard can prevent opening any unsafe attachments in Microsoft Outlook and other email clients.
Task Scheduler - The free edition of Spyware Doctor lets you create your scan and update schedule.
Global Action List - This is the exclusion list in the program. You can manually add files, cookies or websites that the scanner will not consider as threats or automatically block.
Quarantine Manager - Not all free malware scanners allow the user to manage quarantined files. Example: Webroot Spy Sweeper free scanner does not allow the user to view the items in the quarantine unless you pay for the program.
Computer Immunization - Spyware Doctor Free will immunize the computer against malicious ActiveX.
On-demand Scanner - In addition to real-time protection, you can use the program to run a full, custom, quick scan or single file scan.
Malware Removal - The real-time and on-demand scanner of Spyware Doctor automatically removes detected malware and stores a back-up copy in the quarantine manager. A restore point can be created before removing malware.
Built-in Updater - Spyware Doctor free includes a built-in updater called Smart Update that will download program and definition updates.
Activity History - The program will log any detected malware and program activity. You can export the logs in HTML format or clear the history logs.
Limitation of Spyware Doctor Free
Spyware Doctor Free and the starter edition does not include behavior-based protection but you can download the free ThreatFire by PC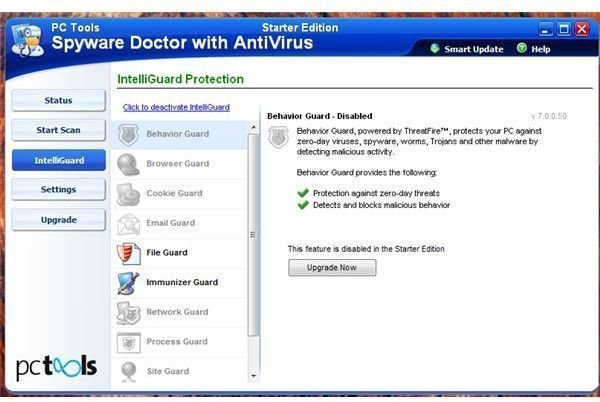 Tools which is what the paid edition of Spyware Doctor is using. It also does not offer exploits or zero-day protection which means you must ensure that your applications and operating system have the security fixes or work-around on any zero-day vulnerabilities. Other features that are missing in Spyware Doctor free are:
Rootkit and malicious hidden file or process protection
Protection from visiting malicious or rogue websites
Startup guard
E-mail scanner for POP and SMTP
If you need the above, you have to get the paid edition of Spyware Doctor with AV.
Performance and Malware Protection (4 out of 5)
The only issue that I noticed with Spyware Doctor Free is that it is uses too many resources when running a full system scan. There is noticeable lag when opening other application while the scan is running.
A full system drive scan (150GB HD) using Spyware Doctor will finish in 23 minutes while a quick scan can finish in 24 seconds. A full computer and removable storage scan (700GB HD) will finish in 1 hour and 30 minutes. It's a quite impressive scanner but it has a catch: A performance issue when using other applications in Windows.
Spyware Doctor Starter Edition offers good protection against malware. I let it scan 360 malware samples and it was able to detect and remove 340 files in real-time.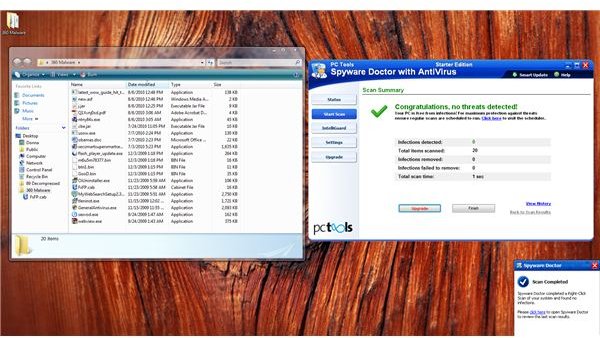 Note that compressed files in zip format are not detected by Spyware Doctor until I manually extract them. Spyware Doctor's real-time protection automatically blocked and quarantined a copy of the extracted files but it failed to delete the original compressed file.
The program can also protect the computer from unsafe downloads or transfers onto the computer: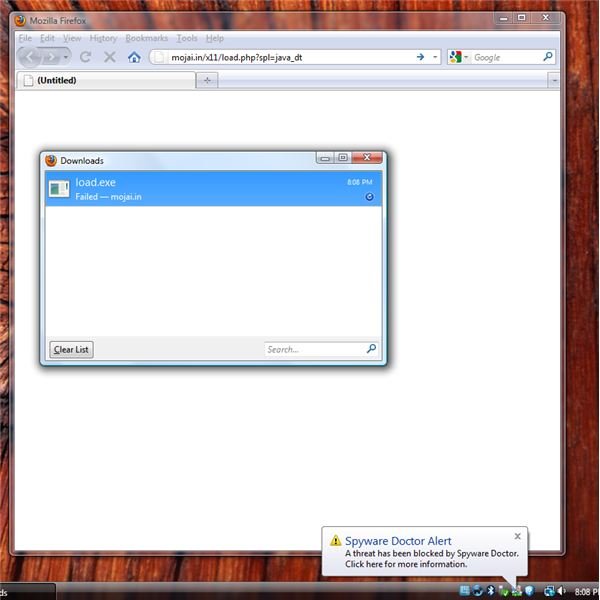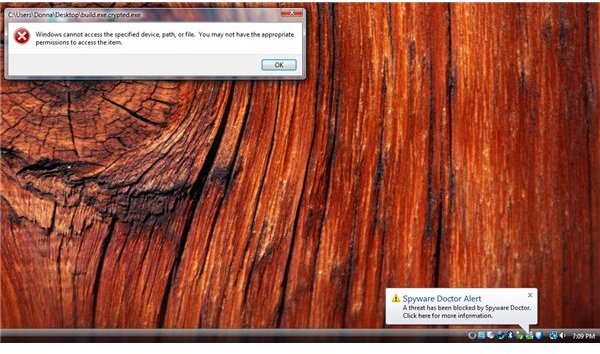 However, it is not a perfect malware scanner because it does not have a behavior-based protection which means it can miss preventing the download of fake AV installers and Trojan TDSS: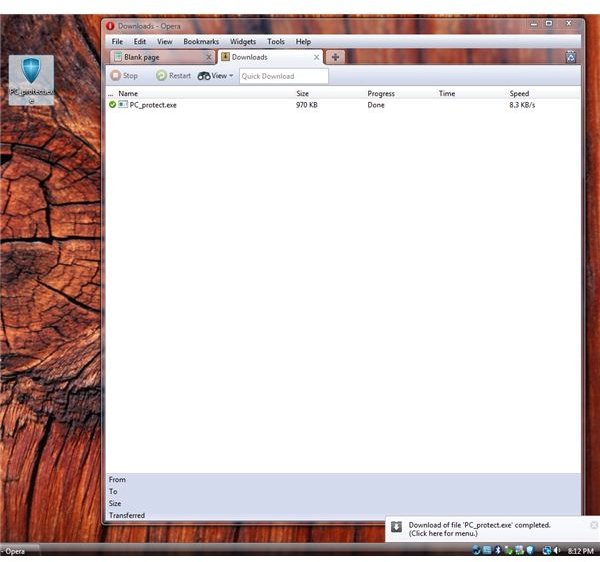 Conclusion
Spyware Doctor Free or Spyware Doctor with Antivirus Starter Edition can offer up to 95% of protection. It's quite impressive protection by a security program that is actually a free and limited edition only. The free Spyware Doctor download is on the Google Pack website and it's free for personal use. I recommend this program if you are looking for a replacement AV that does not provide more than 90% malware protection.
Image Credits: Screenshots taken by Donna Buenaventura