Useful Free Virus Removal Tool: SUPERAntiSpyware Free Edition
Free Malware Scanner and Remover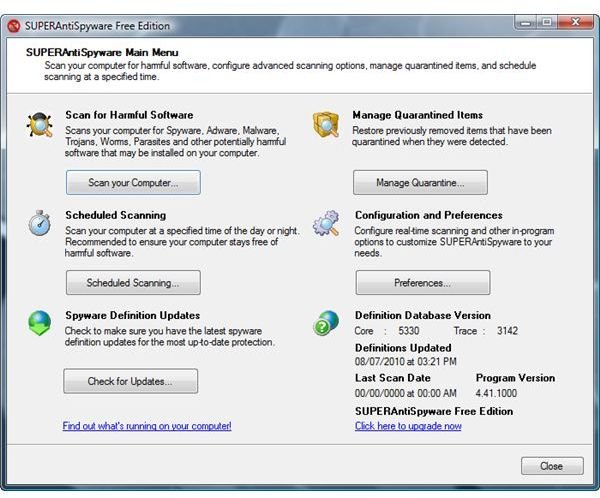 SUPERAntiSpyware Free edition is a piece of popular anti-malware software with free support via its forums, frequent daily updates and useful repair tools. The program will run on Windows 7, Vista, XP, Windows Server 2008/2003 and Windows 2000. SUPERAntiSpyware was added into the VirusTotal online virus scan service last month, which makes it easier for users to know which malware scanners to use and which will protect against new and old threats. The vendor of SUPERAntiSpyware has also developed the SUPERAntiSpyware Portable Scanner which is free to use.
Installation and Performance (5 out of 5)
The installation process for SUPERAntiSpyware is quite simple and easy. A system reboot is not required to start using the program. You can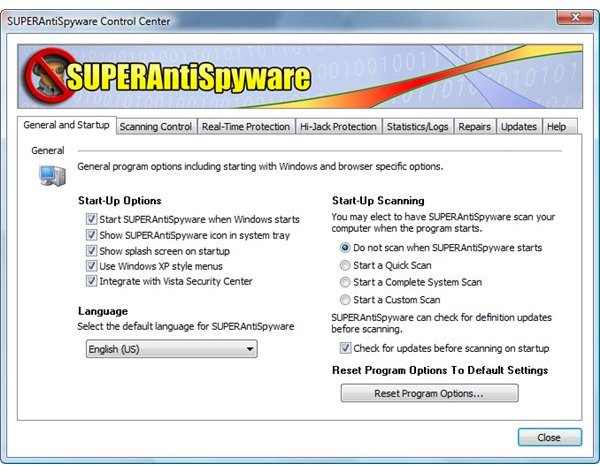 install the program to the current account or all user accounts in Windows. There's also an option to download the detection updates whenever the program starts. SUPERAntiSpyware will only use 36.2MB and will add a startup item in Windows so you can immediately scan the computer at any time. The auto-start of SUPERAntiSpyware in Windows does not offer any real-time protection against malware but will guard Internet Explorer's homepage. It's a good idea for any malware scanner to provide an option to start the program when Windows starts, because some Trojan downloaders and rogue or scareware programs will prevent anti-malware from loading. With the auto-start option for SUPERAntiSpyware, you have a good chance of cleaning the computer properly.
If you allow SUPERAntiSpyware to load whenever Windows starts, you are only giving up a little memory. It only uses 632KB of memory. The program will use up to 63MB when running a full system scan but will finish the scan in no time. In the test system used, a system drive scan finished in 14 minutes while a quick scan finished within 5 minutes.
Useful Features and Options of SUPERAntiSpyware (4 out of 5)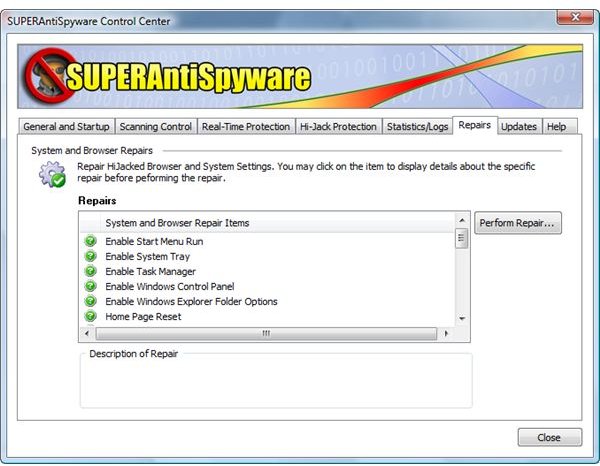 In addition to the nice option to auto-start SUPERAntiSpyware during the Windows logon, the program also let you configure its scanner, manage quarantine items, add or remove trusted items and excluded folders during a scan, use browser hijack protection, review logs and manually update the definitions.
SUPERAntiSpyware also provides other great and useful tools for purposes such as restoring a broken internet connection, repairing the corrupted Winsock LSP chain and enabling the Task Manager, the Control Panel, the System Tray or the Start Menu Run command. There are also tools to reset the IE security zone, URL prefixes, web settings, Windows logon shell, zonemap settings and many more.
The available scan options in SUPERAntiSpyware are full, quick, custom and context menu scans.
The only issues that I noticed in using SUPERAntiSpyware Free are:
The option to integrate SUPERAntiSpyware in Windows Security Center for Vista does not work.
The single-file scan via context menu is not available, if SUPERAntiSpyware is not running in the background or has not started. Some free malware scanner let you run such a scan even if the program is not running.
Malware Detection and Removal of Threats (3 out of 5)
I'm disappointed to see SUPERAntiSpyware fail in detecting a lot of raw malware samples that I transferred onto the system drive. Out of 350 malware samples, the program only detected 60 malware samples:
Some might say that SUPERAntiSpyware is good enough to detect active malware or threats that are running already. That would be fine if only the scanner found all known threats. However, in this SUPERAntiSpyware Free review I tested that by infecting the test computer with malware that was not detected by SUPERAntiSpyware on-demand scanner. The end result is that SUPERAntiSpyware will detect some active malware but not all. This is why it's best to use more than one on-demand scanner to help clean an infected computer. It is known already that there's no single weapon to protect computers but it's best to use a program that will prevent infection, in addition to curing. Let's not forget that the program in this review is a free edition of SUPERAntiSpyware. The Pro edition of SUPERAntiSpyware provides real-time protection and FirstChance prevention.
Below are some screenshots of the rogue program, AntiVir Solution Pro, which was installed by a Trojan using svchost1.exe. SUPERAntiSpyware failed to detect the risk in svchost1.exe when I ran an on-demand scan of the 350 malware samples. The good news is that the program detected and removed the rogue program, leaving a registry entry that was added by AntiVir Solution Pro: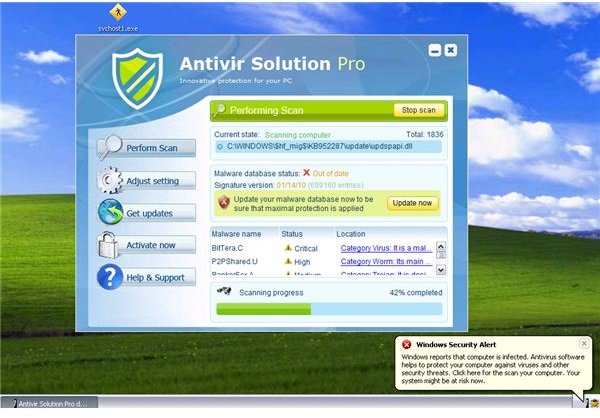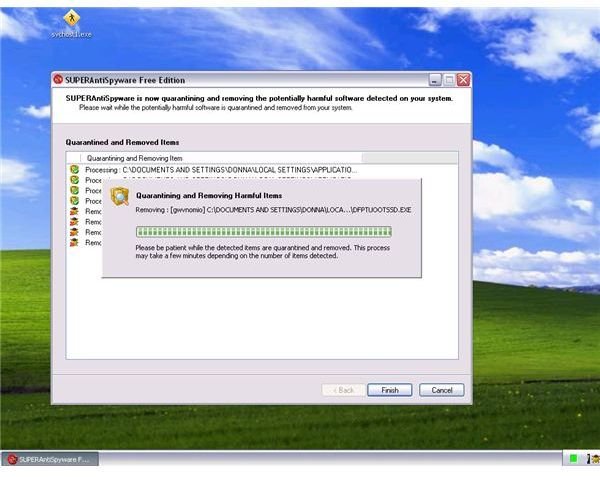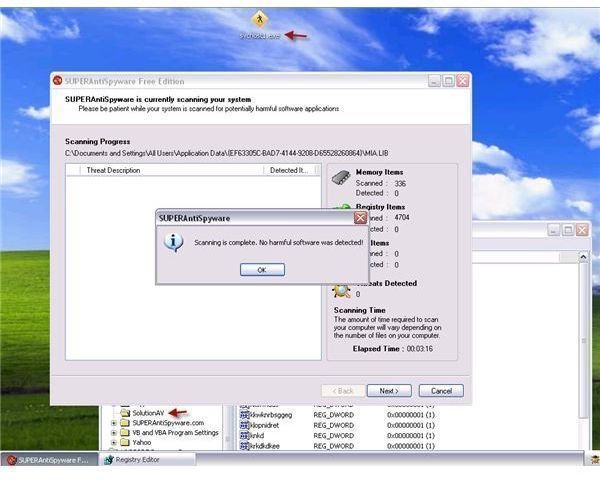 Another example of an undetected active malware samplerunning that SUPERAntiSpyware failed to detect is a Trojan downloader called dhl_viewer.exe.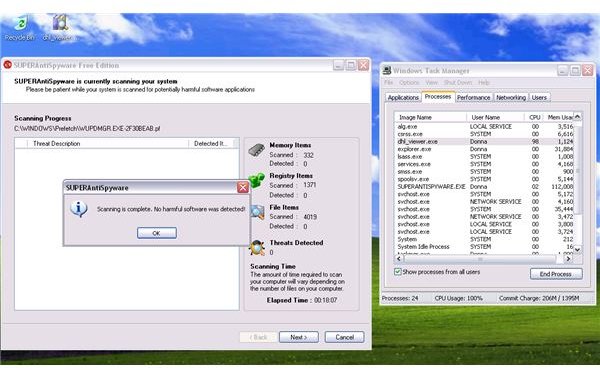 And here's another example of a malware file and rogue program that was not detected by the SUPERAntiSpyware on-demand scanner but was detected after the malware installed the rogue Security Tool program: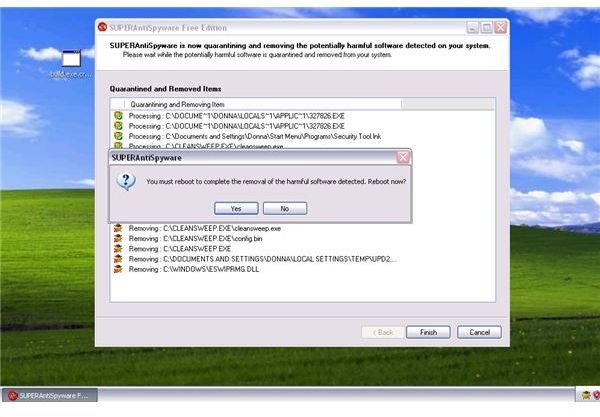 Note that SUPERAntiSpyware removed Security Tool but failed to detect or remove the startup item, added by the rogue program.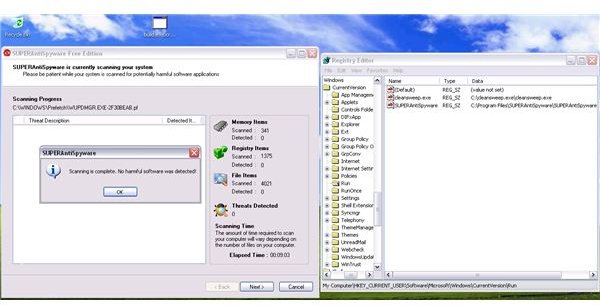 Conclusion
SUPERAntiSpyware Free is a useful anti-malware program that will help or assist a resident antivirus application with removing malware that is known to the SUPERAntiSpyware database. The program has helped a lot of computer users get their system back to normal. I highly recommend installing SUPERAntiSpyware Free edition, if you want an extra scanner and malware remover. You'll never know what another malware scanner will fail to detect or remove!
SUPERAntiSpyware Free costs nothing but will provide great help to remove known active threats. To download SUPERAntiSpyware Free installer, go to https://www.superantispyware.com. To use the portable scanner, get it from here. You can also use SUPERAntiSpyware Online Safe Scan. If an active malware infection is preventing you from updating the definitions of SUPERAntiSpyware, then you can get definition update manually from here using a clean PC, store it on a USB or flash drive and then transfer the updated definitions to the affected machine to install the current definitions update.