Bright Hub's Detailed Kaspersky PURE Review
What is Kaspersky PURE?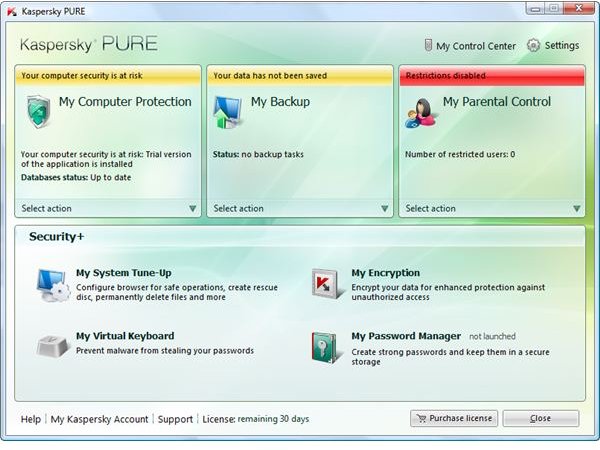 Kaspersky PURE is the new product line from Kaspersky Labs, providing antivirus, firewall, phishing, spam, and unwanted ads protections. The new program also includes a backup utility and a Security+ toolkit.
The program was launched on March 2, 2010 and has received good ratings from expert users. Kaspersky PURE is available in the market for $99/3 PCs with a 1 year subscription, with product support and updates. Find out how this new program will perform in this Kaspersky PURE review.
System Requirements and Installation (5 out of 5)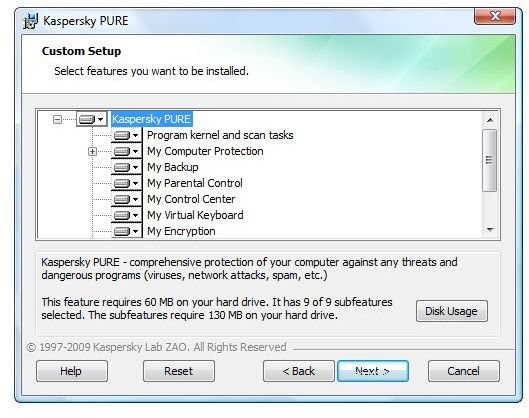 The new program, Kaspersky PURE is designed to work in Windows 7, Vista and XP systems. The install process requires no reboot until you finish installing the program updates. The user interface of Kaspersky PURE is very user-friendly; computer beginners should not find it confusing to manage.
Kaspersky PURE uses 69.9MB of hard-disk space and will install two start-up items in Windows: avp.exe and stpass.exe. Avp.exe is Kaspersky's main module, while the latter is the password manager application.
The installer will modify the browser by installing add-ons for Firefox and Internet Explorer. The filename of the add-ons are ievkbd.dll and klwtbbho.dll. The hidden startup items installed by Kaspersky PURE are mzvkbd3.dll, kloehk.dll and klogon.dll. You will notice a running processes PROTECTEDOBJECTSSRV.EXE, it is the InfoWatch CryptoStorage Protected objects controller service added by the program.
During the install process you have the option to customize the components to install and activate the product using your Internet connection, or try the fully functional software for 30 days.
Features in Kaspersky PURE (4 out of 5)
Kaspersky PURE features security tools and protection for Window without compromising the performance of the computer.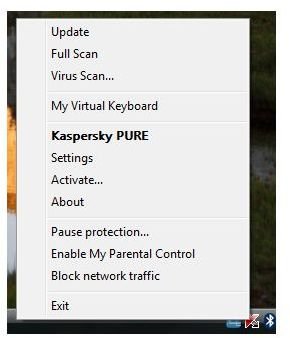 Everything that you might need to protect and secure Windows is included in Kaspersky PURE:
My Computer Protection - Selecting this menu in the program's interface will display the list of protection solutions by Kaspersky PURE, such as real-time protection against malicious file, e-mail scanner, IM protection, firewall, proactive defense, application control, network attack blocker, network monitor, anti-spam, anti-phishing and anti-banner.
My Backup - An option to backup your documents or computer to another partition, removable media or network drive.
My Parental Control - Restricting kids or other user accounts when using the computer.
My Control Center - Guards the security of computers in home network and helps to secure Wi-Fi connections.
Security+ Toolkit - An option to tune-up the computer, rescue disk, use a virtual keyboard, scan for vulnerable applications or settings, data encryption and password manager.
Scheduler - An option to schedule a scan or update.
Safe Run Mode - This nice feature in Kaspersky products allows you to to run an application using its sandbox technology
Digital Identity Protection - Personal and financial information such as credit card or social security numbers are protected.
All features of the program were installed for trial during this Kaspersky PURE review. The features work as they should, but the anti-spam training has flagged a lot of legitimate emails as spam. It's a bit annoying to restart the computer whenever I will add an application in safe run mode feature, but the feature is quite useful.
Performance of Kaspersky PURE (3 out of 5)
Issues during this Kaspersky PURE review:
I noticed in using Kaspersky PURE, when I tried running the backup utility of the program, it was able to detect the connected removable drives but the backup program fails to connect to the storage. I needed to manually add the location of the removable drive in "Manage backup storage" before I could use the backup utility.

During a full system or system drive scan, some applications will not launch as fast as normally..
Issue after removing Kaspersky PURE:
Mozilla Firefox v3.6.8, the latest version of the browser at the time of this writing, will not open and the safe mode option of Firefox will not work either. The easy work-around is to reboot the computer after renaming firefox.exe to firefox1.exe. Reboot again and rename it back to the original filename. Firefox should then start normally.
Real-time Protection against Malicious Files or Websites (4 out of 5)
The antivirus protection in Kaspersky PURE is no difference from its standalone antivirus program, Kaspersky Antivirus 2011. To find out how the antivirus performed in detecting new and known malware, please read the Kaspersky Antivirus 2011 review. Note that I reviewed the standalone antivirus program on July 25, 2010.
Kaspersky PURE will also try to protect the computer when downloading files or visiting websites. In this Kaspersky PURE review, I visited some sites that had malicious content and downloads. In the screenshot, Kaspersky is able to protect the computer from exploits in a website: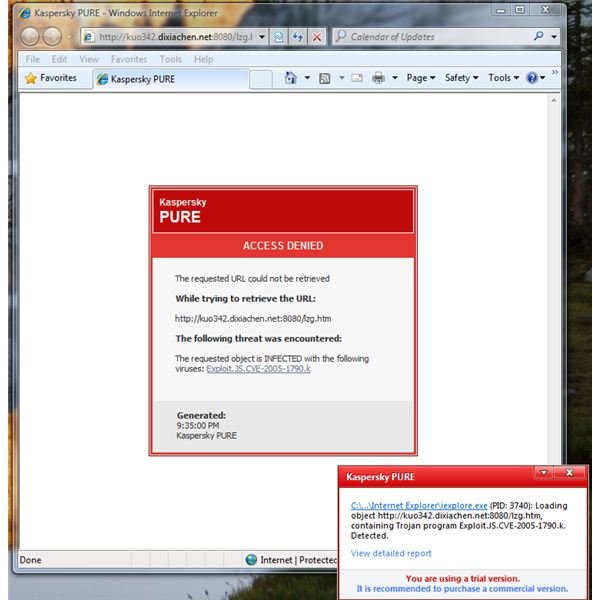 However, if a new threat was not received yet by the antivirus vendor, it failed to be detected.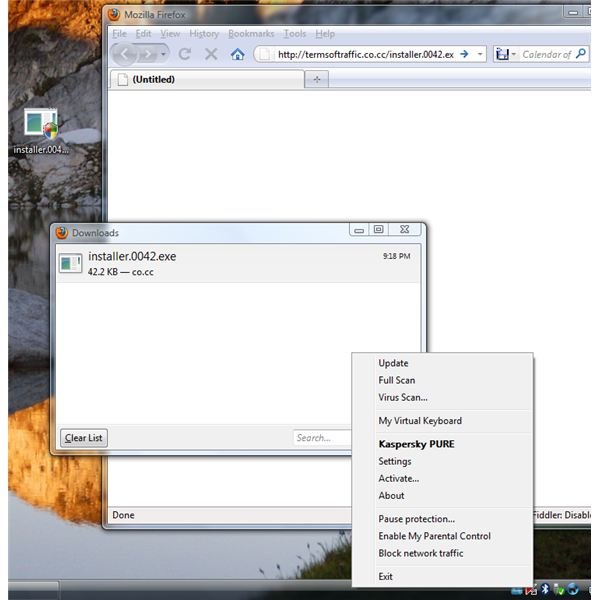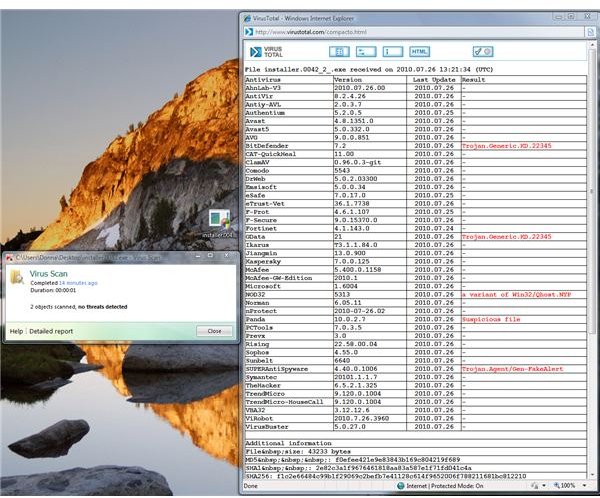 Conclusion
At $99 for 3 PCs, I find the product a bit pricey compared to Norton 360, but the protections and the bells and whistles in Kaspersky PURE are unbeatable and quite useful. Kaspersky malware detections can offer up to 97% of protection, and there is no doubt that it is one of the more popular antivirus program in the market. I recommend using Kaspersky AV 2011 or Kaspersky Internet Security 2011, if you already have another backup option. Use Kaspersky PURE if you need a one-stop security solution.