The Newest Panda Cloud Antivirus Free Review
The Free AntiVirus: Panda Cloud AV Review
Panda Security has released an improved version of its cloud-based security solution. To check if it's something to consider, I decided to install it in my Vista operating system for a Panda Cloud Antivirus free review. Before you start reading, please note that there is now two editions of Panda Cloud AV, the free and Pro editions. The security vendor has released Panda Cloud Office Protection, also a cloud-based security solution for corporate end-points.
System Requirements and Installation (4 out of 5)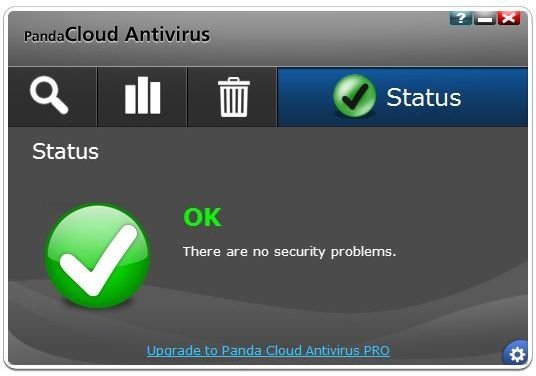 Panda Cloud AV Free will run on 32-bit and 64-bit editions of Windows 7 and Vista. It is also compatible to XP SP2 and later operating systems. The installer of Panda Cloud AV uses bootstrap that will download the complete setup files for both file systems, X86 and X64, allowing the installer to detect and install the program using the correct setup file. If you want to save a copy of the installer, you need to open the Temporary directory in Windows. This is useful if your Internet connection is slow or you have limitations on Internet bandwidth each month.
A reboot is not required after the installation. The antivirus program will use 99.8MB of hard-disk space. During the installation, there is an option to install Panda Security Toolbar, which is developed by Visicom Media, Inc. The said toolbar is using a search engine, powered by Yahoo.com. If you will opt to install the security toolbar, it will use another 14.42MB of hard-disk space (11MB for Panda Security toolbar and 3.42MB of HD space used by Panda Identity Protect application).
After installing Panda Cloud-AV, I started to play with installed applications in my PC. I noticed that it will block Shadow Defender from entering the computer to shadow mode. It could be bug because I tried a similar application, Windows SteadyState. Panda did not block SteadyState to enter the Windows Disk Protection mode.
Features and Performance (3 out of 5)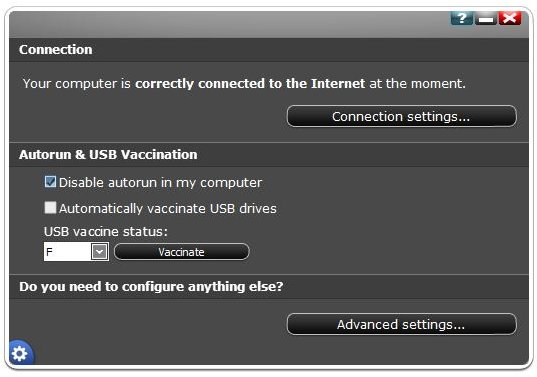 The free edition of Panda Cloud AV provides antivirus, antispyware and anti-rootkit protection. The program will protect the computer using a cloud-based signature which means the detection signature is not in your computer but on Panda Security servers. There is a cache version of its signature for offline protection but it's only used when you are not connected to the Internet. The cloud antivirus is also protecting computers against new and unknown threats using its behavioral detection.
The previous free edition Panda Cloud AV provides vaccination of USB drives, but in this new release, the said feature is only available to paid customers using the Pro edition. The option to disable autorun is still included in the free edition.
Panda Cloud AV uses 20MB of RAM when it is guarding the computer against malware. The RAM usage will double during a system scan. If you opted to install the security toolbar and allow ID Protect to run, another 16.1MB of RAM will be used.
The scan time by Panda Cloud AV is acceptable. I let it scan the system drive and it finished in 131 minutes while the quick or optimized scan finished in 11 minutes.
Panda Security Toolbar in Panda Cloud AV Free (1 out of 5)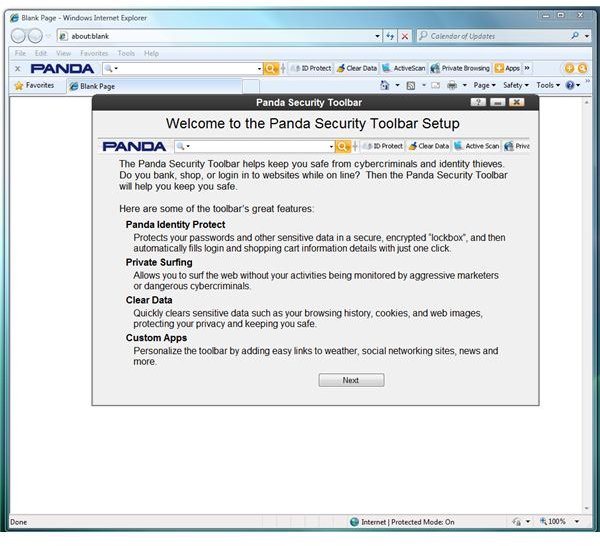 In this Panda Cloud Antivirus free review, I also allowed the installation of the Panda Security Toolbar that came with Identity Protect or Panda ID Protect.
If you are wondering what is ID Protect in Panda Cloud AV? It's one of the features in its security toolbar that allows you to create a master password for use when you need to login to any website. Credit cards, login credentials, and other personal data can be stored in the Identity Protect application and it will display its notification icon, in addition to the Panda Cloud AV free icon. Other features of the Panda Security Toolbar is Private Surfing. It's a feature in IE8 that only the Panda toolbar will open. Clear Data is another feature in the toolbar and there is also an option to add applications for the toolbar by downloading from their website. Please note that it is not required to use the Panda Security Toolbar to enjoy the protection of a cloud-based antivirus program. I don't recommend installing the said toolbar because it caused lag time when opening IE and Firefox.
Malware Protection and Detection by Panda Cloud AV Free (3 out of 5)
This Panda Cloud AV review is not complete until I tested the protection it offers. I decided to download files from malicious sites but Panda's behavioral protection is not that effective. In the image below, exe.exe is a Trojan downloader that will try to connect to a malicious server to download fake AV. Panda did not prevent the download and the scanner fails to detect the file as malicious.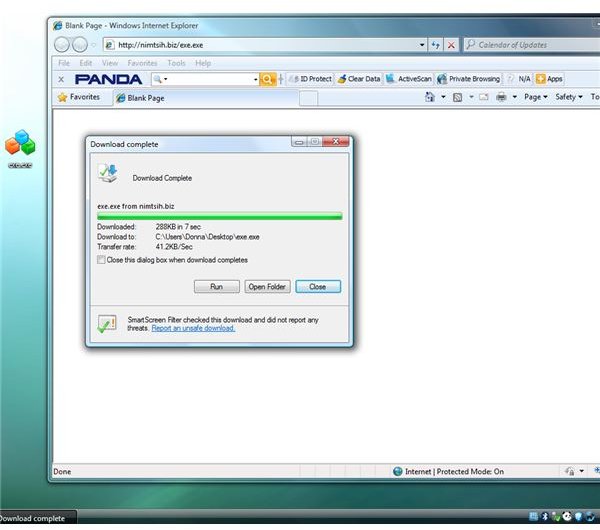 To verify that the said executable is a new malware, I sent it to VirusTotal.com. You will notice in the screenshot below that there's only 4 malware scanners that can detect this malware including Panda. You might wonder why Panda Cloud AV free failed to detect it but the scanner in Virustotal did. It is because Virustotal is using the traditional signature-based detections of the malware scanners, while Panda Cloud AV free is not using it.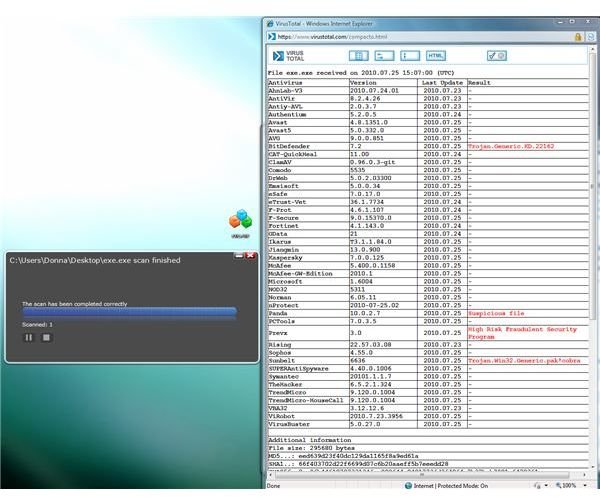 Another example when Panda Cloud AV free fails to detect new threat is in the below image. A malware that will exploit vulnerabilities in Java.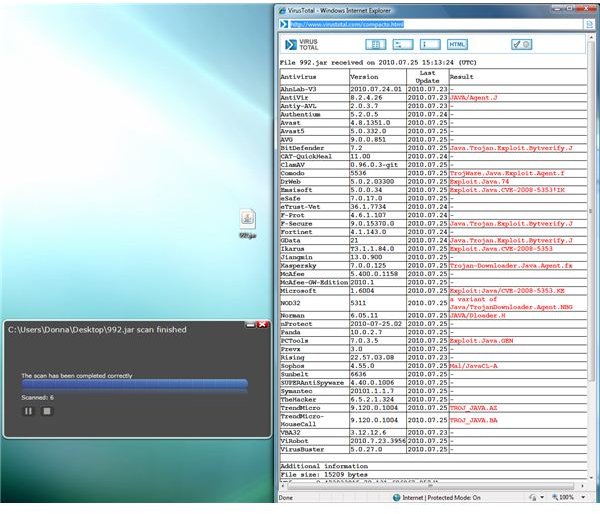 When Panda Cloud AV detects malware while downloading, you will see it in action: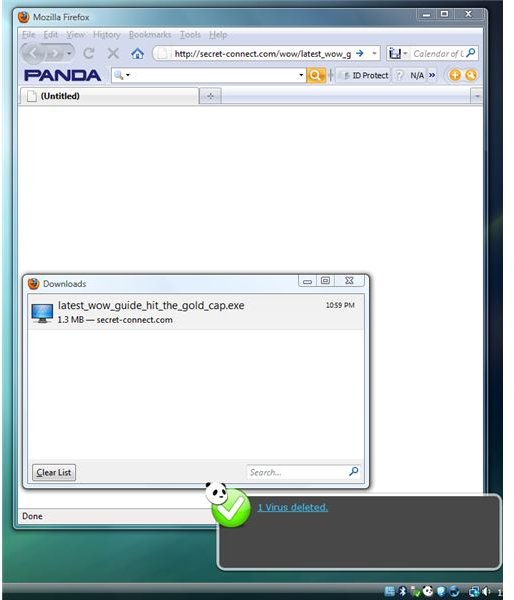 Another test for Panda Cloud AV free: I transferred 300 malware samples and it was able to prevent 137 out of 300 malware samples.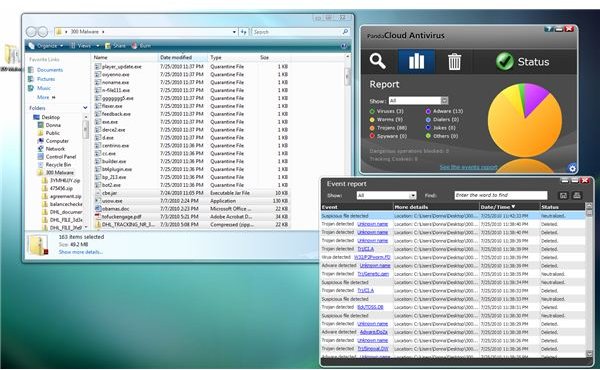 However, when I allowed it to scan the directory containing the remaining 163 malware samples, it able to detect and remove another 105 malware samples. As we normally do, we don't stop scanning until the scanner says there's no more malware, so I proceed to re-scan the said directory and it left the PC unsafe from 19 malware samples only.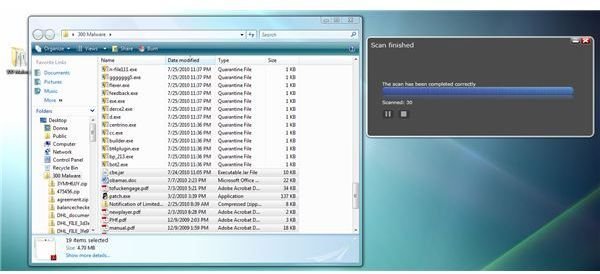 Panda Cloud AV succeed in detecting malware inside archives, which is good.
Conclusion
The free antivirus by Panda can provide up to 94% of protection against malware. It is recommended only if you have anti-malware from another vendor that is using signature-based detection with daily signature updates. Free support is provided in Panda support forums.
Screenshots (Donna Buenaventura) - https://www.cloudantivirus.com/en/