The Complete Kaspersky Antivirus 2011 Review
What's New in Kaspersky Antivirus 2011?

The new version of Kaspersky Antivirus 2011 was released in June of 2010 along with new features, including: System Watcher and Windows Gadget. The protection modules have been improved and you can now install Kaspersky Antivirus 2011 in an infected PCs. Kaspersky AV also now supports Microsoft Outlook, Thunderbird, the upcoming Windows 7 Service Pack 1. Read on to find a Kaspersky AV 2011 review.
Protection Features in Kaspersky AV 2011 (5 out of 5)
In this Kaspersky Antivirus 2011 review, we'll see how the new program will help users in protecting their computer from malware.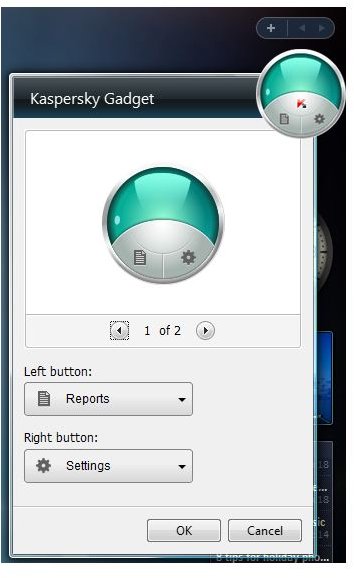 Below are the available features in the program:
Real-time protection - Kaspersky (KAV) 2011 will monitor the computer for malicious activity to prevent viruses, spyware, Trojans, rootkits, adware, worms, and other types of malware infections.

Disinfection - Detected infections are easily removed.

Proactive Defense - In addition to signature-based detection, KAV 2011 provides detection of malware that has similar behaviors of known malware.

System Watcher - A new feature in Kaspersky AV is that it will monitor application activities to allow roll-back changes from malicious actions.

Windows Gadget - Users of Windows Sidebar for Vista and Gadget in Windows 7 will now see Kaspersky Windows Gadget, an easy access to the antivirus settings or reports.

Mail and Web Antivirus - KAV 2011 will monitor incoming and outgoing messages for viruses. It will also monitor the browsing activity for malicious content.

IM Antivirus and Anti-Phishing - Fraud and instant messenger protections are also included in Kaspersky AV 2011.

Virtual Keyboard - A tool to prevent keyloggers to intercept entered keys via keyboard.

Privacy Cleaner - Clears IE history, cookies, logs, prefetch, and other data.

Vulnerability scanner - An option to scan installed applications for vulnerabilities.

Rescue Disk - An option to create a bootable CD or USB flash drive with tools to detect and remove malware.

Automatic or Manual Updates - Kaspersky AV 2011 automatically updates its signature detection. Users may also install the updates manually.

Quarantine and Exclusions - Detected or deleted threats are backed-up in the Quarantine Manager with the option to restore or clear from the system. There is also exclusion list, if you do not want the program to scan other partitions or folders.

Scanning - Full, Critical and Context menu scans are also available in KAV 2011.

Scheduler - An option to schedule an update or system scan.
Kaspersky Antivirus 2011 does not include anti-spam, anti-banner, parental control, password manager, backup, home network security or PC security tune-up. The said features are only available in Kaspersky Internet Security or Kaspersky PURE.
Installation of Kaspersky AV 2011 (1 out of 5)
The install process of Kaspersky AV 2011 is straight-forward. However, it is no longer an option to choose which components of the antivirus program to install. In the previous version of KAV, you could choose to install the Virtual Keyboard, Proactive Defense, and Antivirus for File, IM, Web, E-mail, and Program Kernel and scan tasks. The new version will now install the said components by default.
The setup file of Kaspersky will check the computer for incompatible programs and I'm not impressed with this new installation method by Kaspersky. Here's why:
The test system (Vista) has Outpost Firewall Pro v7.01 and on-demand malware scanners by Lavasoft, EmsiSoft, Malwarebytes, Spybot-S&D, SUPERAntispyware, SpywareBlaster and of course, Windows Defender. The installer of Kaspersky has detected Ad-Aware as incompatible software and it offered a removal. I proceeded to allow the removal of the Ad-Aware program and a reboot is required.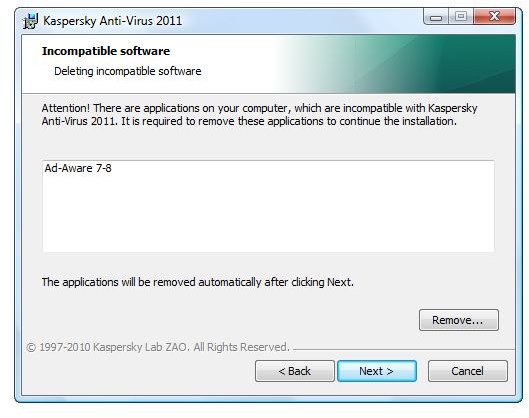 When the computer has restarted, the installer of Kaspersky AV did not proceed, which means I had to launch the installer again. To my surprise, the installer found incompatible software again. It says, Outpost Firewall Pro by Agnitum is not compatible and it needs to be removed. This is not acceptable if the program I'm installing is antivirus only and does include a firewall protection. The knowledge base article on Kaspersky's website did not mention that Outpost Firewall v7 is not compatible but it only lists the earlier version of the said firewall program. Fortunately, Kaspersky has provided a tip on how to skip the scan for incompatible software when installing Kaspersky 2011 products.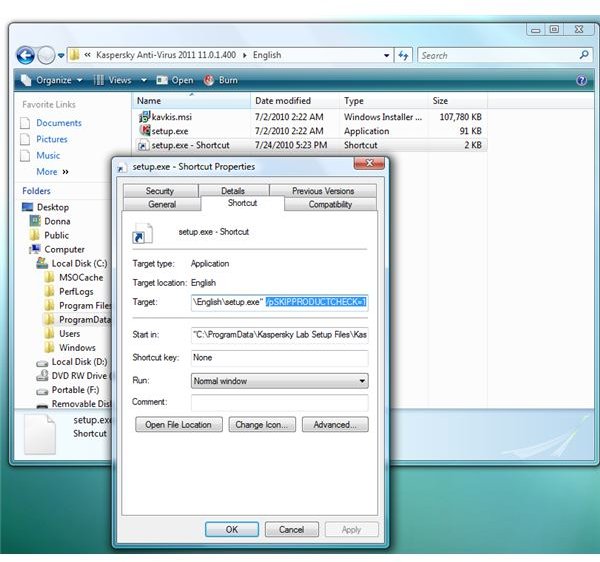 Computer users who prefer to use standalone security programs will have to remove the incompatible programs if they are not aware of the said tip to stop the detection of incompatible software. It's a poor decision by Kaspersky to not include a link in the installer of the said tip. Also, the installer did not detect all incompatible software and I had to run the installer again, only to find out there's other incompatible software.
On the next page of this Kaspersky AV 2011 review, we'll see how the program performs to detect malware in real-time and its CPU usage.
Performance of Kaspersky AV 2011 (4 out of 5)
The CPU usage for Kaspersky Antivirus 2011 is more than 50% during a full system scan and it does slow down the computer. A quick or critical scan only uses 28MB of RAM. If the computer is infected with malware and allowed disinfection, you might not be able to use any program until Kaspersky AV has finished with the disinfection process and has rebooted the computer.

Kaspersky AV will only use 12MB of RAM when it is monitoring the computer for malicious activity:

Scan timing of Kaspersky AV is acceptable. A quick or critical scan of the test system was finished in 4 minutes while a full system scan lasted for 3 hours (note that there is a 2 partition in 320GB hard-disk in the test system for the purposes of this Kaspersky Antivirus 2011 review).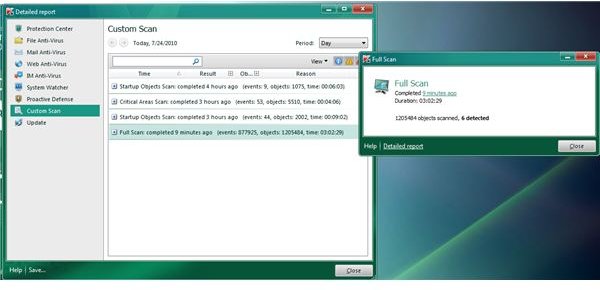 Kaspersky detected 9 threats in the test computer, which is an obvious false positive. You can restore any false detection, if deleted from the quarantine manager of the program: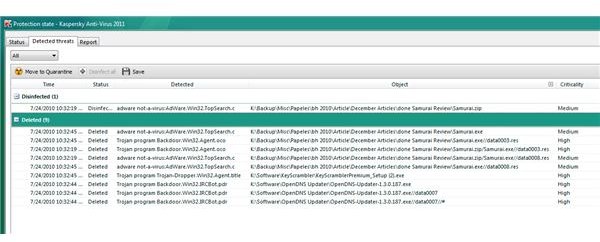 Web Protection by Kaspersky (4 out of 5)
Kaspersky will protect your computer when you download files from the Internet or while browsing. If files to download contain malware, Kaspersky will block it: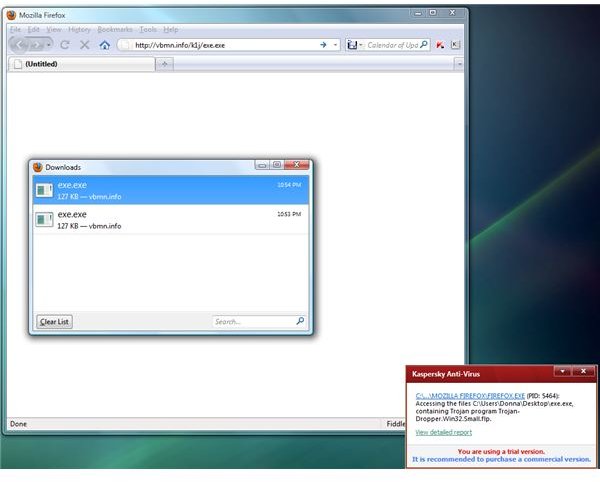 If the web page that you click on or view has exploits, Kaspersky can block it as well: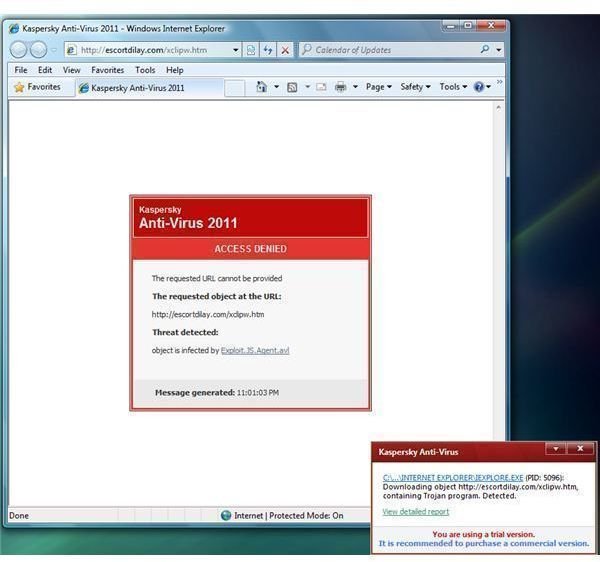 Not all antivirus programs can detect all threats especially if the threat is new. Below is an example of fake Yahoo login page and a new malicious file that KAV 2011 has failed to block. It is recommended to enable the fraud protection in the browser to receive extra protection: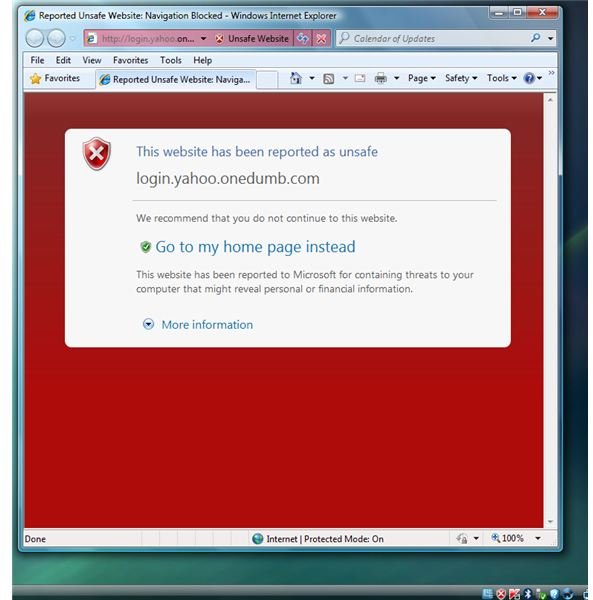 Below is the screenshot of new malicious file that the real-time protection of Kaspersky has failed to block: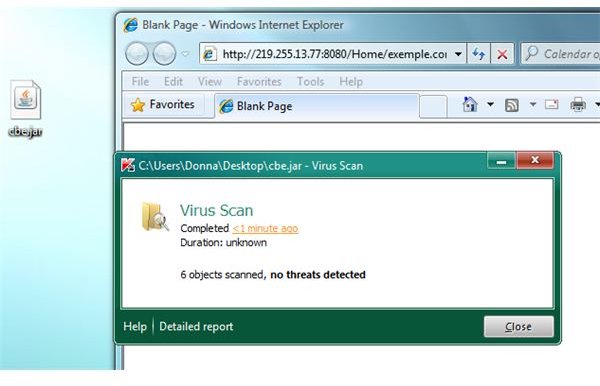 To check whether the said file is really new, you will notice that only 7 malware scanner will detect it: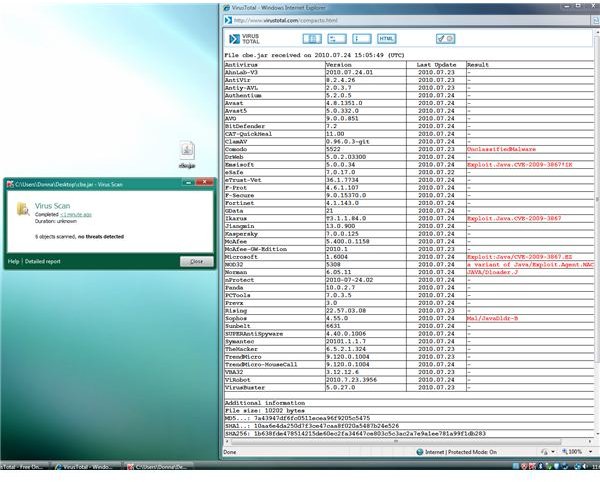 You don't need to install two antivirus programs to get extra protection. Simply install a scanner with no real-time protection or use an online scan.
Malware Detection by KAV 2011 (4 out of 5)
To complete the Kaspersky AV 2011 review, I checked the ability of KAV 2011 in detecting malicious files by transferring 315 malware samples to the system drive. Kaspersky has detected only 217 out of 315 malware samples.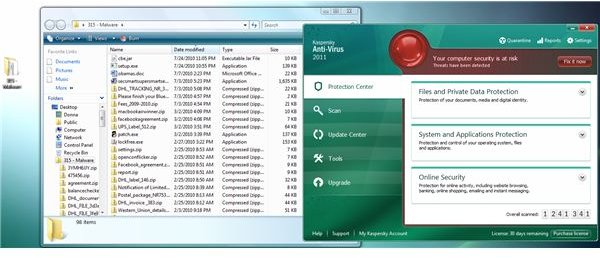 I proceeded to scan the directory containing the remaining malware files and it detected another 80 malware samples, leaving the computer unsafe against 18 malicious files. Note that Kaspersky has removed the malicious files that were archived: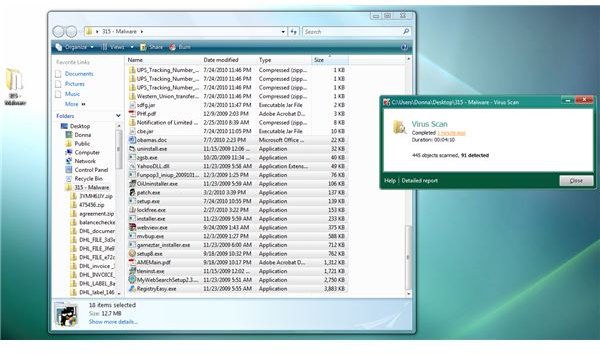 Conclusion
The detection of Kaspersky Antivirus 2011 is above average for it provides 97% of protection against Internet and PC threats. At $40 for single a PC that includes a one-year of subscription, Kaspersky AV 2011 is highly recommended.
Screenshots (Donna Buenaventura) Kaspersky Website (https://www.kaspersky.com/kaspersky_anti-virus)