Norton Utilities 2010 Review
System Requirements and Installation of Norton Utilities 2010 (5 out of 5)
In this Norton Utilities 2010 review, the set-up file was downloaded from Symantec's trialware website with version 14.5.0.118. The program will run in XP SP2 or later and any editions of Vista and Windows & operating system.
Installing Norton Utilities is a quick process. No restart is required and there's no need to activate the program soon. You can try the fully functional program for 30 days. During the install process, the setup wizard provides an option to automatically scan the registry when Windows starts. After the install, the setup will open the Smart Update feature to download the latest product updates and improvements. Norton Utilities will use 98.1MB of hard-disk space and adds the program icon in the notification area in Windows (aka systray).

About Norton Utilities 2010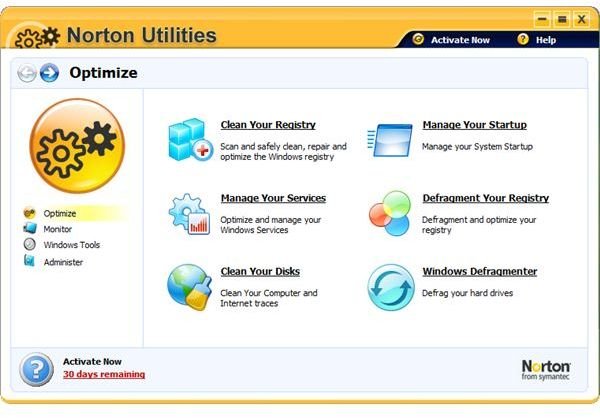 Norton Utilities 2010 is a product by Symantec to optimize PC's performance, compact and repair the registry in Windows. Other features includes a registry monitor and secure deletion of files to help protect end-users' privacy. Most tools in Norton Utilities 2010 are not developed by Symantec which is disappointing. It is only using the built-in utilities and tools in Windows; e.g. Defragmenter, System Restore, Disk Management and many others.
Key Features of Norton Utilities 2010 (3 out of 5)
The following features are available in Norton Utilities:
Disk Cleaner
Disk Bleacher
Startup Manager
Registry Defragmenter
Registry Cleaner
Service Manager
System Optimizer
Performance Test
Smart Update
Another option in using Norton Utilities is the access to built-in tools in Windows such as Windows Update, Disk Management, Windows Defragmenter, Computer Management, System Restore, System Properties, System Information, Control Panel, Local Security Settings, Local User and Groups, Group Policy Editor, Windows Security Center, Device Manager, Event Viewer and Performance Monitor. I find this option in Norton Utilities useless, especially now that Windows Vista and Windows 7 have a powerful and useful Desktop Search providing easy search and access to the utilities. And the desktop search in newer operating systems is also available for XP users via Microsoft Download Center website.
It's also a surprised that Norton Utilities is no longer offering some features that the previous version have, such as UnErase Wizard, Norton File Compare, File Manager, FastFind, Zip/Unzip and Folder Sync.
Performance and Usage (1 out of 5)
Using the registry cleaner in Norton Utilities is a disappointment, for it failed to detect many areas in the registry of Windows that should be cleaned. To test its ability to detect remnants or unneeded registry entries, I scanned the system using the Registry Cleaner in Norton Utilities without allowing it to fix the registry. Next, I allow the registry to be scanned using CCleaner and found out that CCleaner did find more areas in the registry to clean-up.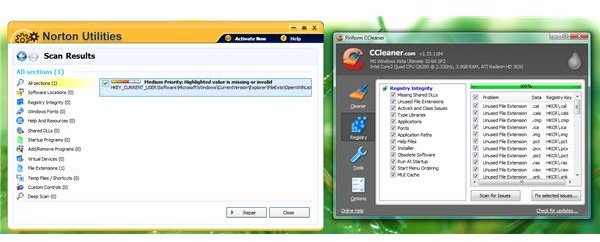 Another issue that I noticed is that the System Monitor in Norton Utilities gave a false information of the installed physical RAM in my test computer. I have 3GB of RAM which is correctly detected by CCleaner but Norton Utilities is only detecting 2GB of RAM.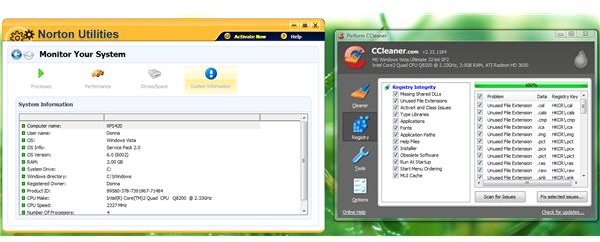 To continue this Norton Utilities 2010 review, I allow the Registry Monitor feature in monitoring the registry. The Registry Monitor in Norton Utilities, if running or enabled will only use 23MB and no system lag occurred.
Norton Utilities properly detects the installed browsers in the system and allow us to clean the Internet tracks. However, it failed to clean-up the cookies stored by Flash Player browser plug-in that once again, CCleaner will handle with ease.
Conclusion
At $50 for 3 PCs, Norton Utilities is not worth using because there's a better and free program, CCleaner. Also, I cannot recommend Norton Utilities because it has an option to run a registry scan when Windows starts. Such an option is not safe to use, especially when Windows or another program is prompted for restart to complete installation of security or program updates.